To be honest, the real reason that I ever wanted to become an ASICS FrontRunner was to participate one day in an Annual Meeting of the biggest runner's community in the world. My imagination, though, couldn't reach the moments and feelings I have experienced during the past weekend in the city of light. One big familly, one big team with members from all around the world, who share one love - one vision: constant movement.
Movement, though, in all of it's aspects and extention: movement while running, movement while dancing, movement in the communicative way, mind movement, inspirational movement, movement as a solution, movement in space. ASICS FrontRunner members don't wish to stand out of the crowd. Their only will is to drift the crowd towards their better self, towards to their new version. 
For the first time in my life, I was proud of wearing a logo. I really don't believe in different countries, borders, religion etc. On the contrary, I definetely believe in common languages as music, running and movement in general. And I strongly believe in teams. In strong related companionships who share a vision, who help each other and who are willing to put themselves at the disposal of a cause.
The true apocalypse during the weekend, for me, came through the story of my teammate Kelly Loufaki. Of course, I knew Kelly's power and will to overcome any obstacle in order to achieve her goals. I was sure about her finishing the Paris Marathon. At the same time, falling of my bike some days before Paris made me unavailable to help. And with Vangelis (Kelly's co-runner) also injured I started to worry. And then, the magic began:
A brother, a fellow runner, a teammate from ASICS FrontRunner Serbia, the nobile giant Marko Ristic, offered to run with Kelly without even thinking. "I 'll do it", he said only the night before the race. Marko helped us prove that caring for each other is the only asset we got in this life. People helping other people will always be the special ones. Marko is that kind. Kelly is that kind. And me, lucky to have both of them as teammates and as friends.
Sure, the annual meeting was fantastic, the Paris Marathon was spectacular, the party afterwards was amusing, but - to me - nothing can compare to the hug Kelly, Marko and Vangelis shared in the finish line. They are my heros, they are my friends and they are the true influencers of this strange world in decadence. They are HOPE.
Till next year.
George Myzalis


γράφτηκε από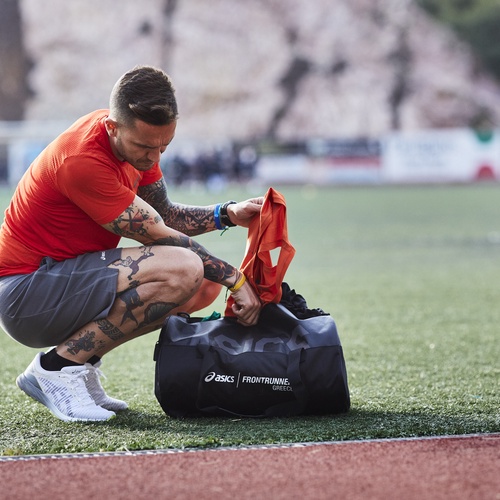 George Myzalis
Marketing Manager από Athens

Ηλικιακή ομάδα: 40 - 44
Σύλλογος: www.myathlete.gr
Προπονητής: Nikos Dimitriadis (myathlete)
Το άθλημά μου