Two things I hear while running: the beat of my heart and the sound of my thoughts. Both give me the strength I need to keep the pace, to cross the line, to finish a race or training and to, finally, deliver the "message" as Fidippides did in the ancient days.
Mental balance while running is the key to a successful race and it also applies to all kind of activities in everyday life. Inside my head I am alone, inside my heart I am alone, inside my soul I am alone. Inside a race (any kind of race, especially in a Marathon) I am alone. I have the questions and I have all the answers. I decide whether I will be positive or negative throughout the next difficulty. 
No offence, but this is why I – most of the times – prefer to run alone. Running for me is a self-therapy thing. While running I am thinking all the time. From professional choices to personal anxieties, from financial matters to Sunday's gathering menu with friends, from the interviews and reviews I am about to write to the ingredients of tonight's supper. There isn't a single thing I don't "run" before I make a decision about it. And when the pace gets harder, I focus on happy or touching moments of the past, present and future. Emotions I experienced, people I miss, races I ran, and future personal best. 
During my first marathon, back in 2010, I had to face extreme pain because of an injury. I had to overcome this and the only "weapon" I could use was my mind. I kept remembering my mother who was lying in bed because of MS and kept on despite the pain. I remember crying in the 12 last kilometers but I didn't give up on her. She was running with me, I was running for her. I struggled hard inside my mind; I used her incredible strength and optimism as a guide to the finish line. As I was entering Kallimarmaro Stadium in Athens Greece I realized the power of my mind. I managed to overcome pain through positive and touching thoughts. I was a finisher. A doer. A messenger, like Fidippides. And I delivered that message. 
That first Marathon was followed by nine more. And every time things got tough I remembered my first 42.2km. I got quicker, I got stronger, I managed to achieve personal bests at the distance a lot of times, but my first Marathon is the one I remember the most. Because it taught me the strength of will and how it can dominate the body. 
Ever since I run with my mind first.  And my legs and heart simply follow. 
George Myzalis.
ASICSfrontrunner Greece.
γράφτηκε από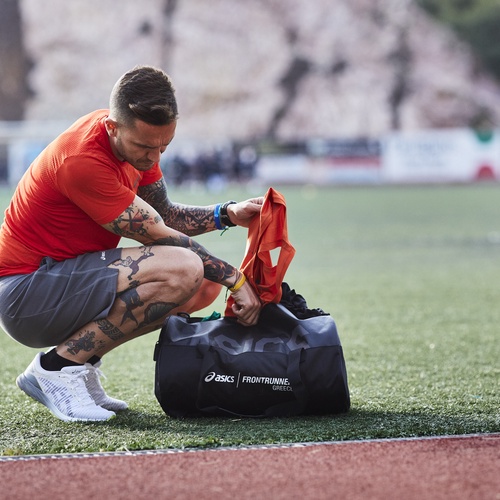 George Myzalis
Marketing Manager από Athens

Ηλικιακή ομάδα: 40 - 44
Σύλλογος: www.myathlete.gr
Προπονητής: Nikos Dimitriadis (myathlete)
Το άθλημά μου