---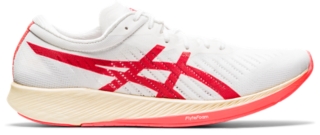 METARACER
Product Details
The METARACER shoe is made for runners who want the most out of their fast-paced training and racing. The upper is designed to capture as much airflow as possible, which helps keep feet cool. This cooling provided by the shoe means your body does not have to work as hard to keep you cool. The upper also has drainage ports to release any water that might get into the shoe. GUIDESOLE technology features an improved toe-spring shape, which helps reduce the movement of the ankle joint—assisting runners in saving energy with each stride. The rolling motion of this shoe actually propels the foot forward to produce a totally unique running experience. The METARACER shoe with GUIDESOLE technology is designed to help you take your racing to the next level.
Product Features
FLYTEFOAM MIDSOLE TECHNOLOGY

Our FlyteFoam technology provides exceptional bounce back and responsiveness no matter the distance, utilizing organic super fibers to help reduce packing out that traditionally happens with softer, low density foams.

WET GRIP OUTSOLE

An outsole made from a special blend of organic and non-organic components, designed to enhance traction even on wet surfaces.

ASICSGRIP™ TECHNOLOGY

ASICS proprietary outsole rubber provides high grip on various terrain, without compromising durability.

GUIDESOLE™ TECHNOLOGY

The curved sole design and stiff forefoot of our GUIDESOLE™ technology reduce ankle flexion and provide a shock-absorbent landing zone to lessen fatigue of other leg muscles and increase runner efficiency.

ENGINEERED MESH UPPER

Multi-directional mesh material improves ventilation and stability.