---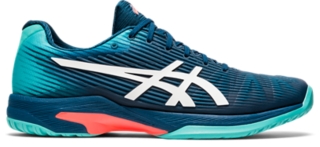 SOLUTION SPEED FF
Product Details
PRODUCT DETAILS
 
 
 When you're playing a high-impact sport like tennis, you need technically advanced footwear that's going to protect your feet and knees. The men's SOLUTION SPEED™ FF tennis shoe by ASICS boasts an unrivalled blend of style and supportive technology.
 
 
 With its lightweight cushioning, this shoe is designed to propel you to greater heights on the court. It features FLYTEFOAM™ technology in the midsole, an organic compound made from organic fibers that doesn't create the "packing out" that so often happens with softer, lower density foams.
 
 
 It also features the TWISTRUSS™ System, which absorbs shock while allowing the foot a full range of movement. It boasts rear and forefoot GEL™ technology, providing unparalleled comfort and shock absorption. Meanwhile, the FLEXION FIT™ upper gives added stability for lightning-quick movement during your game and the ORTHOLITE™ sockliner is removable to accommodate a medical orthotic.
 
 
 The SOLUTION SPEED™ FF tennis shoe boasts a durable tennis AHAR™ outsole, FLEXION FIT™ vamps and PGUARD™ toe protector, as well as an Anti-Gravel Tongue that repels dirt and debris, so nothing will get in the way of your game. It all makes for a durable shoe that you can really put through its paces on court.
 
 
 
 
 PRODUCT FEATURES
 
 
 - FLYTEFOAM™ technology
 
 - TWISTRUSS™ system
 
 - California lasting
 
 - Tennis AHAR™ outsole
 
 - EVA insole
 
 - Removable ORTHOLITE™ sockliner
 
 - PGUARD™ toe protector
 
 - FLEXION FIT™ upper
 
 - Anti-Gravel Tongue
The technology in this product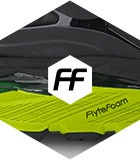 FLYTEFOAM®
FLYTEFOAM® technology provides exceptional bounce back and responsiveness no matter the distance, utilizing organic super fibers to help reduce packing out that traditionally happens with softer, low density foams.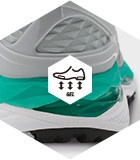 Rearfoot and Forefoot GEL® Cushioning System
Attenuates shock during impact and toe-off phases, and allows movement in multiple planes as the foot transitions through the gait cycle.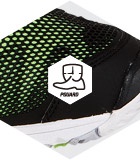 PGuard® Toe Protector
Toe Protector designed to enhance durability.