Gwen Jorgensen - ASICS Triathlete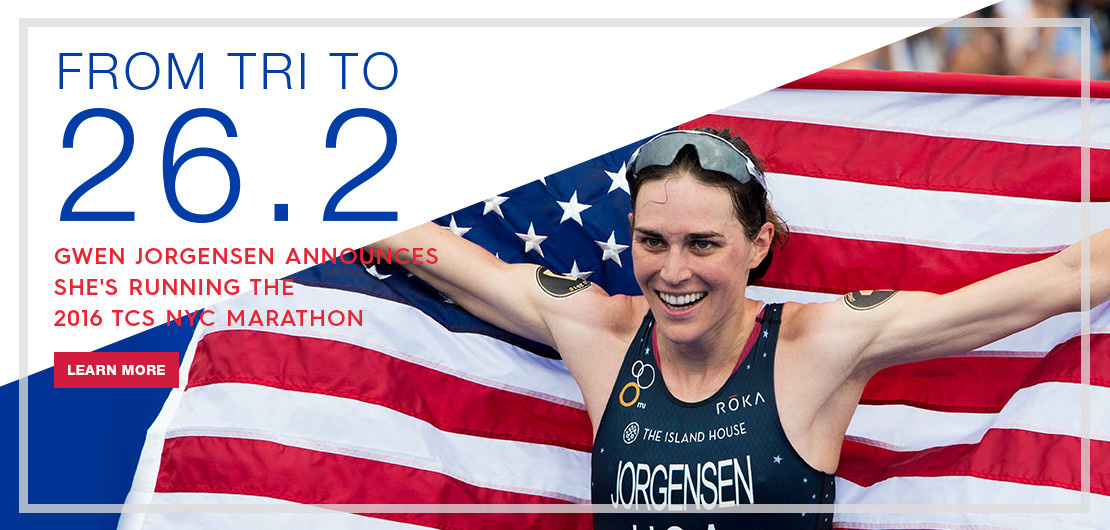 U.S. Triathlete Gwen Jorgensen to Make Marathon Debut at the 2016 TCS New York City Marathon on Sunday, November 6
Jorgensen joins an already stacked American professional athlete field that includes  distance runners Molly Huddle and Kim Conley, both also making their debuts
New York, August 24, 2016 — Four days after her big triathlon win, Gwen Jorgensen will shift gears to make her marathon debut at the 2016 TCS New York City Marathon on Sunday, November 6, it was announced by New York Road Runners today.
"What a thrill it is to have Gwen join our amazing group of American professional athletes for the 2016 TCS New York City Marathon," said Peter Ciaccia, president of events for New York Road Runners and race director of the TCS New York City Marathon. "Although Gwen crossed the iconic Central Park finish line once before – taking first place at the NYRR Dash to the Finish Line 5K the day before the 2014 TCS New York City Marathon – we are now excited to see her make the transition to long-distance road racing on the streets of New York City."
"This has been such an incredible year for me, and I thought what better way to continue to challenge myself than by running my first marathon," said Jorgensen. "The triathlon will always be my first love, but I am really looking forward to the marathon and cannot think of a better place to make my debut than New York City."
Jorgensen is a 17-time winner of the ITU World Triathlon Series races – having won all but two individual races since April 2014 – and was previously a standout runner as a member of the University of Wisconsin's cross country and track and field teams. She was the 2009 Big Ten Conference champion in the 3000 meters and 5000 meters, and a three-time NCAA Championship participant in track and two-time participant in cross country.
The 2016 TCS New York City Marathon will be televised live on Sunday, November 6, on WABC-TV, Channel 7 in the New York tristate area from 9:00 a.m. to 2:00 p.m. ET, and for the rest of the nation on ESPN2 from 9:00 a.m. to 12:30 p.m. ET.
About the TCS New York City Marathon
The TCS New York City Marathon is the premier event of New York Road Runners (NYRR) and the largest marathon in the world. Over 1,000,000 people have finished the race since its first running in 1970 with just 127 entrants and 55 finishers running four laps around Central Park. The race expanded to all five boroughs in 1976 and is now in its 40th year as a five-borough affair. Held annually on the first Sunday of November, the race features 50,000 runners including the world's top professional athletes and a vast range of competitive, recreational, and charity runners. Participants from over 125 countries tour the city, starting on Staten Island at the foot of the Verrazano-Narrows Bridge and running through the neighborhoods of Brooklyn, Queens, and the Bronx before ending in Manhattan. In 2015, the inaugural NYRR Youth Invitational at the TCS New York City Marathon gave young runners the opportunity to run 1.8 miles of the race course in Central Park, beginning near mile 24 and finishing at the famed TCS New York City Marathon finish line. More than one million spectators and thousands of volunteers line the city streets in support of the runners, while millions more watch the live television broadcast in the New York area on WABC-TV, Channel 7, nationally on ESPN2, and via various international broadcast partners around the world. The race is part of the Abbott World Marathon Majors, which features the world's top marathons—Tokyo, Boston, London, Berlin, Chicago, and New York—and crowns the top professional male and female marathoners each year. Tata Consultancy Services (TCS), a leading global IT services, consulting, and business solutions organization, is the premier partner of NYRR and the title sponsor of the TCS New York City Marathon. The 46th running of the TCS New York City Marathon is set for November 6, 2016. To learn more, visit www.tcsnycmarathon.org.
Gwen Jorgensen is a professional triathlete from Milwaukee, Wisconsin. After swimming and running at the University of Wisconsin, Gwen qualified for the 2012 Olympics in only her 2nd year racing triathlons. She also likes to read, eat sushi, and hang out with friends and family.
CAREER HIGHLIGHTS
Olympic Champion
2015 World Champion
2014 ITU World Champion
USA Triathlon National Team Member
3 Time World Triathlon Series race winner
2013 National Champion (Olympic distance)
2013 National Champion (Sprint distance)
Ranked #4 in world in 2013
2012 Olympian
USA Triathlon Triathlete of the Year

BACKGROUND
How did you start in your sport?
Grew up swimming and running. Ran cross country and track and field and swam at the University of Wisconsin-Madison. I was recruited into the sport of triathlon through USAT's college recruitment program.
What does a typical training day look like?
Every day and every week is differently, however a typical day would include: an easy morning run, 10:30am swim, and an afternoon strength session and another run, swim, or ride.
What keeps you passionate about your sport?
The challenge of three different sports is motiving as there is always something to improve upon.
What made you realize you had made it?
I didn't think I had 'made it' until I qualified for the 2012 Olympics. When I realized I qualified, I knew I could actually compete on the world stage.
Hobbies:
I love trying new foods and cooking new meals. Every week my fiancé and I try a new restaurant. It's fun to try new things...thankfully we are both not picky eaters. I also enjoy playing in the Ocean when I'm in Australia, mountain biking and skiing when I'm in St Paul, MN, and living in a world-renowned region for wines when I'm in the Basque Country.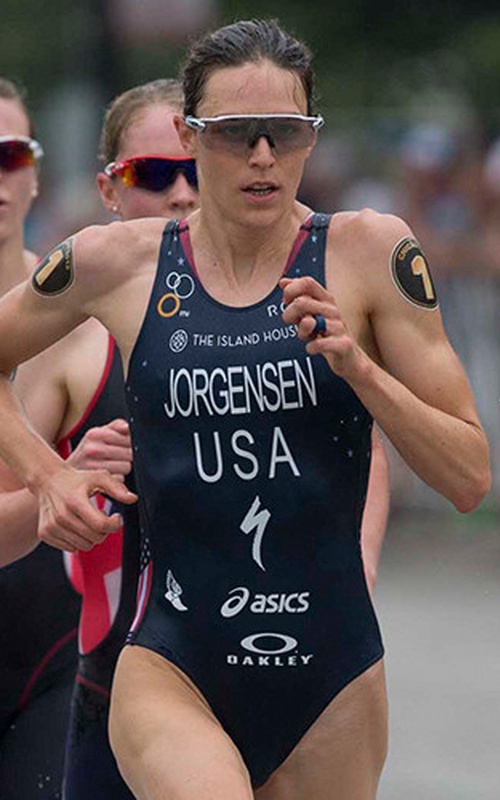 Birthday:
4/25/1986
Place of Birth:
Waukesha, WI
Nickname:
gwenny
College:
University of Wisconsin-Madison
Residence:
St Paul, MN
Height:
5'9
Distance:
Olympic ITU
Facebook:
@gwenjorgensen
Instagram:
@gwenjorgensen