Last race of the Strong Viking OCR Series before the final next month in Nijmegen. Happy with a strong performance, a 10th place overall and a 2nd place in my age group. Qualified at the OCRWC in the pro-division for the second year in a row...not too bad for a high school maths teacher :)
The new year started with an Achille's tendinitis which kept me away from running for about 3 months. I am lucky enough to live in Tromsø and therefore I could train cross-country ski everyday, but still that hasn't been the best preparation for the two races I had already planned in March (Spartan Mallorca and OCR Series in Osnabruck). I went to both races without having run more than 7km, trying to do them as a training session. The performance was quite fine finishing around the top 20, but long behind my initial goals. Thus, after focusing on rehab and training, the race in Amsterdam became crucial to test my shape and not the least to qualify for the OCRWC in the elite class. 
Strong Viking is indeed one of the best races in Europe: very well organized with marshals and judges at each obstacle, perfect marking, challenging obstacles all the way, smart use of the terrain, and a distance of 19km/20km that is not exactly a walk in the park. Amsterdam is surprisingly chosen as the "Hills edition", the Netherlands is certainly not known for the mountains, but if you get a small hill and you climb it from each side a few times you easily get a 500m/600m ascent as a bonus. 
I have run my first Strong Viking last year in Amsterdam so I partially knew what I could expect! The OCR Series is made up of 7 races, unfortunately I got to run just two, so I was not among the best 100 in the series. Therefore my start was behind the first big wall, while the first 100 competitors had already climbed that before, as well as the runners of the marathon (yes two rounds and a bit more!!). This made the first km quite challenging, I had to fight to gain a spot for a quick start over the wall and I got soon stuck on small stairs among many marathon runners with a reasonably slower pace. After that the race was really on. I can't lie, once I set a high pace from the start it was motivating and quite a boost for my confidence to overtake around 150 runners in the first 5km. It goes without saying that the first 5km included walls, crawling, hammer throwing (I made it!!), but nothing particularly challenging. The first technical obstacle was the "snake monkey bar", meaning a rotating ring spiral followed by a regular monkey bar and I was quite pleased to meet many of the first group runners and some known faces there. After 6km came what I probably had feared the most, a never ending mud trench with mud-thickness that I have never experienced before, followed by a rope transverse over the water of about 25m/30m! So far I have only tested the rope transverse during races and I suck at it, doing it for 25m full of thick mud was not really what I was looking forward for!  Here is the proof :)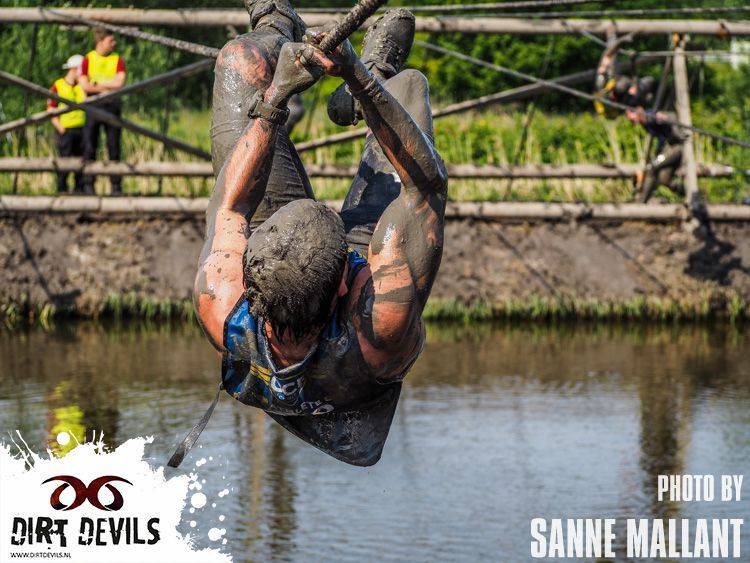 I came to 1/3 of the rope seriously considering to take the burpees penalty, not the least to have the chance to wash off the mud in the water and save time and arms, but I've also thought that obstacle races are meant for you to beat yourself and your weaknesses, so I made my way through it with sore biceps. It was done, I was relieved and the next running session towards the ramp at 7km was good enough to recover my upper body. The ramp never lies, I got full speed although covered in mud and made it without even hanging at the top bar, I do not know if my new Asics Gecko made a good portion of the job, but there I thought: "The legs are with you today, don't mess it up".
I'll make the story a bit shorter now. Trusting my legs and my condition I kept an even pace just below 4min/km all the way, being pretty comfortable at the obstacles too. The list included: nunchuck swing (made with trousers), hamster wheel, moving wall, chain carry, an uphill in the snow park (quite shocking) and much more. I was fighting in the top 10 and had gained about 2 minutes on the guys behind when, after some up and down with and without sandbags that absorbed the last energy left in the body, we came to the final stage with low-rig, moving pegboard and flying monkeybar.
I work only with my upper body in the low-rig, it's quicker and I believe I am strong enough for that, but it is very risky, so a fail swing in the last nunchuck cost me the burpees penalty. I did not really understand what the guys in front of me were doing, but I went onto the moving pegboard and the flying monkeybar still calm and focused despite the penalty, smashing both. When I crossed the finish line I had no idea about my position until I was told: "10th!"
I made it! Top 10 and qualified for the OCRWC in the pro-division, but most of all I had a good feeling all the way and felt strong. After a long injury you are always doubting how well you have recovered and if you really can keep up the game beside a full-time job and other duties. It was so good to see that I am on the right track. Of course there is still a lot to improve, but not having obstacle training facilities in Tromsø is a constant challenge, so I just have to improvise as always. My running is getting better so the goal is to keep on training - finally injury free.
Looking at the final time, the burpees at the low-rig costed me 4 spots, but I won't be picky about that. I would have been only a minute behind the top 5, which for a race of almost 2 hours and 50 obstacles is really not a lot, but going home with a 10th place overall and a 2nd place in my age group is a boost to my motivation. Recovering and training towards Tough Viking in Oslo on the 2nd of June is on the to do list now.
At last, but most important, I got to spend the weekend with my wife and my parents who have traveled from Italy to see me, that was just so motivating! I cannot be thankful enough for their support! 
Cheers!

skrevet av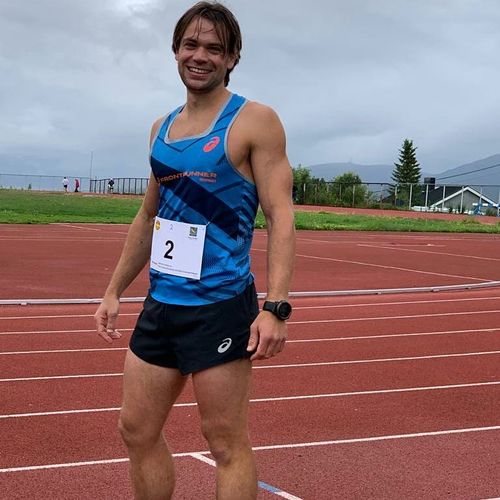 Marco Anelli
Matematikk, naturfag og fitness lærer - Personlig trener fra TROMSO

Aldersgruppe: 30-34 (Elite Wave)
Klubb: OCR Norway
Trener: Jeg lytter og lærer fra flere, men er jeg og kroppen min som lage plana
Mine disipline