Cast your mind back a few weeks and imagine someone telling you the following: within a month, schools will be closed. Almost all public gatherings will be cancelled. Hundreds of millions of people around the world will be out of work. Most of us will be house bound, keeping 2 metre away from each other! Would you believe what you have heard?
I am thinking of you all every day, especially fellow runners who are not even allowed to be out.  In Norway, we are super lucky to have the privilege to carry on enjoying our freedom outdoors!  I feel thankful every day!

The type of 'Lockdown' we are currently in here at home isn't something very new to me.  During my chemotherapy in 2016 and again in 2018, I was kind of living in 'Lockdown' because of my low immune system. Had to stay away from crowds, washing my hands 24-7, had hand sanitizer on me all the times. I did not go out to restaurants or public places. Missed the Adele concert that I booked the tickets for one year before. No concerts. No parties. I would only go shopping in the morning or late in the evening to avoid busy shoppers.  I did not see my friends much neither as they often had colds, flu or other sickness that I had to avoid.  I was perhaps over paranoid and other cancer patients would be out a lot more often than I did. But I was determined to minimise all risks at all costs in order to get the best treatment and to beat this monster for good.  
In my life, I have been lucky to experience many challenges.  Adapting to new cultures, getting through a PhD, learning new languages but chemotherapy was probably the toughest thing I ever endured. Keeping my exercise routine was the key to help me through this although it certain was not always possible.  But it became easier once I had learnt the side effects and knowing when they would set in throughout the chemotherapy cycles.   The toughest side effects were intense nausea, resilient headache, extreme bad taste and just feeling generally unwell all the time.  Anything that I did like watching TV, checking emails, reading text messages would just make things worse. The only thing that ever really helped me was getting to the outdoors and to exercise.  So many times, though, I was too sick to get out of bed. Eventually, I learnt to say to myself, 'Well, it isn't getting better lying around at home. Let's just get out'.  It was hard but slowly, I learnt the power of running and exercising in relieving my side effects. It was an immense mental challenge to be able to get out and exercise. If I wasn't a runner, I am not so sure if I could have ever pulled myself together.   Running has given me so much strength both physically and mentally.  When I ran, I felt strong and I felt I have every power to beat this horrid disease. It is not always something I remember when I was feeling unwell.
If you are still able to go out in your country but struggle to stay active during this difficult time, here are a few things that I did or still do to make sure that I keep being mentally sound and keep exercising.
Always focus on the positive
Brush away any negative thoughts
Exercise first thing in the morning whenever you can.  The longer you sit at home, the worse you will feel, and it gets harder to make a start.  It will also keep you feeling good for the rest of the day.
Have your exercise gear ready the night before. If you are still working whether at home or in your office pack your training gear the night before or put them neatly aside to make it easier to get out either in the morning or after a long, stressful day at work.
Listen to your body. Some days our bodies are just not up for it. On a day like this, take a gentle walk.
Have a weekly training plan. So you follow it even when you feel like you are too tired to get started. One usually do feel physically tired when mentally strained
Get inspired from social media. I have been supported and inspired by so many people on social media.
Do online exercises.  There are fortunately lots of things you can do on the internet these days.  I regularly did aerobics or spinning classes by following youtube channels when the weather was too tough, or I was too rough to go out. They are as good as being at the gym these days.  There is also Asics Studio.
Right now, I am lucky enough to still go running nearly every day. Every year, I usually use Sentrumsløpet in Oslo to set the bar for the season. This year I will be doing my own virtual 10km run on the 25th April. In preparation I am roughly following the weekly plan below since the skiing season ended abruptly due to the lockdown.  
Sunday:  Long run (15 – 25 km)
Monday: Active recovery (5 km)
Tuesday: Tempo run (7 – 9 km)
Wednesday: Walk
Thursday: Interval ( 8 x 800, 6 x 1 000 or 4 x 1500)
Friday: Long interval ( 2 x 20 min or 3 x 10 min)
Saturday: Walk
I am aiming to start the season by running a 10 km in 50 minutes and I use this to set my training pace:
Long run: 6:00/km, Tempo run: 5:35/km, Interval: 4:40-4:50 /km, Long interval: 5:10-5:20 /km, Active recovery: 6:30 /km
If you have any tips for me to become a better, faster runner, please get in touch! I would love to hear your thoughts! 
Final words
We, as runners, are stronger than many, and can pull things off that many do not think are possible. I myself, would have never thought I could keep running in the last 4 years amidst 3 cancer diagnosis, 3 large operations and 2 long periods of chemotherapy. Anything is possible and we always find a way to cope! Last year, 2 months after my double mastectomy and one month of inactivity, I ran Sentrumsløpet (10km) in 49 minutes. It was not a PB to be celebrated but it gave me hope! If you are still able to go running, set yourself a plan and routine to get through this dark period! Here is my typical week if you are interested in getting some ideas:
Stay safe, stay strong! There is always light at the end of the tunnel. It is only a dark period for, hopefully, a very short time. I have come out of it three times as a winner. One who is stronger and wiser! Our bodies and minds recover miraculously. Today, I never think about what I went through during the last 4 years. I am just so happy to be doing the things that I love every day (mostly exercising, working and eating good food), even I am reminded by my flat chest every morning when I get change.  I am just so happy to be doing the things that I love every day! I know that it is very easy for me to say how I have come out as a fighter as I have always been loved wherever I have been, at home, at work or at the hospital. I wish you all to be as lucky as I am to have always been surrounded by amazing and loving people, especially during these difficult times!
For now, we are staying home for the people we love and for our society! But Keep Calm and Carry On Moving! Sending you many virtual hugs!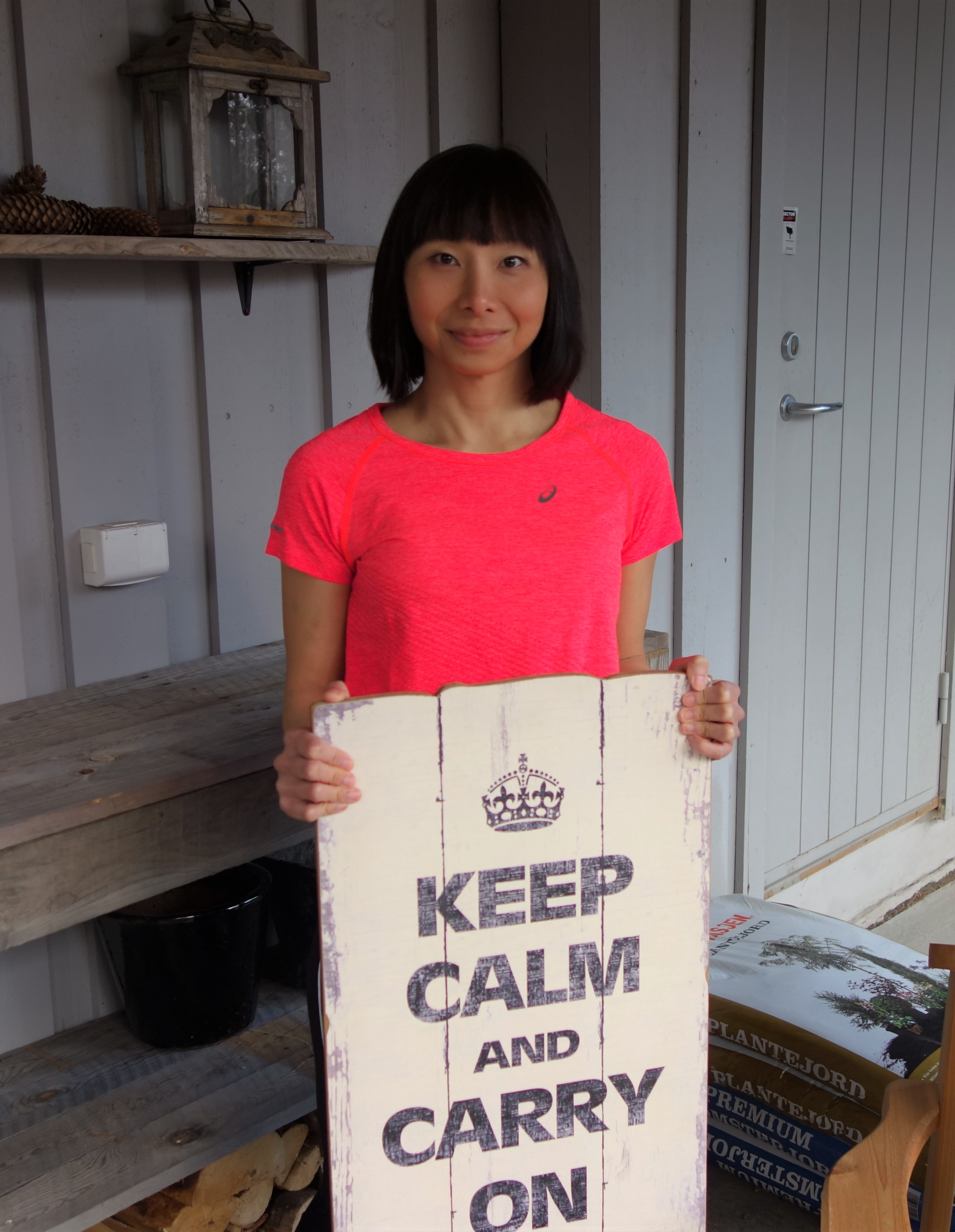 skrevet av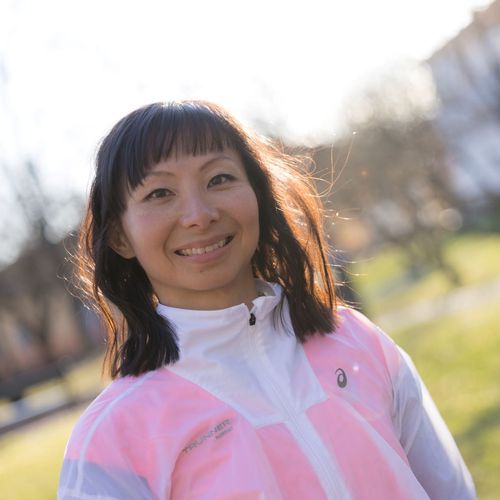 Mine disipline