Zane Robertson's dedication to running and pursuit to become the best has earned him the title of New Zealand men's record holder in both the full marathon and half marathon. After breaking other records, he set his sights on the long-distance title at the Gold Coast Marathon in 2019. Finishing in 2:08, not only did he break the record previously set by his twin brother, but his debut in the distance qualified him for a spot on the team bound for Tokyo in 2021.
As a teenager seeking a community to push his training to the highest level possible, Zane and his brother, Jake Robertson, took their running to Kenya. Even throughout the hardships of living in Africa, they haven't looked back and continue to test their abilities in the harshest conditions - leading them to be considered the world's fastest twins.
"I wanted to be one of the best distance runners in the world, so it was a no brainer for me. Ethiopia and Kenya produce the best runners in the world in huge quantities." Zane attributes many factors to his ability to excel by calling Africa home base, "It's not just one particular thing that makes runners from there great or now us great. Running there is a lifestyle. Altitude is high, food is organic and nutritional, off-road trails and terrain are endless, training partners are many, sleep and rest is enough."
By living in an environment where he can focus solely on his training, he's been able to dedicate his life to running. "No one works another job in between training sessions two or three times a day - training is our one and only job & first priority."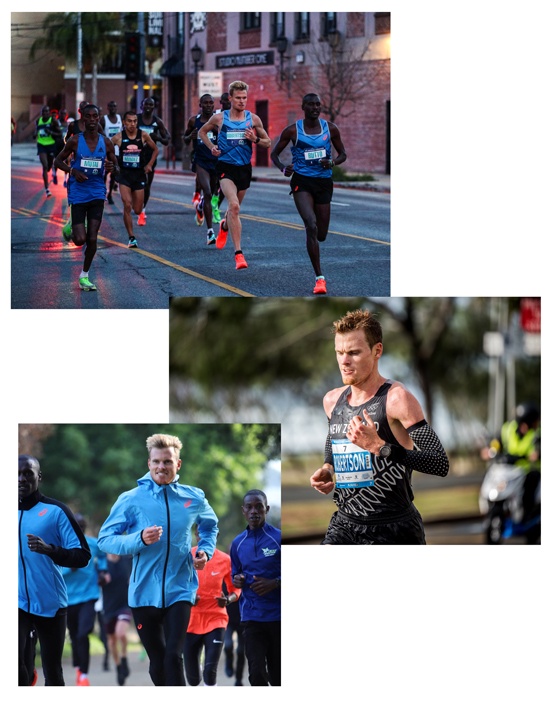 Morning, lunchtime, evening runner?
Morning and evening runs. It allows time for my gym, core/strength & conditioning session at 10am. Also allows for enough rest between runs.

Favourite post-run snack/meal?
Scrambled eggs, avocado, and some bread.

Outside of your shoes, what's one running essential you can't go without?
As a marathoner, a GPS watch is essential for the quality hard sessions. Remember that weekly mileage is a useless figure that won't help you race faster.

Best piece of running advice you've ever received?
Listen to your body. Never stop learning.

Running solo or running in a group?
Group on hard days, it will help you run easier, kind of like the peloton effect in cycling. Solo on easy days is nice - you can run as easy as you need without getting sucked along too fast by others.

Music, Podcast, or your own thoughts? What are they?
Morning runs with my own thoughts, evening runs & gym sessions with music. The Physical Performance Show is a podcast I listen to a lot for my own learning.

In 3 words how would you describe yourself as a runner?
Ambitious, aggressive, disciplined.

Favourite running route in NZ?
Redwoods Forest in Rotorua

What is your favourite event distance?
Most challenging: marathon.

I run because….
I love what I do. Best job in the world.

What's your #1 tip for maintaining a sound mind?
Living in Africa haha, besides that I block out the noise and run to my own heartbeat.
Favourite ASICS shoes?
Cumulus 22
With marathon season on the horizon, we wondered how Zane keeps his head in the race and maintains a sound mind. "I tend to treat race day the same as every hard session day. It's important to get your mind prepared in your build-up so race day won't be a shock. Just go through the motions, eat the same, drink the same, warm up the same, so you don't freak out." For runners who may need a little help with mental training, he suggests, "Nerves are good. They will help you create adrenaline & run faster, just make sure they don't get the best of you. Practice makes perfect."
"I tend to think about my "why" that's the most powerful motivator for me. The reason why I started this, the people I need to prove wrong."
Zane goes on to explain, "Everyone will have their own why. It's important to establish that "why" even while you're in the training phase to drive you on the days you don't want to get out the door."
Although the pandemic of 2020 has thrown his training for a loop, Zane is remaining positive and ready to pick back up on his goals for the future. "The pandemic has postponed plans for this year. However, it hasn't ended them. I have my eyes set on races I'd like to do next year and I'm just waiting for my green light to start full preparation again."
Zane has harnessed the change in plans to focus on spending time with his family and friends - time he otherwise rarely has. He explained how it feels to be back in New Zealand now - inadvertently training in this climate and landscape instead. "I've taken this time to have a long vacation with family and friends. It's very rare in a runner's career to get to spend that time off serious training. Normally it's from one race preparation to another with a week or two off after a major race. It's been amazing to swim in the New Zealand Ocean again, go surfing, go shooting at the farm, see my grandparents for an extended amount of time."
Learn how to build strength in two key muscles groups for runners with Zane's top exercise tips. Improve your speed, endurance and posture by strengthening your core and glutes.

Plus visit our Knowledge Base where you'll find resources on an array of topics for runners - from how to get started and creating a training plan, to discovering how to pick the right running shoes for you.