My triathlon journey started with Asics
Few weeks have past since I officially became a member of Asics FrontRunner community, and the overwhelming buzzing feeling hasn't left my body yet, not sure it will in the near future to be honest. I feel so much gratitude that I am taking part of this great adventure together with so many talented athletes and fellow runners and sharing that same passion.
Before getting into the future plans, visions and expectations let me take you back few years ago to tell you about how it all started and how triathlon came to play a big part of my life and how running managed to give my training a purpose.
It was August 2017, and I was about to take a dive in 11 degrees "Östersjö" waters to compete in my first triathlon race ever. One month prior to this local sprint race I didn't know much about triathlon more than it was a tuff sport including swimming, biking and running. At that time I wouldn't consider myself as a runner, more like a "wanna be" cyclist and most definitely not a swimmer. I remember the feeling standing there watching all those fit triathletes toeing the line in wetsuits before the swim it was really intimidating. I remember I was so exited getting into this sport and I wanted to speak to everyone, but no one was interesting in chatting with a random bloke before the race. I wanted to talk to them about their experiences, equipment, maybe last minute advices or maybe a quick fix that minimize the embarrassment I was about to bring to myself.
Surprisingly the race went pretty good and I managed to beat most of those experienced tuff guys, finished on the podium and I scored the fastest running split for the day, and I did it Yes with Asics Noosa Tri (without socks).
All of a sudden the bunch noticed me, and their curiosity knowing about my background grew a bit after that day, and even though I didn't win that race, I certainly took that win in life performance. Most importantly the performance and the experience of pushing myself to the limits that day made me realize that Im not defined by my strongest abilities but instead in turning the weaknesses into strengths.
Since then till this day I still keep that Noosa Tri shoe (totally worn out sole) from my first race with other trophies as reminder that whenever I feel weak or down it is always about doing "my best" and instead of letting the outcome defines who I am, my response to those events is what matters.
From that day I fell in love with the journey, the process, the ups and downs, the people, the experience, the racing, the sharing, the risk taking, the drama, the fear, the humbleness, the gratitude, the optimism… That keeps me pushing it, never giving up, turning bad days into a good day, turning frustration into speed, self doubt into confidence. And the most important taking care of my body so I can continue to have the privilege to do this hobby and try to motivate others to do the same.
skriven av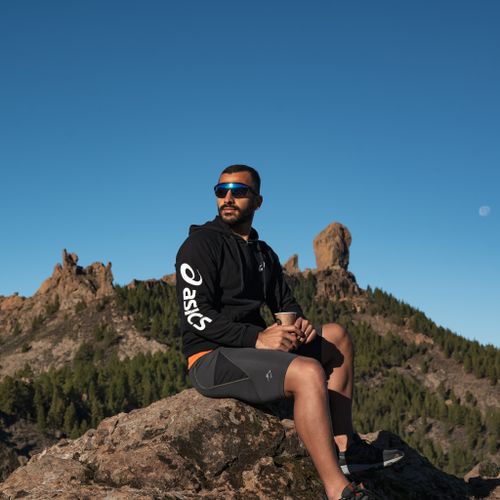 Mikko Mallo
Brandman från Sölvesborg

Åldersgrupp: AG 30-35
Klubb: Ryssbergets IK, Karlshamns triathlon klubb

Mina discipliner