Me taking part of this team turned out to be the best thing 2020 had to offer. Already looking forward to 2021 and everything in it!
How it started
I got the call early 2020 from the Swedish Team Captain David Lenneman and it felt somewhat unreal reflecting to the fact that I was chosen to take part of this amazing world wide team with this fantastic reputation that precedes. I felt like i won something, and I don't know if David actually remembers this but I really reacted like a just won the mini-lottery. It was a happy call!! 
So i was too excited to be introduced to this traditional team, this world wide brand that have/still changing peoples life every single day, and to take part of the motivational, inspirational work that it's done, trying myself to inspire people for movement. A sound mind and a sound body, a motto that I have heard so many times before, but really didn't know the maning or the significancy of it until I became an ASICS FrontRunner ambassador. 
Being a brand ambassador and being sponsored by the brand are two totally different things, I knew that forehand. Therefore it was important for me that if I want to represent something, it had to go hand in hand with my own personal values and principals. So that's why I was so happy about in the beginning because not only I am able to wear the best technical, high performance running apparel there is, but also taking part of the #soundmindsoundbody movement. 
expectations VS reality
My expectation were high. Like I mentioned earlier, the ASICS FrontRunner teams reputation precedes itself. Spontaneously i was directly eager to meeting my new team mates, having training camps together both home and abroad, races, events, shoots, networking, you know sky was the limit... I was curious to meet the legendary Jonas Buud ( google him) and the European Sprint Queen Moa Hjelmer (please don't tell them :P). I didn't knew much about the others guys and girls honestly, but I was looking forward to meeting everyone, and start this journey together. I was excited about getting the opportunity to level up my running game with so many unbelievable  athletes on the team that could help me out my own quest of getting better at my individuell goals but really teach me more about this great team and the spirit behind it. 
Also I was insecure, and a bit intimidated by the fact that; what was it about me that is going to contribute to making to team better, to inspire, and motivate...   

As an ambassador we are asked to be ourselves, and by doing so, the only requirement is that we promote and inspire for movement, that's all. We are not influencers, neither experts, we are just a bunch of people with different backgrounds and expertise sharing the same passion. The passion for running.
Upon the official announcement of the new members early twenty-twenty, I was overwhelmed with the warm response I got from the team. Right away I felt very welcome from everyone and the amount of love and kindess really blew me away, it all felt like a giant loving family. On the other hand it was a lot of information in the beginning; engaging in multiple groups on social media and soon enough I was connected to this running community world wide, it felt surreal. 
At the same time on the other side of the world, some kind of an epidemic was happening, races and events was getting cancelled. Airports and flights also being stoped, and in a blink of an eye the COVID-19 was spreading all over the world and with it all my pre-hand expectation and dreams about racing season and the adventures with my team, suddenly turned into something very different. My selfish me was only thinking about how can I possibly be more unlucky to get robbed like this by a stupid virus. Off course early on no one knew the implications of what was really happening with this world wide life changing event.
In that moment I was thrown back into the essence of the ASICS #soundmindsoundbody. Soon enough I knew the greatness about this team and the people around it. It is in adversity that people and principles show their greatness, and to be honest, through this team I was involved in ground breaking unconventional events, that 1 year ago no one knew there were possibles...
STAY Tuned to read all about it in PART 2. ASICS Frontrunners VS COVID-19 and about goals and outcomes and how the team managed to turn setbacks into motivating efforts.    
skriven av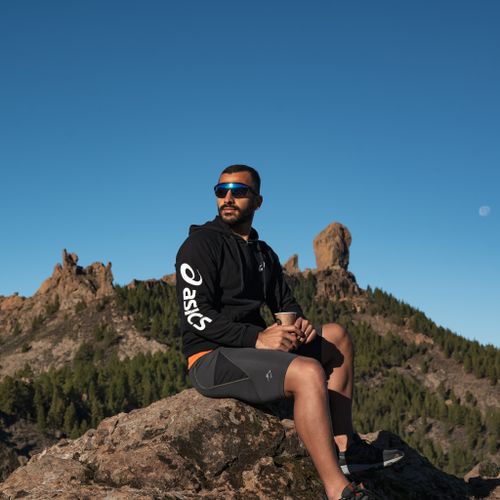 Mikko Mallo
Brandman från Sölvesborg

Åldersgrupp: AG 30-35
Klubb: Ryssbergets IK, Karlshamns triathlon klubb

Mina discipliner