[Singapore, 26 October 2019] ASICS has successfully concluded the 3rd edition of ASICS Relay, a highly anticipated Southeast Asian race series that took place in four cities, with Singapore playing host for the last leg.

Held on 26 October 2019 at the Bayfront Event Square, ASICS Relay Singapore 2019 welcomed more than 800 teams with 3,200 participants, including local personalities Chantalle Ng, Ayden Sng, Elaine Rui Min and three of the city ambassadors, Toey Pongsakorn for Thailand, Jasmine Suraya for Malaysia, and Chase Tan for Singapore.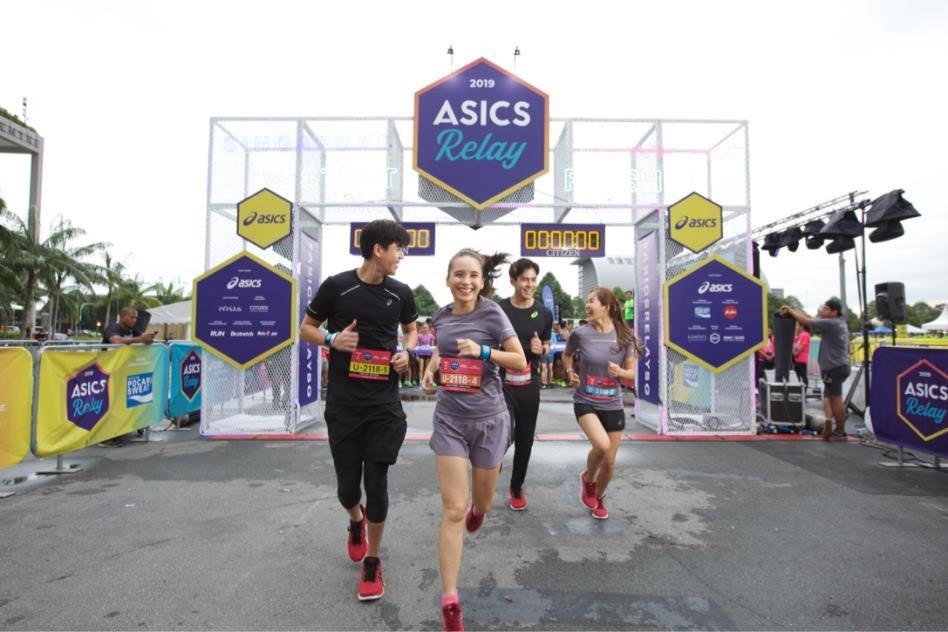 The winning team of ASICS Relay 2019's 42km Full Marathon walked away with a grand prize of SG$1,000, along with 4 pairs of ASICS footwear, an acti-tape set and a package of osteo-chiro treatment or a TCM (Traditional Chinese Medicine) pain management session. The team, Shufflers, achieved an impressive timing of 2:23:29. The team comprises of Nick Impey, Rie Sugaya, Valentin Cuzzucoli and Foo Gen Lin.
Team RUnderated, comprising of members Gordon Lim, Valerie Yong, Desmond Ang and Burton He, won the Half Marathon category with a timing of 1:19:45. The team of Jeevaneesh Soundararajah and Raviin Kumar won the Buddy of 2 open category with a timing of 1:23:56.
On the event day, runners were able to explore ASICS' latest offerings in the race village. Participants had the opportunity to try on the recently launched GLIDERIDE™, and carry out on-site purchase via ASICS.com at the booth.
Local DJ Farah Farz was also present to keep the spirits of participants and spectators up throughout the night, while attendees perused interactive booths in the race village, including a 180-degree photo booth where participants could take a souvenir snapshot.
Sponsors' booths offered participants a welcomed respite after the race, where they were able to purchase bubble tea drinks from Gong Cha's self-serving kiosk, hydrate with a bottle of Pocari Sweat, lounge in the AirAsia booth, receive a trial session of stretching with Dr. Stretch, try on CITIZEN's new Eco Dive watch, and have a go on CITIZEN's claw machine with the chance to win attractive prizes.
ASICS Relay is an annual running event that celebrates team-spirit. Unlike the usual marathon format that emphasises individual performance, ASICS Relay's relay format requires each member of the team to complete an assigned portion of the distance, to pass on a race token to the next member.
In addition to the two race categories from previous years, the 42km Full Marathon and 21km Half Marathon, a new category was introduced to accommodate smaller teams – the Half Marathon (Buddy of 2) category. Each member of the buddy team had to complete 10.5km to finish the race.
Hi-res images are available here.