Queen Harrison - ASICS Track Athlete
CAREER HIGHLIGHTS
US Championships: USA champs runner up 100mh (2014, 2013)
US Champs runner up 400m hurdles (2008, 2011)
USA Juniors 400mh champion (2007)
US Juniors 100mh runner up (2007)
International: PanAm Junior 400mh champion (2007) and PanAm Junior 100mH runner up (2007)
2008 Olympian (400mH) as the youngest track athlete on the team
World Championship team member 400mh and semifinalist (2011)
World Championship team member 100mh and finalist finishing 5th (2013)
BACKGROUND
How did you start in your sport?
I originally joined the track team as an effort to make friends when I moved to Virginia from New York. I started off playing basketball and ran track in the spring time because it was the largest team at school and I immediately took to it. When I was a tiny 6th grader and I was beating the 8th graders my coaches took notice and pushed me to take it a little more seriously. It wasn't until my 10th grade year in HS that my Coach sat me down and told me that I have a serious shot at landing an athletic scholarship in track if I only took it more seriously so at that moment I decided to quit basketball and hone all my skills and talents into track and field.
What does a typical training day look like?
I usually lift 2-3 times a week so as of this year after grabbing something to eat I head to the weight room on my lifting days to lift first and then head over to the track. If it's the preseason than instead of being on the track it's more likely that I will have grass runs and hills and when the season comes around I'm out there on the mondo putting in work!
What keeps you passionate about your sport?
I love competing and it's so much fun! I think I am able to stay passionate about track and field not only because it's fun and I enjoy it but also because there is always more to learn, especially with the hurdles. Unlike some other events my event is multi-faceted, we have to train to be powerful out the blocks, quick in between the hurdles, technically sound over the barriers and rhythmic throughout the race so there is always room for improvement.
What continues to drive you forward?
I have a very supportive family that continues to reassure me in my abilities and the goals that I know I can reach. If anything I would say they help drive me to continue moving forward and training hard because the work will not be in vain. Being a professional athlete I have to sacrifice time at home with my family in Virginia because I live in South Carolina but when I hear the excitement in their voices after I run, I know it is all worth it.
What made you realize you had made it?
I honestly didn't know what it meant to "go pro" in track and field until after I made the Olympic team by sophomore year. There was interest in if I was going to continue my collegiate career or become a professional and that's when I had to ask my coach, Lawrence Johnson, what it even meant. But I decided to stay in school so I guess I didn't "make it" until after my senior year at NCAAs when I crossed the line in the 100 hurdles. At that point I had accomplished my final collegiate career goal in winning both the 100hurdles and 400hurdles in the same year and that's when I knew I was ready for the big leagues and to make history.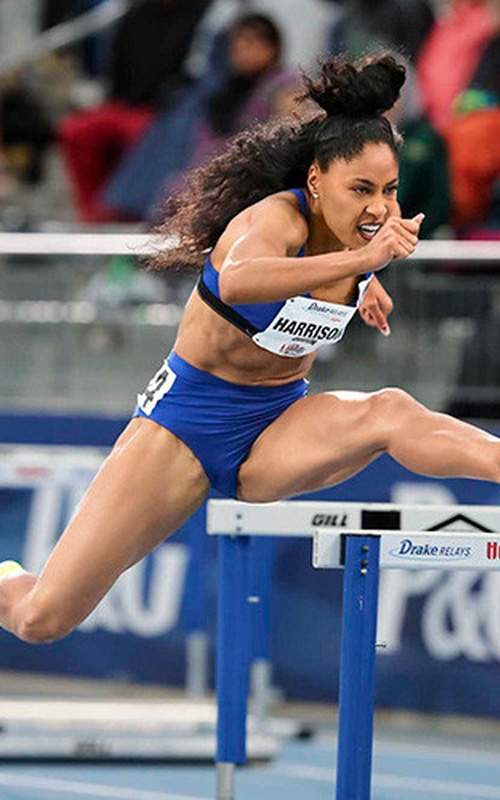 Birthday:
9/10/1988
Place of Birth:
Loch Sheldrake, NY
Residence:
South Carolina
College:
Virginia Tech
Height:
5'6"
Event:
100m hurdles/400m hurdles
Instagram:
@goqueengo
Twitter:
@goqueengo