Henri Schoeman - ASICS triathlete
Henri started competing in the Elite Men's field in 2013 with arguably one of the strongest and most consistent swims in international professional triathlon.  After his first race in San Diego, he worked on his weaknesses and managed to place 6th at his next race in the WTS in Yokohama. Kitzbuhel was up next and Henri shocked the world by finishing 4th in what was dubbed one of the most difficult courses. The 2013 season saw Henri add 3 more Top 15 placings to his fast growing list of achievements.
2014 was plagued with injuries and illness but Henri still managed to be crowned African Champion and at the Glasgow Commonwealth Games, Henri was part of the South African Mixed Relay team who won Silver. Henri finished 2014 on a high note when he won the ITU World Cup in Tongyeong.
In 2015 Henri continued his journey to the top by retaining his African Championship title and placing within the Top 15 in the WTS in 7 out of the 10 events.
The 2016 season didn't start off as well as he would've liked in Abu Dhabi but he turned it around and won his next race in East London to retain, for the 4th consecutive year, the title of African Triathlon Champion. 
There was no looking back then and after a fantastic season of consistent Top 10 placings, on 18 August 2016, Henri wowed the world by adding a powerful knock-out blow to his already potent swim-bike repertoire. Years of gruelling work behind the scenes came together in a blistering run along Copacabana Beach that earned Henri the Bronze medal at the Rio Olympics.
This was even more special as it was the first Olympic medal South Africa has won in the sport. He then followed up that dream-worthy performance by winning his first-ever World Triathlon Series race at the Cozumel Grand Final.
2017 saw two silver medals and 5 Top 10 races throughout the season, ending the year ranked within the Top 10.  
Henri started 2018 with a bang as he won the World Triathlon Abu Dhabi Race in thrilling fashion by becoming only the 2nd athlete to lead out of the swim, the bike and the run legs of a race. 
He was not done yet as he ran to a phenomenal victory in the 2018 Commonwealth Games held in the Gold Coast of Australia.
When Henri is not training, racing, eating or sleeping, he enjoys spending time relaxing at home in Durban, South Africa with his parents, his girlfriend, Franzel and their 2 dogs and rabbits.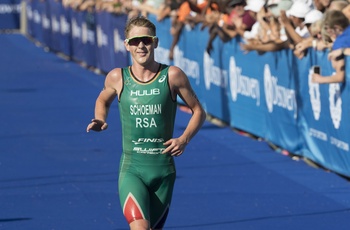 2018 Cape Town ITU Triathlon World Cup: 2nd
2018 ITU World Triathlon Abu Dhabi: 1st
2018 Gold Coast Commonwealth Games: 1st
2018 ITU World Triathlon Bermuda: 8th