At under 260g (men's US #9) EVORIDE™ is the lightest and most affordable shoe in the 'ride' family and follows the launch to critical acclaim of the highly successful METARIDE™ and GLIDERIDE™ shoes released in 2019.
A SPRING IN THE STEP
Designed for neutral runners, the new EVORIDE™ offers a dramatic toe spring that gives a rolling feeling for effortless forward motion. With a moderate sole curvature, compared to the previous two shoes in the family, EVORIDE™ offers more choice for runners with differing running styles and needs who want to take advantage of the GUIDESOLE™ technology. Meanwhile, a soft one-piece midsole with full ground contact gives a smooth heel-to-toe transition and Super AHAR™ rubber under the heel delivers added durability.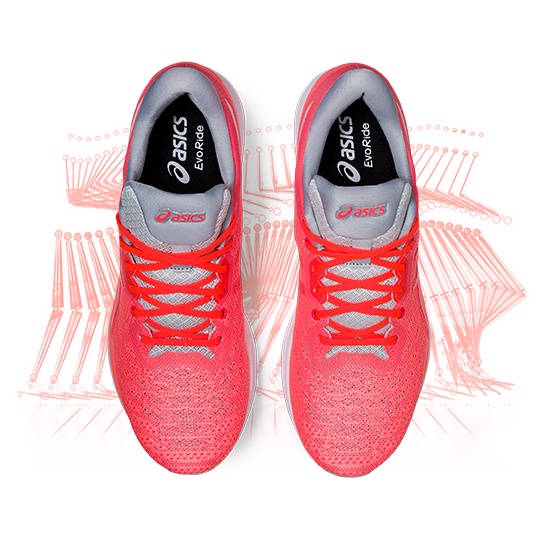 GUIDESOLE™ TECHNOLOGY
Like the other shoes in the ASICS energy-saving family, EVORIDE™ features the signature and innovative GUIDESOLE™ technology, an ergonomic, precision-shaped curved sole that works by limiting movement in the ankle joint, the area where most energy is expended.
UNCOMPROMISED COMFORT
Despite its lightweight design, the new EVORIDE™ sacrifices absolutely nothing in terms of comfort. The FLYTEFOAM™ Propel midsole offers outstanding cushioning and a soft, responsive underfoot feel, while the multi-directional stretch mesh upper material enhances breathability and adjusts to the shape of the wearer's foot to deliver an excellent fit.
EVORIDE will be available in South Africa soon. Stay tuned to our social channels to stay up to date.