FIND A GROUP OF PEOPLE WHO CHALLENGE AND INSPIRE YOU, SPEND A LOT OF TIME WITH THEM, AND IT WILL CHANGE YOUR LIFE. - AMY POEHLER
If you had told me a year ago that I would've completed a marathon, and taken part in a stage race doing about 90km with over 4000m of elevation over the three days, I would have most likely laughed in your face.

And yet, here I am, having completed both, and it is all because of being a part of the ASICS family.
Being chosen as a Front Runner last year definitely catapulted my running into a whole new dimension.  My school had never offered any form of athletics (for some odd reason), and my main focus was always gymnastics.  So my life as a runner only really began about 5 years ago.  From starting off with 5km's to entering and finishing my first ever half marathon-  The Gun Run, I thought this was where I would draw the line.
And then… this began to change.  Being on a Whatsapp group with my fellow ASICS teammates always meant there was a ton of inspiration flying around about upcoming races being entered, new PB's being achieved, people challenging themselves and pushing their physical and mental limits, AND I couldn't help but sign myself up for my first marathon.
Not only was the training and hype leading up to it a ton of fun (and slightly nerve-racking), but the enthusiasm and encouragement from all the Front Runners made it that much more exciting and made me back myself that much more.  Even though we raced as individuals, I felt like I had my teammates there with me, cheering me on through the tough times of the race, because they made me want to push my limits the way they always did… Because being an ASICS FrontRunner made me want to level up!
And then came African X-  A stage race consisting of about 90km's and roughly 4000m in elevation spread over three days.  I would have never even given this race a thought, but again… Hearing about how well some of our FrontRunners did last year, hearing about their experiences, and seeing them take on some insanely tough trails, made me want to give it a go.  
This event was about three weeks ago, and I am still on a high.  Not only was the scenery and the whole comradery on the trail something I will remember for the rest of my life, but that feeling of accomplishment already has me looking for bigger challenges to take on.  AND again, I only entered this because of how much my team mates inspire me.
It is amazing how peoples challenges and triumphs not only positively affect and inspire themselves, but just how much it can inspire you too.  And in saying that, I hope that by putting myself out there with races / events I never thought I would be able to achieve, that I too can encourage people to back themselves and take on new thrilling challenges.  


written by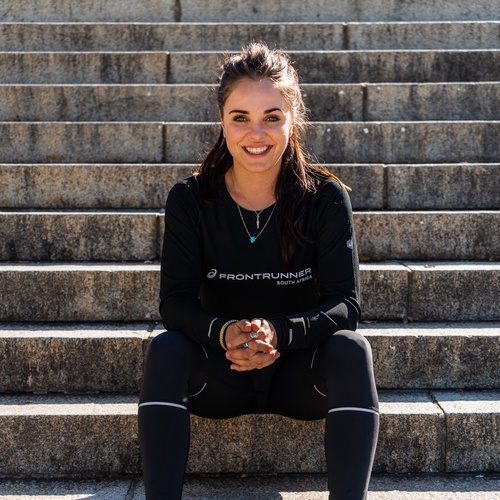 Tracy-Lee Dalton
Self-Employed from Cape Town

Age group: 31
Club: ASICS Running Club
Coach: Brendan Lombard
My Disciplines