Given A chance I'd do it all over again
It's a Wednesday , under 2 weeks after I completed my second 100milers this year! A brutal day at the office. My calendar beeps, it's a reminder , Otter Trail Race n 2 days! I don't have accommodation or a flight! My new job has not allowed me a gap to even plan my own social life! I check flights…."ridiculous while I shake my head"…. I search buses "okay reasonable! but I still gotta hire a car or arrange transfer"….. i start to feel stuck…. I immediately call my sister (my no1 supporter and brutal advisorist) and explain my situation. I play reverse psychology that I'm not doing otter due to the situation… her answer is "you're crazy, I'm sure you can make a plan!" Not knowing She was part of the plan after massaging and and calling her bf who she had made weekend plans with, Thursday night we are driving 13 hours to make it to storms river just rested enough for me to be able to run the prologue before 4:15pm, mind you I have only done 3km on a treadmill since my 100miler, my legs are stiff, still a bit sore and blisters not fully healed….recovery took longer this year due to work pressures. But this alone is a challenge that's motivating to push my body just one more lap, 2km lap that is!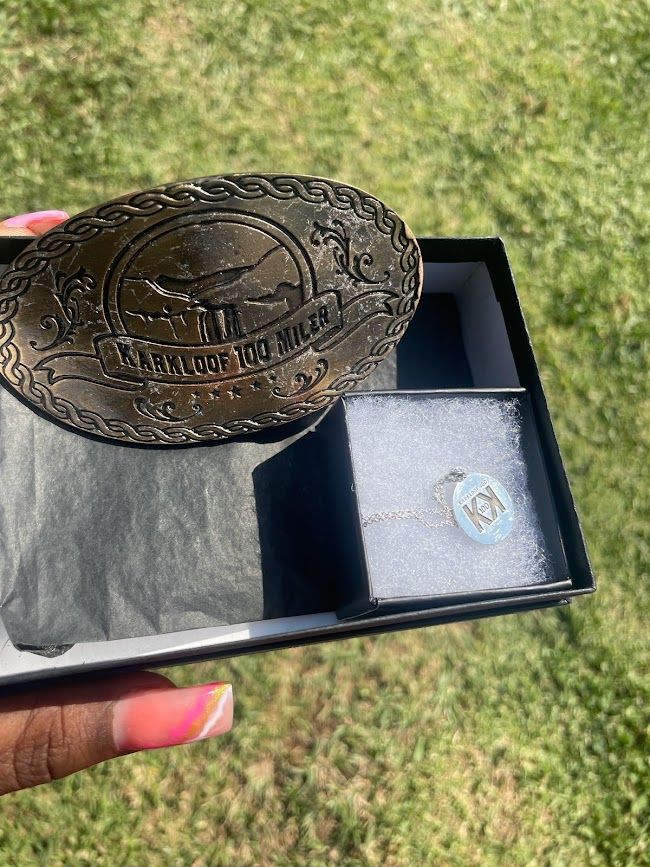 A quick decision to do prologues with my trail trabuco 10 ( runnable fast route) and main race with Fujilite2 ( the fit will help manage blisters from the multi river crossing) my trabuco are 2 sizes up… had pick quick dry and light ASICS clothing coz I knew I'm going to be wet mist of the race but also hot in between! I'm the last person to do the prologue….32min 5km…I'm not happy but that is what my fatigued body gave me and I'm grateful it survived….and I now have a spot at the star line! I could finally pose for pictures and give some calls to update family that we are safe a ready to conquer! What was more exciting is I ran my prologue for a course, October being cancer month, ol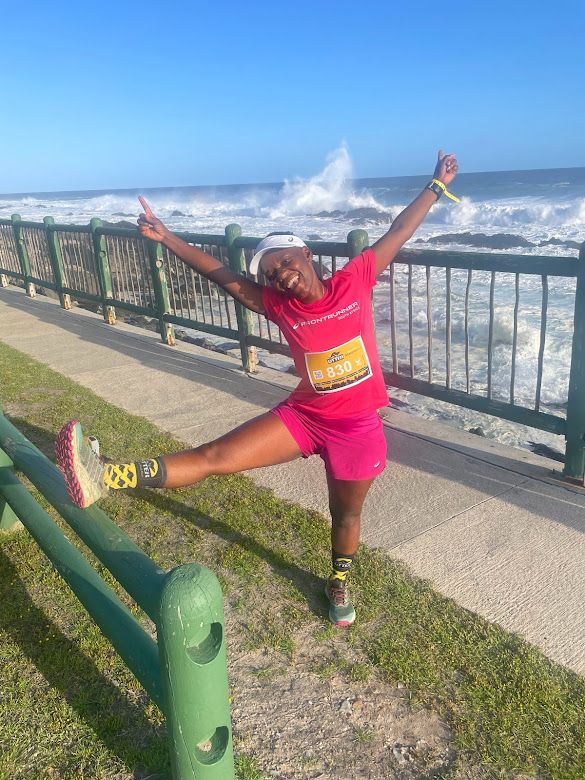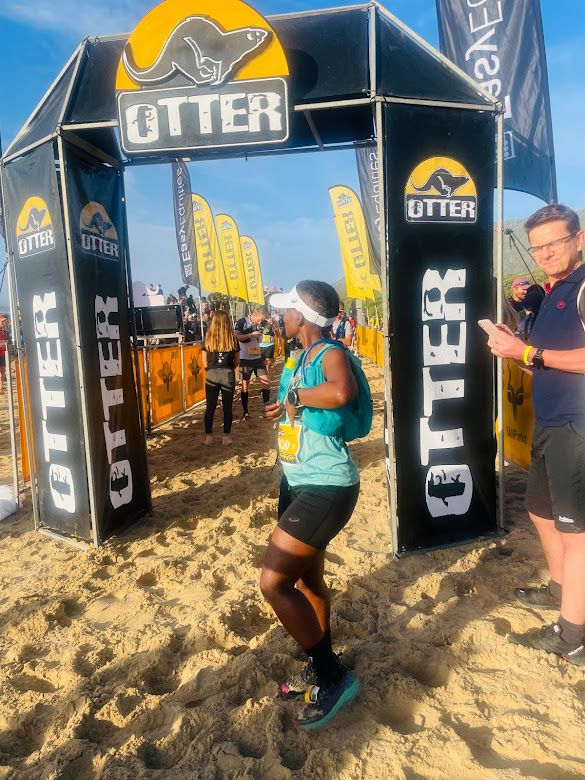 If there was a dream race since I started running Trail, it's the otter Trail. I will not go on an angle of promoting this race but there's more to it than just being a good race, once hosting the golden trail series final! And if you know me well you'd know I don't just enter good races I'm forever seeking an adventure, this might mean a small village race but as long as it's challenging. I love a challenge!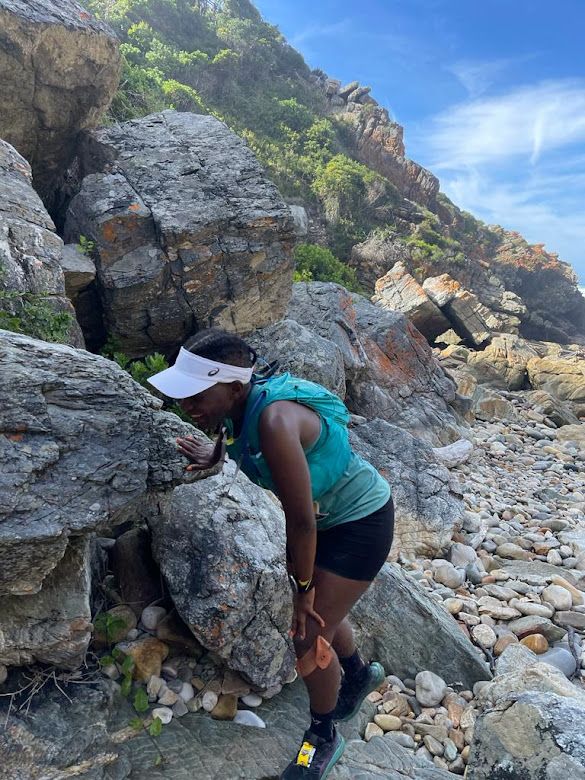 Otter Trail is a trail section on the coast of eastern cape province in South Africa. It is common to have to book access to this trail a year in advance if lucky you may get slits earlier. The hike takes five days and you have to be self sufficient during this period as there's no access civilisation during this period.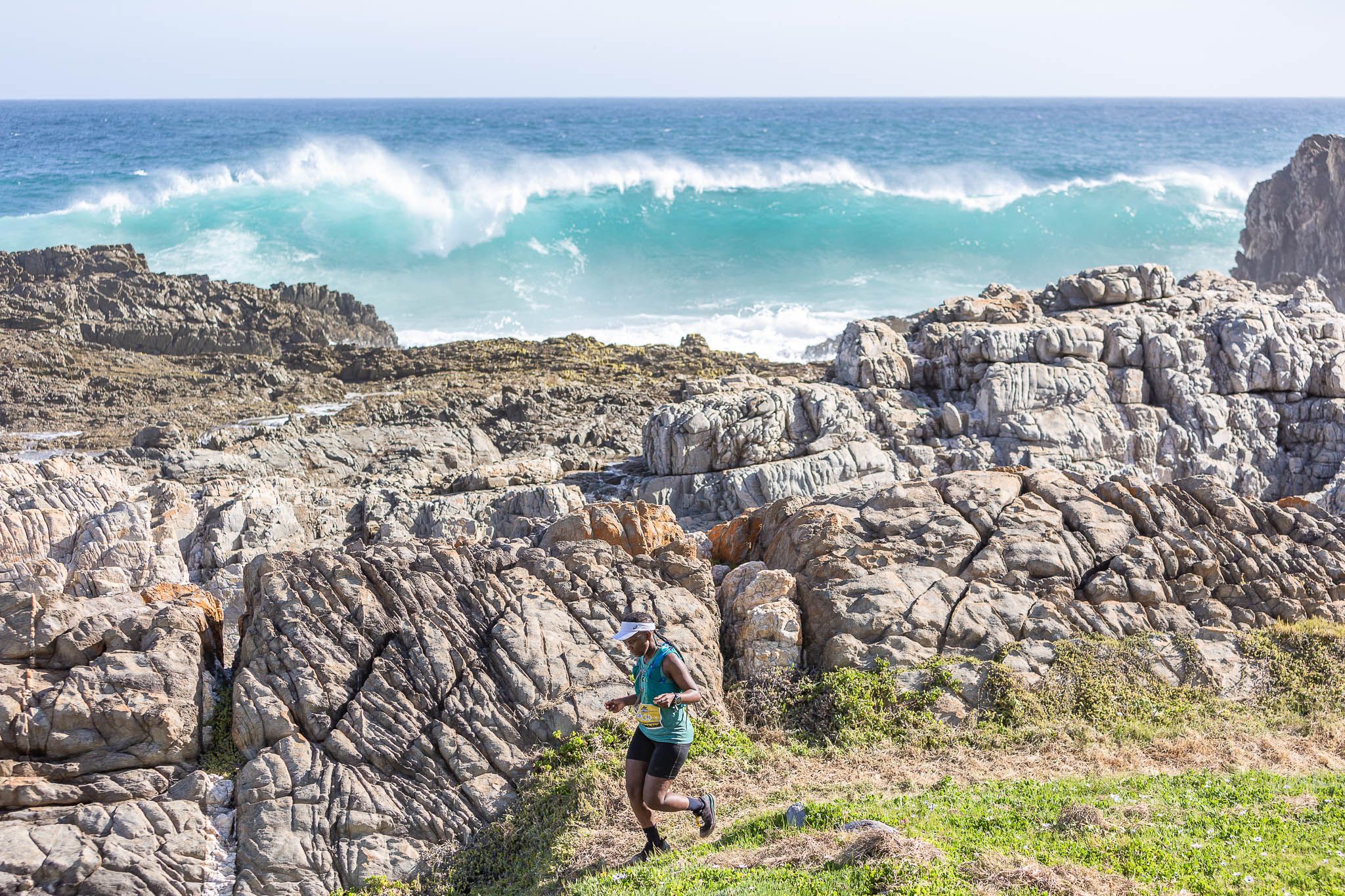 Now you gotta imagine having to do this hike in 1 day …. Wait that's not 24HRS it's 9hours for the race. For beginners you gotta opt for a challenge which happens 2 days prior with a cutoff of 11hours!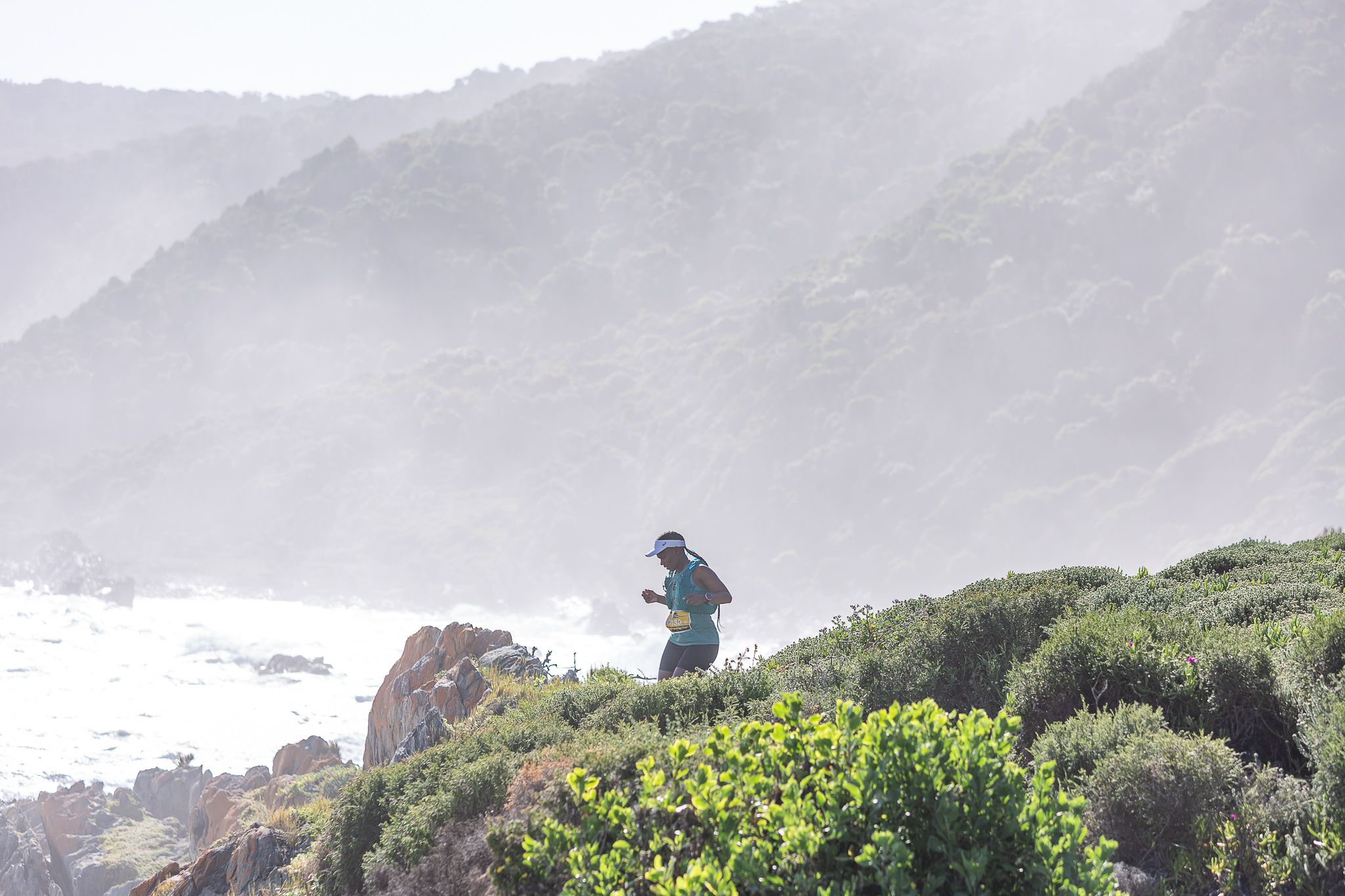 The challenge is not that you do this race in a trail section others take five days to complete and you gotta complete it in 9hours! It's that 2500m ascents you gotta climb and +7000 stairs in the process you must eliminate one by one! You calves, quads and glutes will screen at you so many times! Test you gotta keep moving! Though the one if the most technical sections in a marathon trail I've experienced, many river crossings, bloukrans river is the most infamous one as if you pass here at high tide you better trust your open water swimming skills or hold on to the safety rope for dear life to get across! If it's not big boulders you must conquer, it's slice shale rocks you must slide across! I'm reached a conclusion otter is not meant to be a run but an obstacle challenge!

As a fellow runner describes it the minutes it feels like every time you think you dried up and light enough to run freely again someone pours water on you! It's you vs otter out there and the clock won't stop ticking!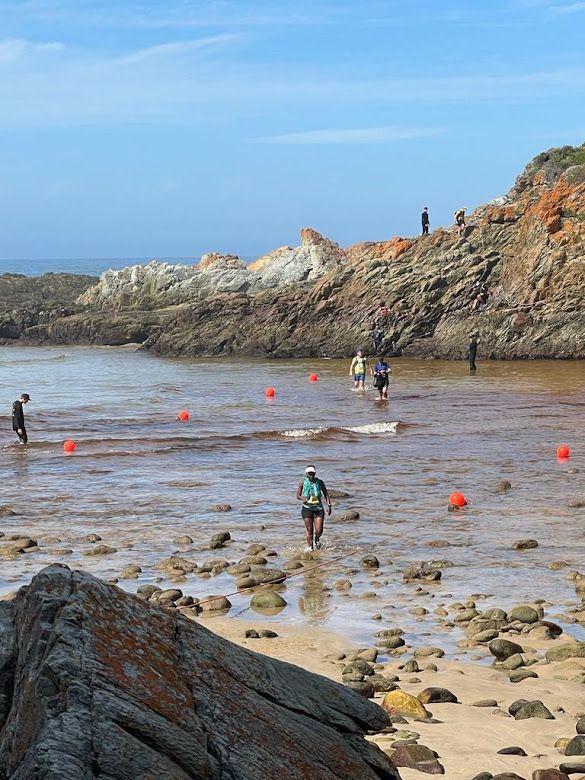 The challenge doesn't end there, seeding for the otter trail is done the day before over a 5km trail sprint! The first 16 males and female start the race as elite ( abanteni) and are considered contenders for the price money! Do you save energy for the main race or give it your all and see if you get lucky… we'll so much for someone who loves a challenge, I'd hate to test my ancestor so I've so far fallen in the former! I do have a dream of making abangeli one day for now I'm good at chasing just the adventure!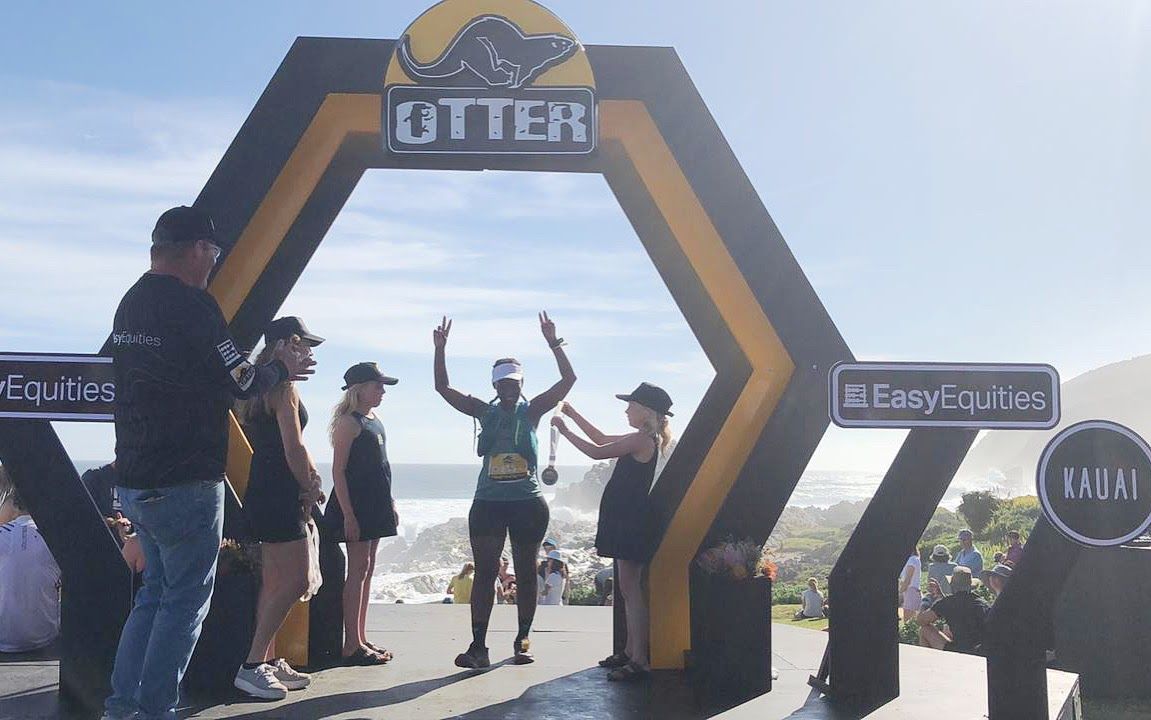 Otter is done in alternating directions each year! 2021 I did the classic and 2022 I did Retto. For a short legged human like myself Retto stairs were way too high and taxing that I felt overworked the whole race. I must say I was less prepared and more fatigues from comrades and a 100miler in 2022 than in 2021 where I only did a 100miler 2 weeks to Otter Trail race. My general experience is that I prefer classic!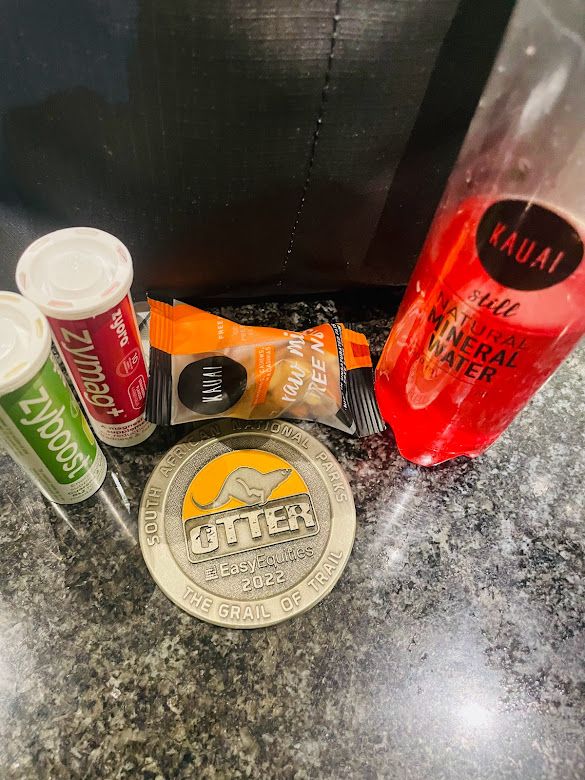 Now that I have my back to back Otter Trail, period pains and dehydration a story of the past and the blisters cleared…. I'm definitely curious if it's worth one more try! I'm yet to see the otter so maybe, just maybe I'll keep chasing the Otter and get a few more friends to join this wonderful adventure!

I'll just pretend to still be thinking about it while i seek more adventures
written by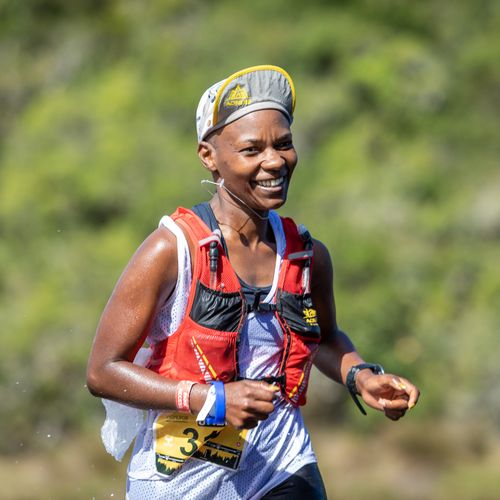 Nonhla Tau
Engineer from Johanneberg

Age group: 32


My Disciplines