Where do I even begin… It is such an honor to be referred to as a Comrades Marathon medalist and even greater honor to have started and finished this amazing race. Here is my journey…
From the time I started running in 2019, my goal was to run the Comrades Marathon. And I worked very hard towards this. But unfortunately, this goal was not fulfilled because of the pandemic. Even though I was a bit discouraged about this, it was a blessing as it gave me an opportunity to become a stronger runner both mentally and physically. I went through many experiences i.e running several marathons, ultra-marathons, Lesotho Trails run, strength training etc. that all played a huge part of fulfilling this big goal.
The training season towards Comrades Marathon 2022 was tough; early morning runs in the cold, covering crazy mileage, managing and recovering from unexpected niggles, running when you really did not want to, but even with all of that, it was completely worth it. My training routine differed daily; waking up at 4:00 to be on the treadmill or on the road at 5:00 before work and Sundays would be designated for long runs with my training team. Of course, on some days I did not feel like it, and would be highly demotivated, but I also remembered what I was working towards and had the most amazing people behind my training which gave me the greatest motivation and helped me get back on the wagon.
A week before Comrades, I started feeling sick and I was sure that I was getting the flu. This upset me so much and added to the anxiety I already had over the race. I decided to rest it out and not run, drink as much vitamins and natural remedies as possible (ginger etc) and even with this, I somehow was not getting any better. At this point, my anxiety had skyrocketed, I had many break downs and felt very overwhelmed and doubt filled my mind. But I still packed my bags and headed to Kwazulu-Natal and was determined to get behind that start line.
Race day finally arrived, and I still somehow felt overwhelmed with anxiety and just not feeling too well, but even with that, I laced up and headed to the start line in Pietermaritzburg at 2:30am. The atmosphere at the start was amazing and I remember thinking to myself that "this is it! This is what I have been working towards for the past 6 months". I had imagined myself at the start for the past months and of course I thought I was going to be emotional, especially with the Chariots of Fire playing, but I was so excited and could not wait for the race to begin. At that moment, everything that I had been feeling throughout the week somehow disappeared and I was filled with a sense of pride and achievement with just getting to the start line. I reflected upon how God took me through all the ups and downs of training and thanking Him for bringing me to this point. The gun went off and we began…
Its true what they say "the begin and the end is probably the nicest and comprehendible part of Comrades, everything in between is negotiable". Things started off very well for me, and I seemed to be ahead of my targeted finish time. Until my worst fear happened when I reached 33km, my ITB flared up. I immediately had flashbacks of the Lesotho Trail run where the same thing happened and I immediately was filled with the greatest sense of disappointment. There and then, I was convinced that I was not going to finish the race. I remember praying and asking God to miraculously take this pain away, I remember stretching and stopping at the Physiotherapists stations to get some sort of relief, but I just could not shake the pain off… and once my ITB has reached that point of pain, I know I need to stop and rest. I told my partner that I am not going to be able to finish the race, and he firmly, but also gently, shut down my negative thinking and told me we need to keep moving. At that point I thought that he was not hearing or understanding what I was saying, but when I reflect upon it now, it was what I needed to snap out of my negative thinking. So we moved, yes much slower than the previous half and we walked more often than running, but we put one foot Infront of the other and kept moving forward.
Even though my ITB pain started with 57km to go, which in my mind was impossible, we attacked the race a kilometer at a time and before we knew it, we had 25km to go. I remember seeing my Dad at this point, and he said "Do not worry, take it easy, you are almost done". His words and presence gave me so much hope and I continued with that "we almost there" mentality. I hit a wall at 15km to go, both my physical and mental reserves had depleted and I just wanted to go home. I was running in the new ASICS Gel Kayano 29, which in my opinion, is the most comfortable shoe, but with being on my feet for almost 11 hours, it felt like I was walking on the tar and it also felt like the bottom of my feet were bleeding. I was tempted to sit down, take off my shoes and just have a little 5mins rest, but that was risky. We could not stop now right? So we moved, yes walking more often but the goal was to keep moving.
As we entered Durban, Moses Mabheda stadium was so near but so far. The closer we approached the finish line, the further away the stadium appeared to be. It was seemed as though it was moving further and further away with every step we took. The last 3km were the longest 3kms of my life! I felt a blister pop on one of my toes accompanied by the most excruciating pain, but I was almost there so I could not entertain the pain.
Upon entering the stadium, everything was just so perfect. All the pain and suffering endured with 11hrs and 28mins of being on the road, had disappeared and I was filled with so much joy. Seeing the words "Comrades Marathon 2022 Finish" made me officially believe that I, Mbalenhle Gumbi, conquered the Ultimate Human Race.
It has been almost three weeks since this big race and I am still in awe of how magical the whole experience was. I still cannot believe that I was one of the thousand of runners who started and finished. I am appreciative of so many things but most specifically appreciative of everyone who supported and walked closely with me along this journey. I honestly do not think I would made it this far without them all. It is indeed true that: "alone you can go fast but together we can go further"
I am filled with the greatest sense of pride and joy when I hear or read about the Comrades Marathon, knowing I am a medalist of this amazing race. It took a lot out of me, both physically and mentally, but I thank God for always giving me the strength to push past all the challenges.
I am a very proud Comrades Marathon Runner
written by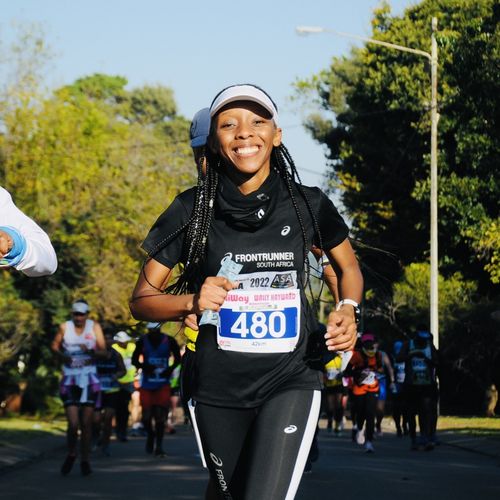 Mbalenhle Gumbi
Educational Psychologist from Johannesburg

Age group: 29
Club: Adventist Athletics Club

My Disciplines