Resuming running after a long period of struggling with an injury left me even more frustrated as a runner. It was like starting all over again
Falling in Love with Running again…
Resuming running after a long period of struggling with an injury left me even more frustrated as a runner. It was like starting all over again. The big difference was that I was much heavier this time around, having gained 9kms. For a light chap like me, that's a lot of weight.
In the beginning of my running journey, my novice enthusiasm was the fuel urging me to run regularly. This time around, every run felt was an excruciating shift of manual labour. I thought I was realistic enough to resume my running limited to 5km runs only 3-4 times a week yet my body was no longer used to the frequency of of running. 
The first kilometre was usually a breeze but I was getting too impatient during my runs. All I cared about was to finish them. So as soon as I crossed the first kilometres, I would keep looking at my watch. I'd keep whispering in between heavy puffing "4kms to go", 3.5kms to go. 2kms to go" to motivate myself that the end was near.
By the time I finished I was mentally exhausted. In hindsight, it didn't help that I was always disappointed by how slow my running times were. The prospect that I'll likely never be back to my running peak was hurtful.
Something had to change….
I remember returning from an early morning run pondering how much runners attach sentimental value to fast times rather than the sheer joy of freedom of movement. From then onwards, I decided to approach my runs with one purpose: just to finish them. No obsession with pace nor distance. 
I ran with my watch covered. Being familiar with all my running routes made it easy to adapt to running without consulting the watch for distance.
The most important thing for me in this phase was to rediscover my lost love for running. Yes, fast times make us feel good about ourselves and are an indicator of the progress we are making as runners.
But nothing beats the freedom of letting my thoughts wander into all levels of curiosity during my runs.
The sense of clarity that running injects into my thoughts makes its an escape of revitalisation.
Starting the day or finishing off one with the knowledge that I went for a run and enjoyed it without the heavy burden of worrying about my pace or heavy mileage means I have an accomplishment to cherish.  For me, that's what matters the most.
Far too many people don't have the privilege we runners have of running. The least those of us who are able to run can do is to enjoy it while we still can.
I'm glad I am falling in love again…
written by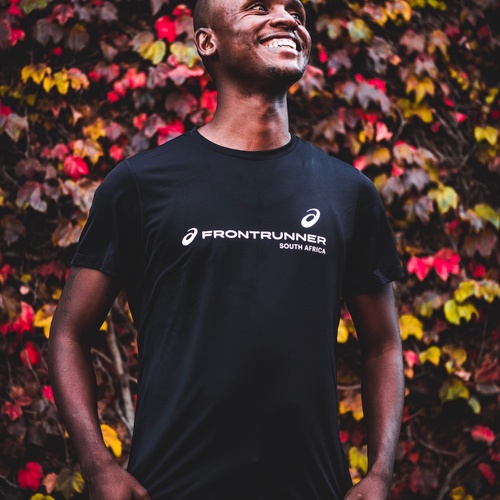 Solly Malatsi
Member of Parliament from Cape Town

Age group: 30 - 40
Club: Asics Running club

My Disciplines