So it is holiday season, and you trying to strike a balance between training, spending time with family and just resting? I know I find this very difficult, here are some tips that I have found useful throughout the years that I use for the holidays.
Holiday training is usually very tough, especially when you are at home spending some time with family. You may be away from your familiar setting and what you are used to, so your routine may also be thrown off a bit. Some athletes are training during this time, some are resting and it is all up to the individual but you should never feel guilty for either of the two. Here are some tips that can help you through the holiday training season.
Including your family in the training
This is the best way to spend time together with your family, especially if you are just visiting them for a while. This does not have include any drastic activity. Family walks, a hike or even a yoga or stretch routine can do wonders. Something to get you all together and away from the screens.
You do not need to be drastic in your workouts and training like you always do during your season. A 5km walk could be a great substitute for a 10km run. A stretch session could do wonders in the place of a core workout. You just need to find ways to keep moving.
Move for your mental health
Movement is all about Keeping a sound mind in a sound body right? So it is important that during this time, you train just to keep sane. There is so much that goes on during the holidays that may throw you off a bit. Movement could be a great coping mechanism to stay grounded.
I usually spend time at home, a rural area called Ingwavuma in KwaZulu-Natal for the last two weeks of the year and it is often difficult to train religiously when I am here. I run way less than I would and spend much less time on a focused training program. Usually, this would make me feel guilty, but I have taught myself not to allow this guilt to take away from the much needed rest and recharge. I also do not allow for this to take away from the time with my family and friends.
Remember that you have worked hard with your training the whole year. It is okay to rest and reflect upon the year whilst planning for the year to come. It is also okay if you have not reached all your goals for 2022. I honestly believe that even though we may categories our goals into short and long term, they do not expire and we do have time to work on them. You do not need to feel pressured to achieve them all now. Slowing down instead of speeding up could be what you need to kick start the new year.
written by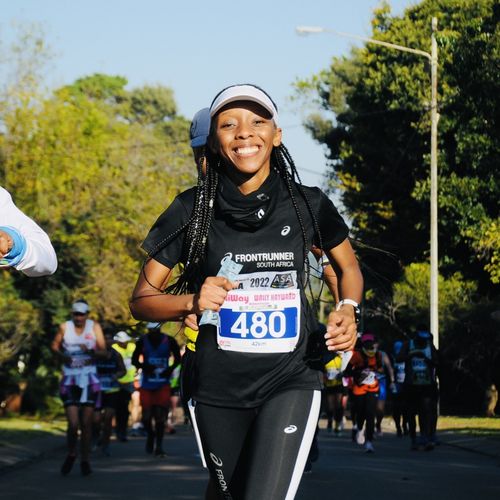 Mbalenhle Gumbi
Educational Psychologist from Johannesburg

Age group: 29
Club: Adventist Athletics Club

My Disciplines