Running has many benefits and except for the fact that i love running and chasing goals it also helps me deal with daily struggles.We all want to live the perfect life but lets get real that just doesn't exist. Finding a healthy habit is a good way to deal with daily struggles.
There is just something about setting goals and then working hard to achieve them.There is no better satisfaction in life.Being consistent with your training is a good way to make sure you reach your goals.Not only do i run because i want to become the best version of myself and be physically healthy i also run to help myself mentally.

I struggle with anxiety on a daily basis.Some days are better than others and some days i don't get affected at all ,but the bad days are bad and the good days are good.Anxiety is something i had to make piece with ,it is something that will always be there and i just need to learn to accept it and find coping methods to help me deal with it.

That is where running comes into the picture.When i tell people i love running they always seem to think that there is something wrong with me as if running is a abnormal hobby to have.It amazes me how people dont understand how amazing it actually makes you feel. Yes running is not easy at start but what is easy when you start out? Everything is hard in the beginning and as soon as you are past that there is only positive coming from it.
Running makes me a better person, when i put my running shoes on i feel unstoppable.I could have the worst day ever but as soon as my feet starts hitting the tar and i can feel the wind through my hair everything just slowly disappears. All my troubles worries and anxiety slowly fades away, in that moment my mind is quite all i can feel is the wind through my hair. I can smell everything around me and i am present. My body is doing what it does best moving and i am able to reassure myself that i am healthy and strong. It makes me realize that when i am able to run i am able to concur the feeling of fear i have, i am able to breath and give my body a moment where it gets to reset and work through what i am facing. There is no shame in not being able to cope and sometimes it is ok not to be ok.What is important is finding coping methods to help you get through it and improve the way you deal with the problem.

If you are struggling mentally i would highly recommend finding yourself a healthy hobby where you are able to move your body.Moving your body creates endorphins which makes happy thoughts and instantly puts you in a feel good mood.Not only will you cope better you will be happier and healthier at the end of the day.

So if you are struggling ...stop wasting your time and get moving and work on becoming a better version of yourself.
Love Mel

written by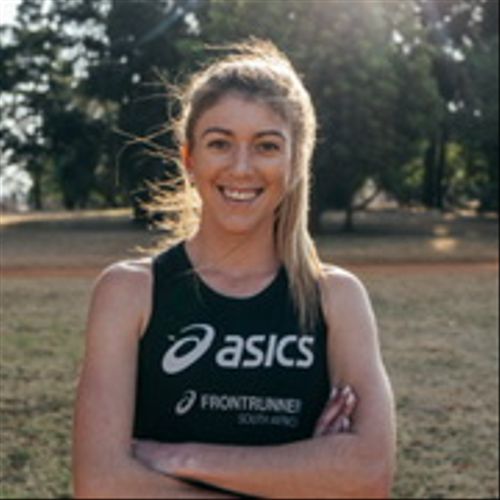 Melandi Venter
Sports conditioning coach,Junior Long distance running coach,Lo Practical teacher ,Freelancer from Pretoria

Age group: Senior Woman
Club: Nedbank Running Club Gauteng North
Coach: Mike Obery
My Disciplines