Reflecting on past experiences is an essential part of moving forward to achieving further goals. The 2021 has been different, as has been 2019, but it has certainly added to a beautiful running experience. Heres a short reflection of my 2021 running year
My 2021 running year was one that I did not expect; equally with good and bad moments, but all part of my amazing running journey.
Just like any athlete, I had big goals at the beginning of 2021:
To become an ASICS FrontRunner
To run a marathon under 4 hours
To run at least 4 marathons
To run the Comrades Marathon (an ultimate goal)
My 2021 running year easily flowed from 2020, because I did not stop running and training throughout December 2020, so it was all systems go from the 1st of January 2021. I must say, I was at my fittest at this time; I trained speed, long distance, stairs which was the peak of my year. I knew I was preparing for something big, I just did not know what. In February, training continued, then I decided to run a marathon to beat my previous marathon time (4 hours 50 minutes). With the progress I was making, I knew I could at least get a time of 4 hours and 10 minutes, or even less. I completed this marathon in 4 hours and 6 minutes, which was a huge achievement for me and a goal was met (well, sort of).
The biggest highlight of the first half of the year was joining the ASICS FrontRunner team. This had been a dream of mine for a while and it certainly set the tone for the rest of my running year.
I was lightly injured between March and May after my marathon, so I decided to explore other forms of fitness, i.e cycling, functional training, swimming, which expanded my fitness knowledge and helped me strengthen up whilst taking it easy on the road. Little did I know, that this was the beginning of me becoming a diverse athlete and preparing me for big adventures later on in the year
June came along, and as all long distance runners know, it is an important month because of the Comrades Marathon. But it has been a bit of a drag the past two years since the pandemic began. Even with this, we are still determined to do something on the date of the Comrades Marathon, I certainly was. But due to unexpected family circumstances, I was not able to do any marathon related run. Fast forward to August, I got news about running the trails of Lesotho for seven days and I immediately turned into a trail runner and my training was all on the trails for the two months that followed. This was a huge change for me but a very good one, and I am still very grateful for being introduced to this amazing aspect of running. October came and I was headed to conquer the mountains of Lesotho. The scenery, meeting new people, experiencing the culture was amazing, even with the injury I picked up along the way. This in an experience I will forever cherish.
The last two months of the year have been very slow for me, mainly because I have been healing from an injury, but I also feel that my body has needed the rest. Currently, I have not done any running as yet, but I draw upon all other forms of fitness I can do outside of running, that keeps me going.
It is amazing how we experience different things throughout the year and it is up to us to take those experiences and turn them into lessons. That has been my biggest lesson this year: to take both the good and bad and turn them into lessons for the rest of my journey. In 2021, I laughed, cried, got disappointed, and was proud, I failed, reflected, and got up and tried again. Amongst many, these are some of the lessons that I learnt:
Do not be so hard on yourself
Be present
Whatever happens, its all part of your running journey
Remember that resting is also part of training.
Turn both good and bad as lessons
My running goals for 2022 have not changed much, obviously still trying to meet the goals that I was not able to meet in 2021, but also remembering to enjoy the beautiful gift of running. As runners, we tend to get lost in "pushing pace" and "beating that time" and we neglect the privilege of being able to lace up and spend some time on the road alone and with like minded people. I personally struggled to find a balance between consistency, hard work, resting and giving my body enough time to recover. This led to running feeling like a task and something "I have to do" instead of being something "I want to do". It took away from the overall enjoyment of running.
Overall, it has been a 10/10 year for me, with both the good and bad experiences. I believe that all that happens, happens for a reason, and it is up to me to experience it in a way that adds value into my life.
written by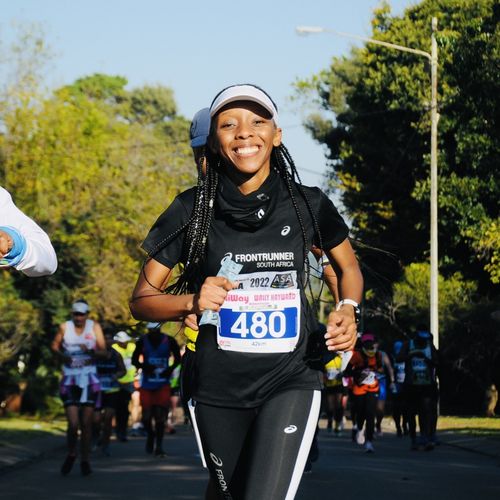 Mbalenhle Gumbi
Educational Psychologist from Johannesburg

Age group: 29
Club: Adventist Athletics Club

My Disciplines