"Life begins at the end of the comfort zone."- Neale Walsch. Finally I challenged myself and entered the most epic world-class trail race, running trails around the beautiful Table Mountain and the experience was out of this world. As I always say, "we keep moving forward and doing what we love the most! Hit the trails and leave our footprints!"- Dr C Pule.
PASSIONATE RUNNER
I'm so happy and proud of myself for finishing my first ever UTCT 35km race, super strong and still smiling in 6:51:46s, even though it was hectic with a brutal terrain and tons of climbing (2000m elevation gain). I want to God for thy strength throughout and helping me to survive running up the mountains carrying so much weight on my back (2L of water, nutrition, and essential gear items). What a mission! (Laughing) It was really hard but liberating and adventurous, worth the challenge. Moreover, thanks to D'arcs eyewear for sponsoring me epic running sunglasses, to ASICS South Africa for the best running apparel and perfect trail running shoes.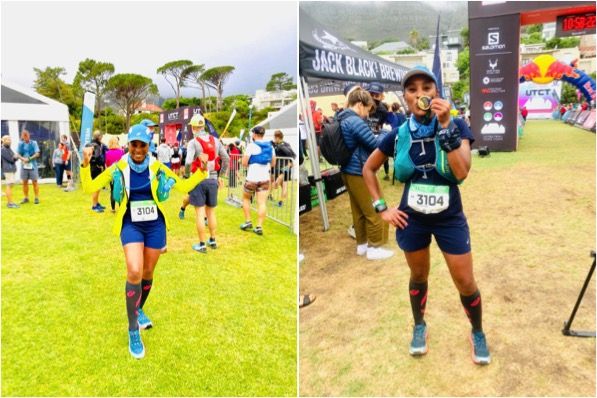 REGISTRATION DAY
The registration was great, well planned and I got a chance to even mingle with some of the most inspirational elite trail runners, Pip and Emily, and also reconnected with the trail running community. I literally had mixed emotions; I was so over the moon, excited and nervous at the same time. And the fact that I love running and nature, this was just an amazing opportunity to run in table mountain! For the love of running, conquering mountains, and outdoor adventures.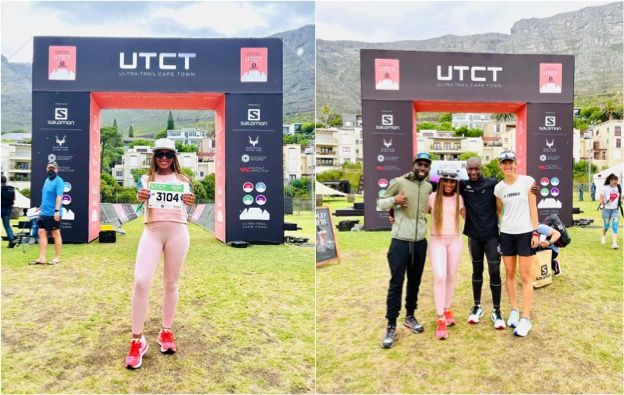 RACE DAY REFLECTION
As I reflect on the run, wow, nothing can compare to how happy I was to be in the mountains! The race terrain was epic, adventurous, and magnificent yet with challenging climbs! But thanks to the beauty of nature, it literally made one forget about the pain and just takes all the beauty in. We experienced all weather forecasts; hectic wind, cold, some rain drizzles, and the mist on top of Table Mountain just after Platteklip Gorge climb heading to Maclear's Beacon. My legs and fingertips were freezing for a while but due to continuous running, the body could adjust its temperature accordingly! How amazing. And as for the descending part via Nursery Ravine at some point, I was flying thanks to lots of techniques I learned from my advanced hiking, and Newlands Forest was just magical. 
Oh, my word! I love running and being in nature (my escape place). My heart was just full, even though just after 25km we had a hectic surprise of the last climb, Dead Mans Tree! What a tough steep climb up to the Blockhouse! I was mentally challenged, it was really hard and the wind wasn't helping (laughing). I tried power walking it but it just kept getting harder to a point that even just walking it was the hardest. I wasn't ready for this (laughing). As I was still super motivated from the final 24km water point vibes, and how this Blockhouse climb suicide got me, hahaha. Thank God for the amazing runners I met on the way especially Phoebe and the support we gave each other. I won't forget this 35km trail race, really special.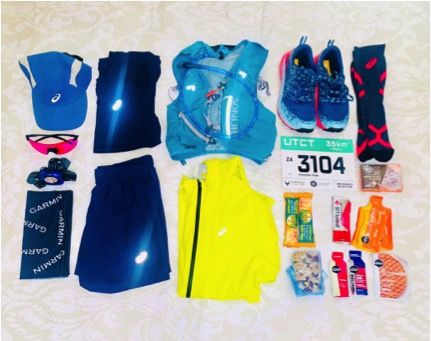 RACE RESULTS 
My UTCT 35km race results statistics were really impressive! My finishing time was 06:51:46s, while the overall position was 269, gender position was 67, and category position was 52. The latter really inspired me and made me realize that actually, I do have some potential in trail running, that with hard work and discipline in training, I could improve both my gender and category positions for next year's UTCT 35km ultra race. In a nutshell, trail running is just impressive wow; I was so blown away because I love nature and running!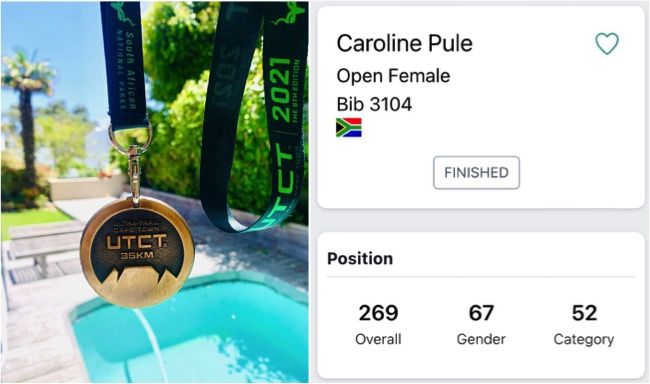 Running in the beautiful Table Mountain is so great and hence I can't wait to run the UTCT race again next year, peace out and happy running :)!
written by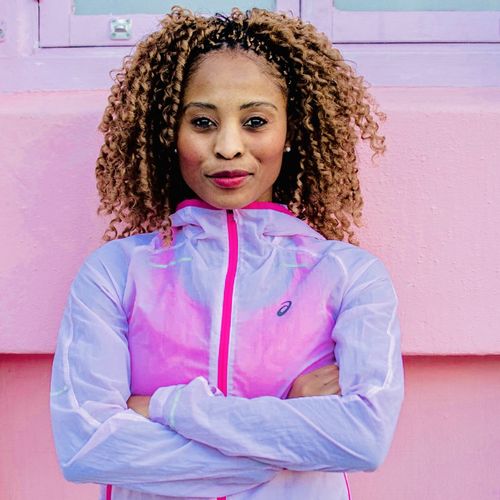 Dr Caroline Pule
Medical Scientist (PhD), Philanthropist, Fitness Inspiration and Motivational Speaker from Cape Town, Western Cape Province


Club: ASICS Running Club

My Disciplines