COVID 19, variants, lock down and restrictions. This pandemic has affected every person's life one way or another.
In January 2022 I contracted the omicron variant of COVID 19.This pandemic has taught me many lessons such as to appreciate time with good people, things I love and the importance of family. The biggest lesson I have now learnt from the pandemic is to listen to your body, work with the mind and only push the body when you can. In this article I will share my experience of having the virus and how I bounced back and hit those trails again. 
OMICRON, a variant that seems to be milder than previous strains of COVID 19.I contracted COVID 19 in January 2022 and had some of the symptoms including muscle fatigue, chills, muscle pain and an awful cough. I was in my peak conditioning when it came to running and with races happening again I was excited for the year ahead. This excitement grew to disappointment when I realized how much of a knock I took physically after contracting the virus. In addition to my physical downfall my heart rate kept skyrocketing from minimal effort exercises, such as walking. I knew I had to start from scratch after my symptoms subsided. 
I started my return to exercise about 2 weeks after testing positive. My previous programes included intense sessions working on all zones throughout my sessions to slow jogging.My heart rate was still skyrocketing from low impact activities and taking a long time to come down after any activity. My mind had to work over time to stay focused and listen to the body. This was the biggest lesson I took from contracting the virus was to be more intune with my body and the mind is the strongest tool when times get tough. Starting from scratch was the only way to get the ball rolling. I love pushing my body and allowing the mind to unwind however this process was the opposite. I had to learn to focus the mind and let the body unwind.
This time with my main focus on listening to the body, working the mind and taking it slow. I worked carefully on my zone training, watching my heart rate carefully to ensure I wasn't pushing too quickly. My focus went from intense training programmes to basic programmes. The first few sessions were extremely frustrating as my mind was still set with pre-covid sessions in place.
The restart made me realize just how far I've come with my training and although I was strong both mentally and physically, I do believe resetting has benefited me in many different ways. I have learnt the importance of listening to your body, how much your mind impacts your recovery and that it's okay to restart.
written by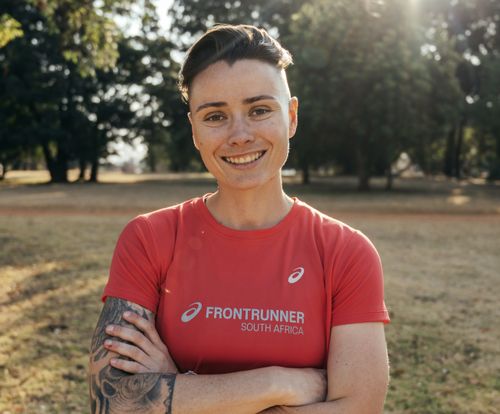 Cailin Whyte
Sport Coordinator from Johannesburg (The Urban Jungle)

Age group: 26
Club: Origins Running Club
Coach: Michelle Mee
My Disciplines