I'm a passionate runner who runs both short and long distances. For this reason, it's important to run with the appropriate running shoes for different distances, and thanks to ASICS; this is always possible. Currently, I'm using ASICS GEL-CUMULUS 21 for my LSD training runs, and below I share my running experience with this shoe.
Shoe Name: GEL-CUMULUS 21 (Sun Coral/ Laser Pink)
Terrain: Performance women road running shoe
Shoe type: Neutral
Other features: 10 mm heel drop and extra cushioning
Testing of the GEL-CUMULUS 21
To test this high-performance road running shoe, I did a 24km long slow distance (LSD) run on a nice tough hilly route. It was an epic run on a beautiful sunny day and I was impressed with the GEL-CUMULUS 21 performance throughout the run. The shoe felt good, comfortable, and not too tight. I did feel the hill drop effect, propelling me forward and the extra cushioning halfway the 24km and till the end of the run. However, I would suggest a runner go for 1 size bigger than their normal size, to provide more room for the feet in order to avoid any potential pain due to tightness. For example, I'm size 5UK and would go for UK6 in this model. 
The technology behind GEL-CUMULUS 21: some of its great features
The shoe is designed to cushion and support your feet over long distances, this shoe boasts FLYTEFOAM® Propel technology for excellent bounce and energy. The combination of rear and forefoot GEL® technology means you benefit from a premium level of shock absorption not available in many other shoes, while GUIDANCE LINE™ technology enhances your gait efficiency. Further support comes from I.G.S® (Impact Guidance System) technology which enhances your natural gait as you move, and the EVA sockliner that molds to the shape of your feet for added comfort. Furthermore, the internal heel counter holds your foot in position no matter how far you go and the highly resistant AHAR® rubber compound reduces wear at key impact areas of the outsole. Lastly, ventilation is provided by the engineered jacquard mesh upper, to keep your feet cool even when your run heats up.
In nutshell, I do recommend GEL-CUMULUS 21, especially for long-distance running and I do appreciate the beautiful reflective details on the outside of the shoe that ensures one looks stylish and confident.
Keep an eye for my next shoe review, get yourself or try out some ASICS GEL-CUMULUS 21, and happy running! :)
 
written by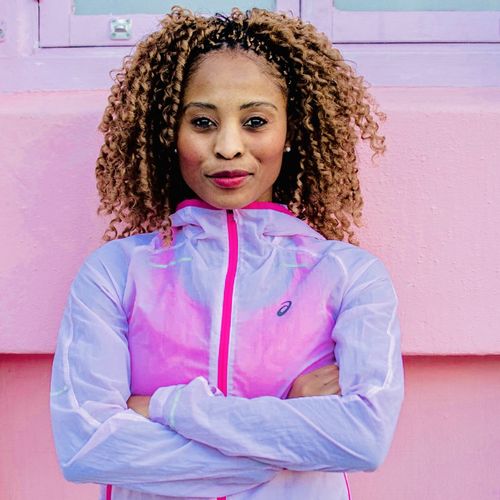 Dr Caroline Pule
Medical Scientist (PhD), Philanthropist, Fitness Inspiration and Motivational Speaker from Cape Town, Western Cape Province


Club: ASICS Running Club

My Disciplines