'The new normal, running during the COVID-19 Pandemic"
A special and memorable virtual race
This year it was sad when Comrades marathon had to be canceled due to the COVID-19 pandemic that suddenly evaded the world. Because, I was supposed to be doing my second Comrades (down-run) race, qualifying to get my back-to-back medal. Nevertheless, I didn't allow this to demotivate me from continuing to run, as I'm a very passionate runner. Having to face the challenges of living during a COVID-19 pandemic and South African Lockdown, running frequently and participating in virtual races seemed to be the best thing to do to keep me positive, healthy, and hopeful that we (the world) will beat the COVID-19 pandemic battle and pull through. Hence, I was very happy when the Comrades marathon team introduced "The Comrades Legends 2020 Virtual Race" and participating in it was very special and memorable.
Victorious finishing the 21.1km, a great feeling indeed!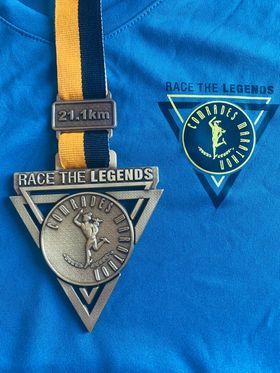 I was so happy to complete the 21.1km the Comrades of the Legends RACE half-marathon in 02:03:39, 5:48min/km pace, and elevation gain of 239m. This was another good run and good progress towards my goal of running a half-marathon under 2hrs. In addition, I was also happy to be running in support of our country to win the battle against the COVID-19 pandemic. #TheUltimateVirtualRace was so inspirational and thanks to the Comrades Marathon team for uniting runners virtually, for the Love of running.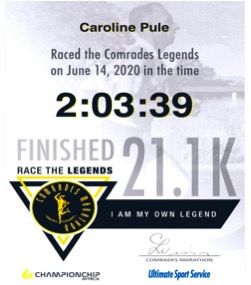 Until next time, happy running :)

#IamMyOwnLegend #ChallengeALegend #ASICSFrontRunner #ASICSFrontRunnerZA
written by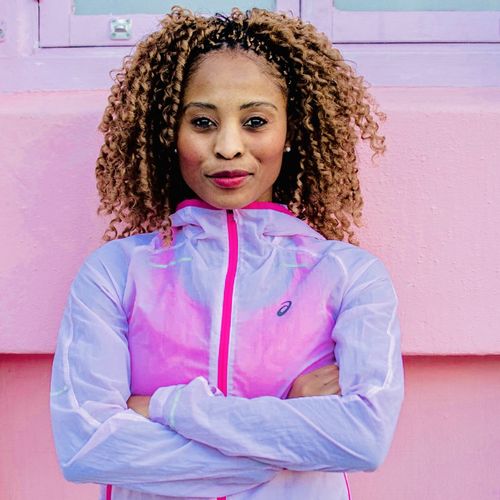 Dr Caroline Pule
Medical Scientist (PhD), Philanthropist, Fitness Inspiration and Motivational Speaker from Cape Town, Western Cape Province


Club: ASICS Running Club

My Disciplines