Women's ASICS TRABUCO MAX is the best trail running shoe to date that I have tested. I enjoyed both running trails and hiking mountains with this shoe and I fully recommend it.
Shoe Name: TRABUCO MAX trail running shoes (Black/Digital Grape)
Terrain: Women's trail running shoes
Shoe type: Neutral
Other features: 28mm of FLYTEFOAM® technology under the heel and 23mm under the forefoot
TESTING OF THE TRABUCO MAX
To test this trail running shoe, I hiked Agatha's Gully Hike (advanced) with epic rock climbing. It was about a 5.7km hike and 855m-elevation gain. An epic adventurous hike featuring a short exposed ledge and some scrambling opportunities! The beautiful views of the Orangekloof and from every angle of the mountains, such astonishing natural scenery and so peaceful! Just Spectacular. We hiked, climbed, and transversed through the short exposed ledge, which required a trail/hiking shoe with good gripping, a sharp mind for concentration, a good sense of balance, and flexibility. TRABUCO MAX was indeed a good fit for the course, especially for tons of hours spent in the mountains. Trabuco Max has an incorporated ASICSGRIP™ technology in the outsole that provides firm gripping.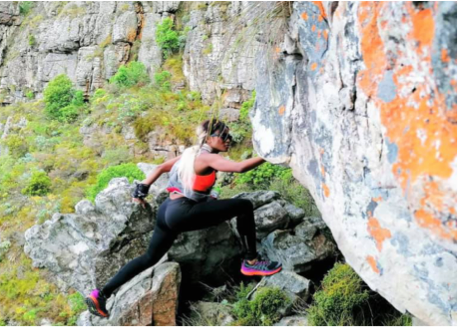 THE TECHNOLOGY BEHIND TRABUCO MAX, SOME OF ITS GREAT FEATURES
TRABUCO MAX trail running shoe provides improved cushioning and traction while allowing runners to cover more terrain with less effort. This is achieved by the added 28mm of FLYTEFOAM™ technology under the heel and 23mm under the forefoot. This shoe also provides excellent cushioning and because of the high stack height, while running/hiking, the stones, and roots will be better absorbed by the midsole. This rubber compound is functional for providing traction, especially in wet and slippery conditions. An uphill and downhill lug pattern was applied for improved agility when navigating varying topography.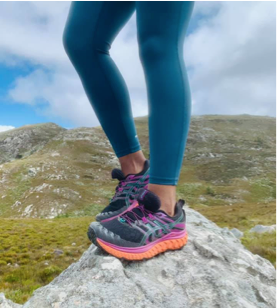 ASICS TRABUCO MAX is the best, its technology is beyond and I highly recommend it.
Photographer: Helga Strydom
Keep an eye for my next shoe review, get yourself or try out some ASICS TRABUCO MAX, and happy running! :)
written by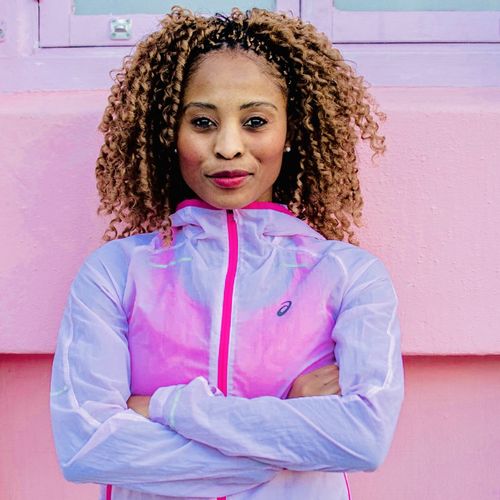 Dr Caroline Pule
Medical Scientist (PhD), Philanthropist, Fitness Inspiration and Motivational Speaker from Cape Town, Western Cape Province


Club: ASICS Running Club

My Disciplines