My name is Melandi Venter and i am a ASICS Frontrunner...Shuks it feels good to say that.
Its funny how we always seem to doubt our ability to do certain things. We always feel like some dreams are too big or some opportunities are just not in our league. 2 Years ago was the first time I entered to become a ASICS Frontrunner. I still remember how badly I wanted to be part of the team. When the entries opened I entered with the mindset that I need to make sure I wrote exactly what I think they would want to hear...
I kept doubting myself and my abilities through out the application phase and my mind was constantly filled with negative thoughts and failure that I would not make it. That maybe I am not good enough? Maybe I'm not what they are looking for? (Be carefull what you wish for.) With big disappointment I ended up not making it.
2022 The Golden year! I walked into 2022 saying that it will be my GOLDEN YEAR. I promised myself that I will not doubt my abilities and that I am capable of anything I put my mind to. Manifesting my goals and dreams became apart of my daily routine. My self belief started growing and slowly but surely my dreams became reality. Finally I received an email saying the application phase for the ASICS Frontrunners will be opening soon. Mixtures of nerves  and excitement where rushing through my body. Another chance to become part of a team I have dreamt of for a very long time.Two weeks before the application opened up I sat down and wrote all the reasons why I wanted to be a Frontrunner and what it would mean to me. I read through it almost every day to remind myself what this opportunity would mean to me.
Finally the applications opened up and I still remember waiting with my phone in my hand to submit my application immediately. I approached the questions differently this time and answered them with awnsers I wanted to give and not what I think they would want to hear. Staying true to myself.
I felt confident submitting my application and just said to myself that I will keep clapping for others untill its my turn. After 3 weeks of waking up every morning manifesting, "you will make it this year". Finally the tides have turned!
I was home alone when I saw the message. I remember trying to phone my fiance and not being able to reach him, he was busy teaching a class and couldn't answer my call. It felt very unreal and I even thought that it might be a scam. I was speechless. Could it be? Did they really pick me? Am I really what they were looking for?! All my hard work, dedication and staying true to myself has finally paid off. I was able to call myself a ASICS Frontrunner!
To me this opportunity means that I am able to influence a much bigger crowd that I ever imagined influencing. Having the opportunity to set an example for those around me to never stop following your dreams and believing in yourself. I have the oppertunity to share my love for running with like minded people and be part of a team that creates movement across the world. The best part is that I have found my place in the world, amongst people I fit into. A running family that is spread across the world. Being part of this unity is any runners dream and I am greatfull for being part of this movement.
So my advice to you reading this...
1. Always believe in yourself!
2.Trust the process!
3. Always clap for others until it is your turn!
4. Manifest Manifest MANIFEST!
Love Mel...<3
written by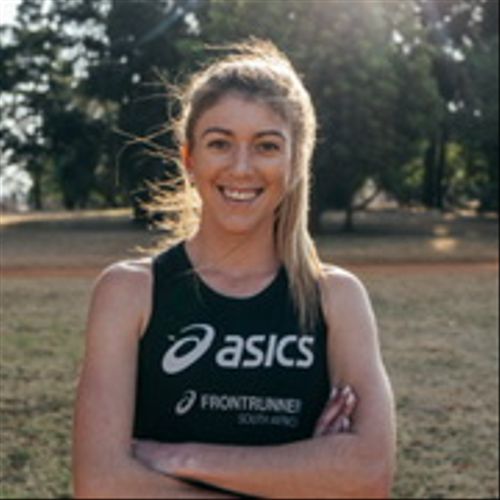 Melandi Venter
Sports conditioning coach,Junior Long distance running coach,Lo Practical teacher ,Freelancer from Pretoria

Age group: Senior Woman
Club: Nedbank Running Club Gauteng North
Coach: Mike Obery
My Disciplines