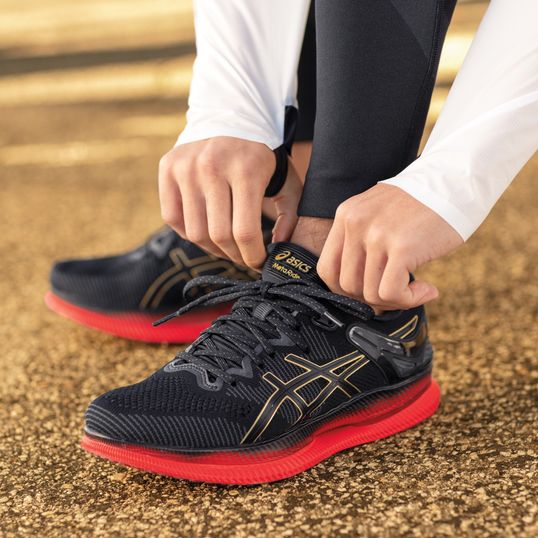 The ASICS METARIDE™ is an energy-saving running shoe that's designed specifically to make you run further while expending less effort. This striking-looking shoe provides unbeatable levels of comfort while the FLYTEFOAM™ and FLYTEFOAM™ Propel sole preserves energy and delivers a seamless transition from heel to toe.
The real star of the show is the curved GUIDESOLE™, which creates a rocking motion with each stride and shifts you onto your forefoot to propel you forward. The rocker is also designed to reduce energy loss when you land to make those long runs feel easier.
As a result, you'll experience the ultimate ride, with visible GEL™ cushioning the standout feature of the rearfoot, delivering the ultimate in cushioned comfort.
ASICS METARIDE™ running shoes are available for men and women in a range of colourways. Just browse our online store to find ASICS METARIDE™ men's shoes and women's shoes to suit you.
Not sure if the METARIDE is for you? Then take a look at our other long-distance running shoes including the ASICS GLIDERIDE™, GEL-NIMBUS™ and EVORIDE™.
METARIDE
6 products found
---