The Making of a Legend: GEL-KAYANO™ 26
In Japan, the expression onko-chishin means "respect the past; create the new." In this spirit, while creating the new GEL-KAYANO™ 26 shoe, we asked ourselves: what can we learn from our history to inspire the things we make today?
Let's start from the beginning. In 1993, shoe designer Toshikazu Kayano set out to create a new type of running shoe: something supportive and structured, yet nimble underfoot. Searching for inspiration in the style of ASICS's founder Kihachiro Onitsuka, Kayano-san looked to nature.
He found an unlikely muse: the humble stag beetle. He noticed how its hard exoskeleton served as protection while still allowing the beetle to be quick and light. This inspired the support structures in Kayano-san's new shoe design—and you can still see traces of it today in the features that make it a leading stability shoe. Balanced with the cushioning of GEL™ technology in the heel, the final design combined comfort and structure in a whole new way. Kayano-san had created what would become a legend among running shoes.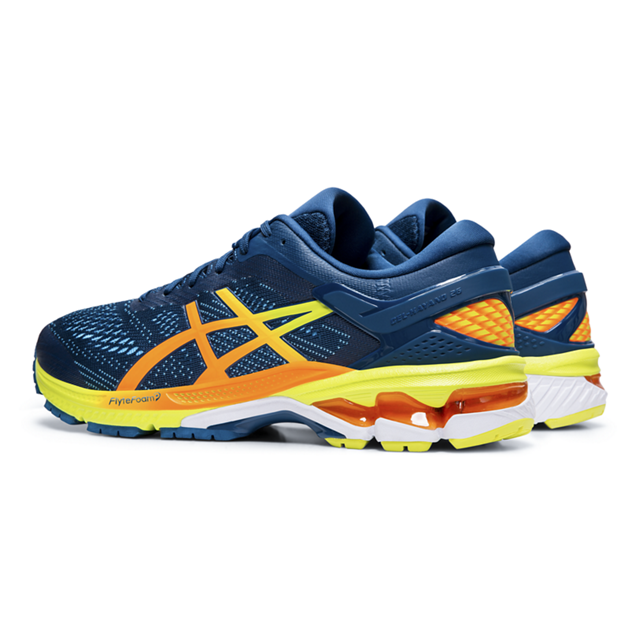 A quarter century later, our designers were hard at work on an update—driven by our ethos of kaizen, or "continuous improvement." After 25 iterations, how could we make the GEL-KAYANO™ shoe even better and more responsive to the needs of today's runners?
While visiting the ASICS archive room, the designers rediscovered that the keystone of this shoe is the Shear deformation GEL™ technology in the heel. Shear deformation means that the cushioning material has been sculpted at an incline to better absorb impact—it's designed to work with the angles at which your feet strike the ground. This is what gives the shoe its signature plush underfoot feel.
The designers wanted to keep this feel while enhancing the ride—and to do it without adding weight. After reviewing the shoe's shape and construction inside and out, the designers decided to adjust its heel geometry (take a look and you can see the difference) and add FLYTEFOAM™ Propel technology to the midsole. As a result, the new shoe preserves its connection with the past while delivering a new lighter, springier ride.
The GEL-KAYANO™ 26 shoe is the next step in a long legacy—delivering reliable protection, support and never-quit cushioning to runners who want to go the distance. Are you ready to run?