Are you a runner expecting a baby you might be concerned how this will affect your running. But running with a stroller is fun for both parents and baby and a great way to get slowly get back on track. Let me answer some of your questions.
How can I compromise taking care of my baby with running routine? Is it safe to run with my baby? When I can start running with my bundle of joy?

Well from my own experience as mother /runner, let me put you up to speed and answer some of your concerns.
Before planning out on your run with your baby, first of all and most importantly always consult with your pediatrician to know what is the best age to start running with your baby.
In my case I started to run with baby Noah when he was five months old, as most babies can't hold their head up until that age. Second, follow the stroller's recommendations for proper usage. It's also a good idea to check your stroller's manual.
Once you and your child are ready to venture out onto the roads and trails, remember that running with a baby jog-stroller will be a completely different experience. The key difference in running with a jog stroller than without one is the weight you're pushing—and that can be a good for both building strength and endurance.
Did I remember to tell you that safety comes first? Yes I did, but I think I will never say it enough, always remember SAFETY COMES FIRST , It's always important to be safe when running, but when you're running with a stroller, you have even more reason to be more cautious and attentive.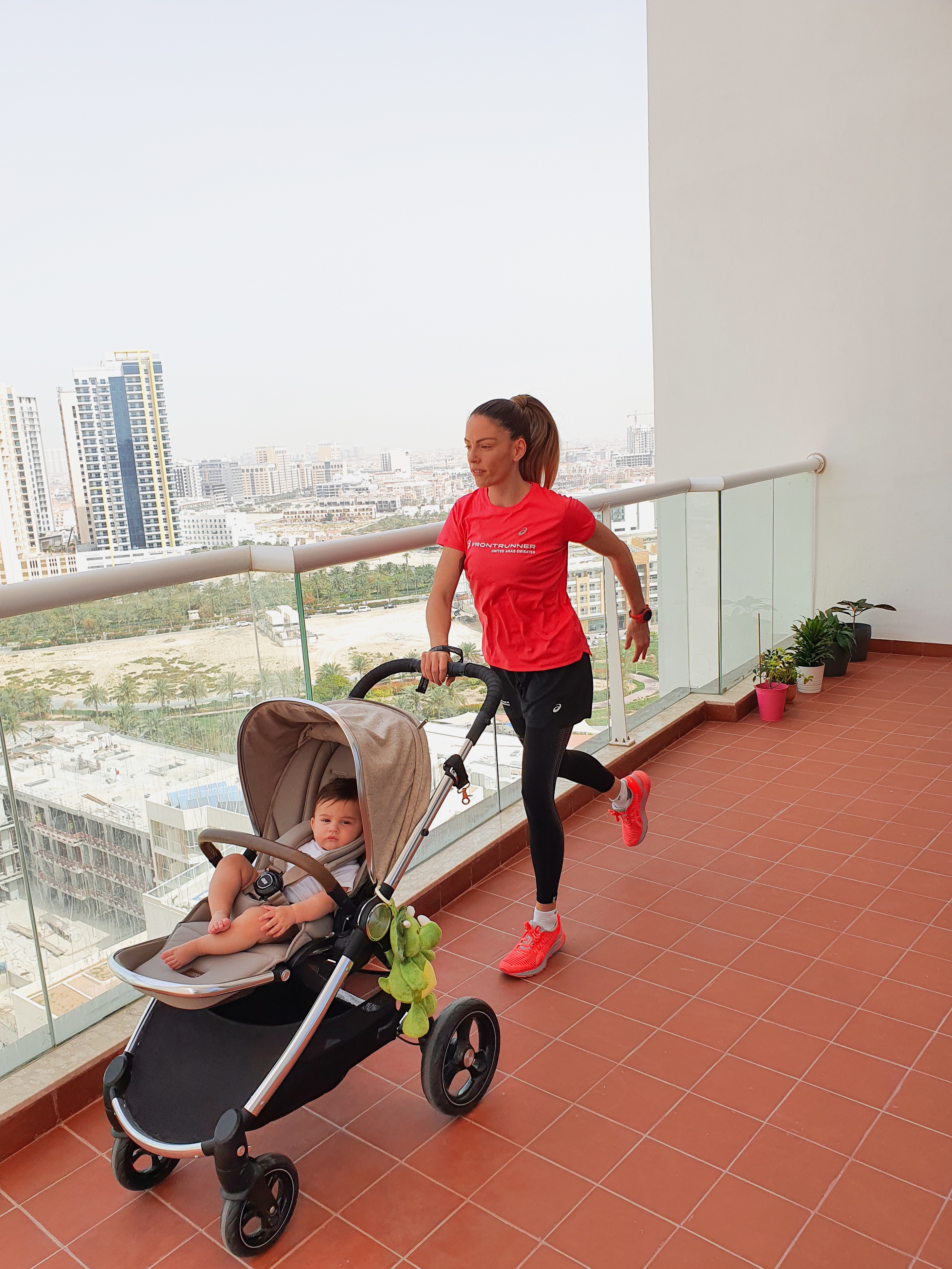 Here are some tips to make running with a baby stroller easier, safer, and comfortable for you and your little bundle of joy.
 As a general rule of thumb, and as advised by all pediatrics, It's not recommended to run with a child under 6 months in a jogging stroller. 
 Always lock your front wheel when you're running with the stroller. This will prevent the stroller from turning suddenly and causing you to crash or fall.
 Most jogging strollers have a basket underneath, so pack wisely for things you might need during your run. Things that includes but not limited to diapers, wipes, water (for you and your child), snacks, extra clothes, and a toy entertain your child.
 Strap your child with the harness, this will protect your child from falling out or getting shaken, so it's important that you use it even if you're not moving too quickly, the harness will help prevent any accidents.
Schedule your runs, preferably before naptime because the movement may put your child to sleep. It's not a good idea to try to run right before a meal when your child will be hungry and may not want to sit in the stroller.
 You will have a slower running pace with the stroller, but the good news is that you're burning more calories with your effort and doing some resistance training, so don't worry about the slower pace. One more thing - you should never be going so fast that you can't stop the jogging stroller if needed. Use the momentum in such a way that you're always in control of the stroller & not the other way around.
 Alternate in pushing the stroller with one arm and swinging with the other. Keep switching arms so you get to work both sides and remember SAFETY FIRST, so, NEVER run hands-free, as the stroller could easily get away from you, which is unsafe for your child and anyone else around you.
 Choose your running grounds. Run in parks, sidewalks, or other areas where you don't have to worry about traffic. Safety first and you and your child will have a much more comfortable ride since you won't have to stop and start a lot to cross streets or avoid cars.
Finally, as I started,  please check with your doctor and consult with a certified and professional trainer before you start.  Always listen to your body and don't push yourself at this early stage of your baby's life. You still have lots of time to accomplish your fitness and running goals! Give yourself time to completely recover, start easily and steadily and build up as you go. Make sure that you and your baby's safety comes first and everything else will just come along.
In light of the current situation my advice is stay home and stay safe. But if you are still in lockdown you can start practicing a bit at home (in the garden, living room or in my case at the balcony) so you feel ready to hit the road together with your baby when it is allowed in your country.  
Follow me on @lolla_fitness
written by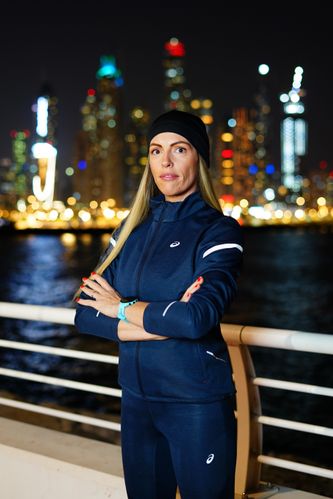 Tania Lolla Kaddoura
Sports physiotherapist |Masters in Physical Education and Sports from Dubai | United Arab Emirates

Age group: 30 -39


My Disciplines