By the end of each year we rush to set our resolutions for the year ahead, hoping for a better chapter with greater success, new challenges, and exciting experiences. We welcomed 2020 in the same spirit, not knowing what we were going to face until the announcement of the COVID-19 pandemic which brought an unexpected and totally different set of challenges.
It has been almost 8 months since the formation of the 5:30 RUN Club. The members are a big family of runners from different backgrounds, ages, nationalities and fitness levels. Whatever background or ability all members share the same passion for running with a positive team spirit.

We meet three times a week for a run followed by a yoga session. We join most races in the UAE as one team supporting each other. An achievement of any 5:30 RUN member is a team achievement.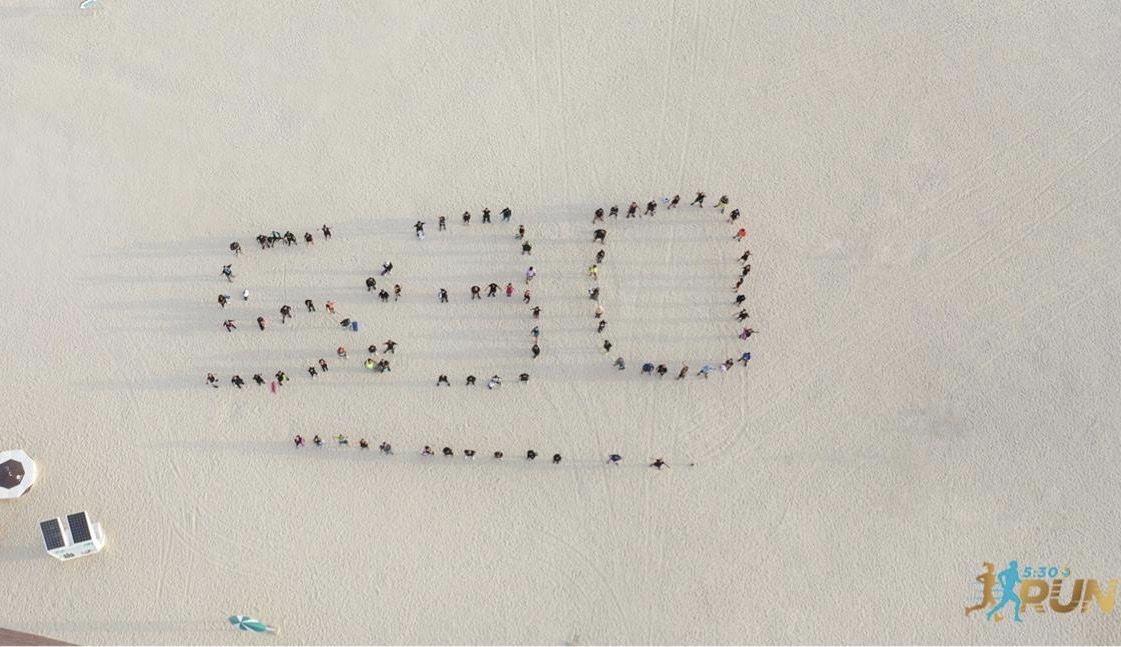 As 2020 began, concerns about coronavirus started to spread. All sports activities stopped and the 5:30 RUN club had to temporarily stop in accordance with the new rules. It was a stressful period for everyone.
However, we stayed in touch through social media - supporting each other to try to maintain a positive attitude. We longed to be active again and were missing our runs, races, celebrations, and gatherings.
Honestly, like everyone else I experienced unpleasant feelings and thoughts during quarantine. However, as the founder of the 5:30 RUN club, surrounded by such great people who believed in me as a leader made me feel that I owed my team and here is where the fun began.
We launched various fitness challenges at home, encouraging the team to exercise, record, and post on social media under the hashtag #StayHome_StayFit & #KeepTheRunsOn, #MarathonAtHome. The participation was amazing! We were connected and active, new members were motivated to start working out and join the team. Our running family grew bigger and it began to feel just like old times.
Seeing the affirmative impact of staying connected and active on the team's mental health and motivation, away from the news and rising number of cases, made me realise that there is always a way. There is always a bright side, it's just a matter of acceptance and adaptation.
This provided inspiration to think outside the box – with the aim to reach and engage with as many people as I could, not only in the UAE but around the world. Then came the idea of the world's first 'Marathon at Home'. Enabling participants to stay safe yet active and most importantly, connected.
As an ASICS frontrunner, I never doubted the support that I receive from ASICS, hence, they were the first who I discussed the idea with. I had their immediate support and we started working on an action plan together. We then approached Dubai Sports Council who welcomed the idea and expressed their willingness to collaborate and support under their campaign "Be fit, Be Safe" #StayHome.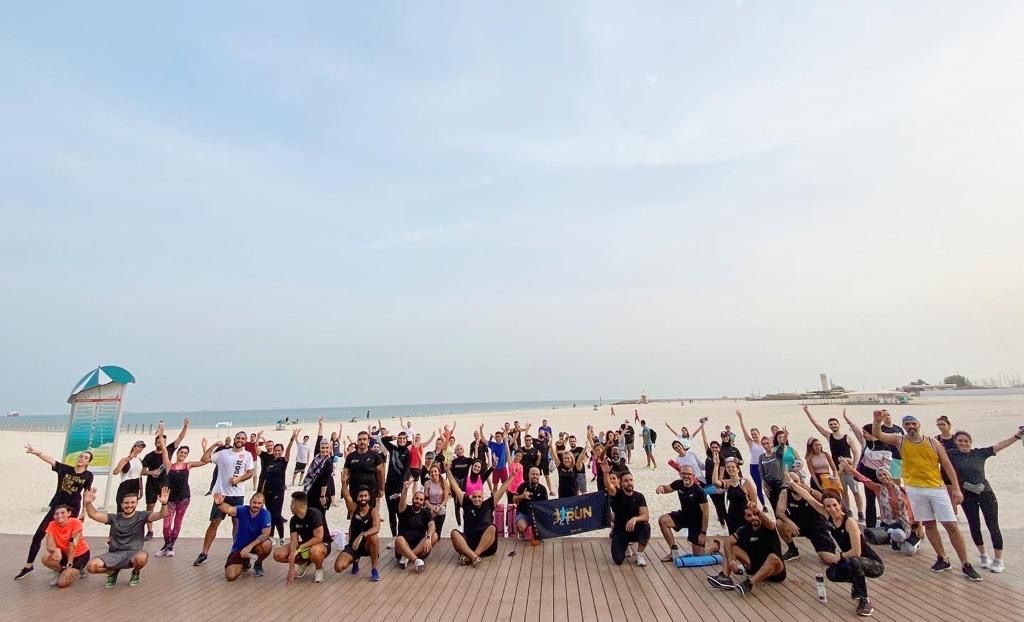 The journey of organizing the world's first 'home marathon' began in earnest. The marathon date was set for April 10th, 2020 and a two-week training plan was designed for all participants (beginners, intermediate and athletes). Training plans consisted of a combination of individual exercises and online group sessions of strength and yoga. Then it was the time for the final and most exciting stage - announcing the event!
Although I was eagerly awaiting the marathon announcement, I must admit that I had a few concerns regarding how the event idea might be received. However, these concerns vanished from the moment of the announcement.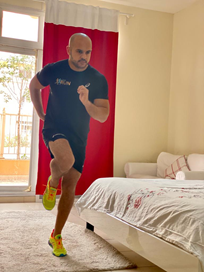 My awesome team were the first who got excited for the marathon and registered immediately. Within few days more than 750 participants from 62 nationalities had registered from around the world!
During the training period all participants including myself, and the coaches were connected on a daily basis. We recorded and shared our individual exercises as per the plan on Instagram and WhatsApp and held our group exercise sessions on Zoom. This allowed us to push ourselves and motivate each other. Social media was our cheering platform. The closer marathon day got the closer we were coming together as a collective.
A day before the big event, everyone was super excited and busy with the preparations - turning their homes into a racetrack, setting up their fuel station, charging and testing their smart watch, race outfit. Finally, we set our alarms at 7:00 AM to start the marathon at 8:00 AM. We were in touch sharing advice and photos of our preparations which doubled the excitement.
On Friday April 10th, not only the UAE was connected, but the whole world was connected with the UAE. Not only runners, but friends, families, and loved ones were watching the live coverage of the event and cheering for us. It was an unforgettable day.
Each participant had their own reason to take part in the event, for some it was a stress reliever, away from the relentlness bad news, others were excited to have a unique experience and wanted to take part in the world's first at home marathon. Beginners aimed to test and push their capabilities with different distance targets, runners were missing what they enjoy the most and wanted to run. Athletes were competing to smash and win the race, and countless other reasons. At the end of the event everyone was happy and most importantly, everyone was a winner.
For me this was a lesson of a lifetime, I realized how crucial it is to be surrounded with people who believe in and inspire you. Positive team spirit is something precious, if you're lucky enough to have it then never worry about any obstacles – they will no longer appear as an obstacle. Adaptability is an art, if you have the power of flexibility and adaptability, nothing will stop you and you will always find a way…because there's always a way, see you at the next RUN.
#keepTheRunsOn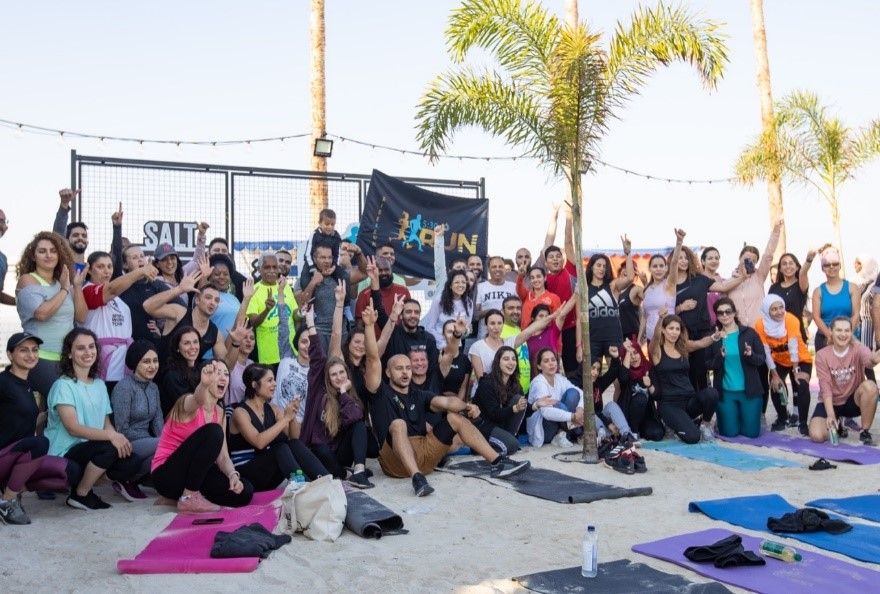 written by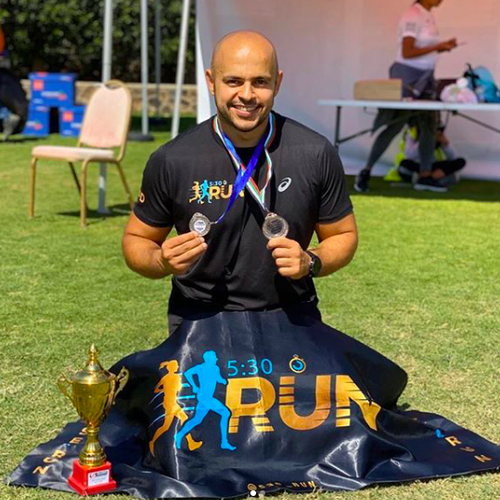 Fuad Naser
Civil Engineer and Fitness Instructor from Dubai


Club: Founder of @530_run

My Disciplines