All runners, eventually, dream a faster pace for their running. Even those who claim not needing speed. I remember twelve years ago, when I first started running in races, my anxiety of not being the last runner in rankings. I was standing at the start area of a 10k race and I almost couldn't breathe from anticipation. Throughout all these years I have learned some facts in my effort to become faster and faster. No doubt, every runner has a similar story, but I will write down my conclusion.
So, if you want to become faster, you should:
Be patient. Becoming faster isn't something achievable from one day to another. If it was that easy everybody would be fast (and furious). In order to accomplish a pace sometimes you should train hard for it. It took me 4 years to run a sub3 marathon. I started in 2012 (3.38´) only to fulfill my dream in 2016 (after a lot of adventures, injuries and sit backs) in Rotterdam (2:57´). Then it took my one more year to reach 2¨51´. Patience is a virtue in running and in life in general.
Find a coach you trust. And follow his instructions. Question him but also work with him. The more professional the coach, the sooner you will see results in your running. Find a coach who can read the results of your physical assessment test and use it to plan a training program applied to you. Do long runs, fartleks, intervals and tempos.
Be consistent. Do the job. Follow your training program and, at the same time, listen to your body. As consistent you are, the sooner you will see results. Don't be afraid to lose a training if you feel exhausted. But give all you got to achieve your dream/target.
Eat right. Nutrition is the key to success also. And it is equally important as training. Find what suites you best, talk to a nutrition scientist and follow his instructions. Your coach and your nutritionist should collaborate and talk about your case.
Rest also. Rest is highly important for training and achieving goals. Don't underestimate it. When your coach tells you to rest, listen to him.
Dream. Vision what you want to accomplish. Every night before sleeping dream the race, dream the pace, vision yourself crossing the finish line with a big smile. Make happy thoughts and bring your dream closer to you.
Always remember: becoming faster isn't more important than simply running. Running is something you want to keep doing for a lot of years. Prioritize. And enjoy running. Fast running, slow running, long – distance running, ultra – running. All these are kinds of the same movement: running. Our favorite movement.
George Myzalis
AsicsFrontRunner
γράφτηκε από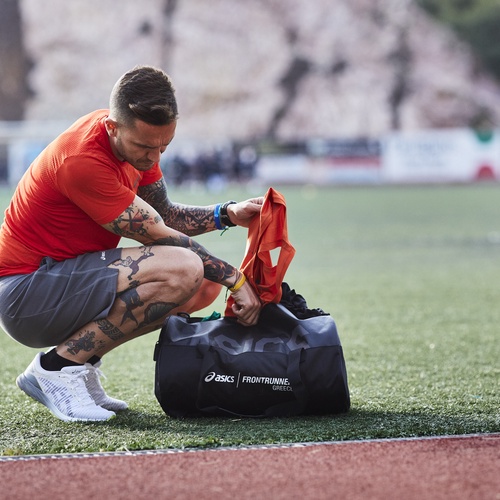 George Myzalis
Marketing Manager από Athens

Ηλικιακή ομάδα: 40 - 44
Σύλλογος: www.myathlete.gr
Προπονητής: Nikos Dimitriadis (myathlete)
Το άθλημά μου