Heather Kampf - ASICS Track Athlete
CAREER HIGHLIGHTS
9 Time All-American, 2006 NCAA Champion Indoor 800
800m Personal Best: 2:00.04 (2013)
1500m Personal Best: 4:08.37 (2013)
Mile Personal Best: 4:27.1 (2013)
2014 World Championships 1500m Finalist
2014 US Indoor 1500m - 3rd Place
2013 USA Outdoor Championships - 6th place 800m
2013 USA Road Mile - 3rd Place
BACKGROUND
Heather is a 2005 graduate of Rosemount High School in the Twin Cities where her prep career included the Minnesota Class AA state title in the 800 meters and the 400 meters.
At the University of Minnesota, where she was the highest decorated Gopher women's track athlete, Heather was a nine-time All American. She was also the only Gopher who competed in every NCAA Championship in cross country, indoor track and outdoor track during the time she was at the University. In 2006, she was the NCAA Indoor Champion in the 800 meters.
Heather holds school records in nine events - 800 meters indoor and outdoor, 400 meters indoor, 600 meters indoor, the 4x400-meter relay indoor, indoor and outdoor distance medley relays, the outdoor 4x800m relay and the outdoor 4x1600m relay.
How did you start in your sport?
I originally thought I was a serious gymnast, but it was during conditioning in gymnastics my coach would race us all. Usually he would give the athletes a head start, and chase them down- I was the first girl on the team who had to give him a head start and could still catch him! He suggested I try out for track in the spring, and I qualified for the State Meet in two events as a freshman.
What does a typical training day look like?
On a workout day, I usually meet my coach, teammates, and training partners in the morning. Typically it takes about two hours from start to finish. In the afternoon I will go back in to lift weights. On recovery days, I generally only run once per day, averaging about 8 miles- a lot of times my husband and I run these together. Between workouts and runs, I coach a high school team and work at a local running shoe specialty shop called Mill City Running.
What keeps you passionate about your sport?
The cool thing about running is there is always faster. Even when you run a personal best, you can think back to some moment in the race and know you didn't quite give your all, and believe if given another chance, you can improve upon your best. I have a lot of internal motivation to strive towards my best, and to constantly evolve into a stronger athlete. I am also incredibly inspired by the running community- no matter how fast you are, we relate to each other on so many levels, and I love to think that what I do can inspire others to continue to work towards their goals.
What continues to drive you forward?
I've got some 'bucket list' items I want to accomplish- run sub-2:00 in the 800m, make an Olympic team, etc. Along the way I always have intermediate goals, because the way to achieve those bigger dreams is by chasing the smaller ones each and every day along the way.
What made you realize you had made it?
Making the final in the 800m at the Olympic Trials of 2012 was a huge moment for me. It gave me the 'right' to dream, and plan for making an Olympic Team. I believe on any given day, anyone can win (or place in the top three) of a race, so simply being on the starting line of the final meant I had a shot at being an Olympian. While I only placed 7th that day, my growth from amateur to pro has been all about continuous growth and improvement. I'm still on the 'up-swing' and intend to be prepared to make another final in 2016 and run my heart out for a spot on Team USA.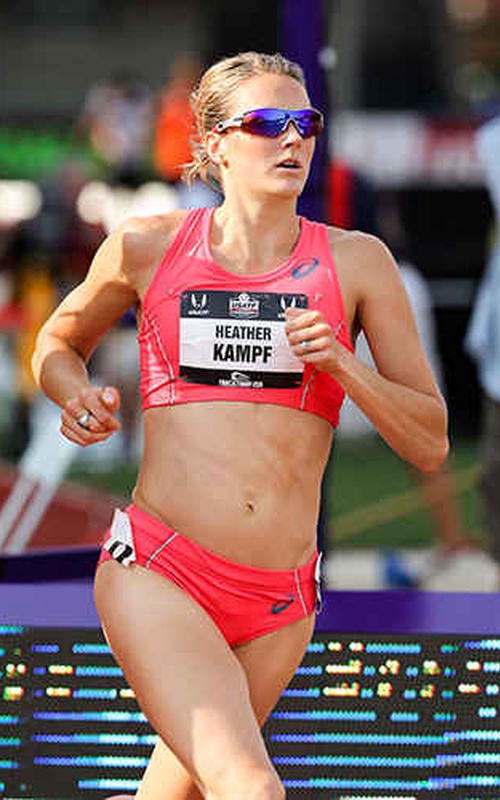 Birthday:
1/19/1987
Place of Birth:
St Paul, MN
Residence:
Minneapolis, MN
College:
University of Minnesota
Height:
5'9"
Event:
800m/1500m
Instagram:
@heatherraekampf
Twitter:
@HeatherRaeKampf