"Running allows me to set my mind free. Nothing seems impossible. Nothing unattainable." ~ Kara Goucher
"YOU MUST DO THE THING YOU THINK YOU CANNOT DO."~ E.R
After analyzing my all-rounder fitness and running post end of last year's races, I realized there has been some drop, and need to act fast and do something that will get me back into the game, transform my mind, and remind me why I love running too much! By helping to improve my running discipline, efficiency, and consistency! So I prayed about it, for God to help me find the best solution and YES a structured run with a distance a bit challenging yet still sustainable seemed ideal! I was aware it might not be easy to keep up with the momentum, which was one of the challenges I decided to do the challenge, to help push myself, gradually get my mind right, and be more disciplined as my road and trail running racing season was slowly approaching.


Challenge Reflection.After tough 15 days of running 15km daily, on the last finish day, I realized that the whole challenge reminded me of the power of CONSISTENCY, DISCIPLINE & RESILIENCE! This day meant everything to me to know that I'm about to achieve my wildest running challenge goal. To know I survived and pushed against all odds! And continued to run every day, lol did all sorts of running styles, from the road to the treadmill, by the spot at my home to the trails in the mountains! Regardless of my hectic work schedule and other commitments making it impossible, I found the possibility to "KEEP SHOWING UP" even when I didn't feel like it, I just reminded myself why I'm doing this! You see if you put your mind to something and run with it, you can achieve it! No matter what giving up is never an option. 

I want to thank all my close friends and running community for their support. And oops all the brands I kept tagging, (sorry for the many tags I know it can be annoying lol), and thanks for always liking my redundant posts, and the positive vibes, till the end! So Inspiring. And I feel so motivated, disciplined, and unstoppable. And happy lol I don't have to worry about another compulsory 15km for the next couple of days! 
For the love of running! Peace :)
written by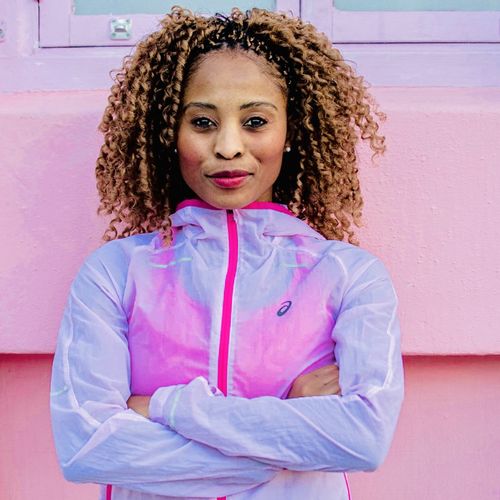 Dr Caroline Pule
Medical Scientist (PhD), Philanthropist, Fitness Inspiration and Motivational Speaker from Cape Town, Western Cape Province


Club: ASICS Running Club

My Disciplines