I have taken over two months of rest from running, of course doing the occasional 5km and 10km here and there, and sometimes it is difficult to fight off that "I should be doing something/ more" but you should never feel guilty for taking some time off…
This is probably the most difficult thing to do as, one, a passionate runner, and two, a person who is always striving to achieve. I have always felt that you need to do more to get better- quantity over quality- which is a very flawed belief with the knowledge I have now. I quickly came to understand that running is a very simple equation: Stress + Rest = GROWTH.
The most important thing you can do as a runner, is listening to your body. This has taken me SO many years to understand and apply in both my running and personal life. Years of over training, burnout, and injury- all because I silenced the only thing I truly needed to listen to. I firmly believe that listening to your body is all part of having a Sound Mind in a Sound Body. Yes, we train our minds to push through pain and fatigue, however, we also need to train our minds to know when not to push through pain and fatigue, we can train our minds to REST and enjoy the benefits of both.
Now what does rest look like? No it is not sitting on the coach and doing nothing all day, it can simply mean swopping out your long 30km Sunday run for a 5km nature walk. With this, you are still doing some form of physical activity, but putting less stress on your body. You are also in nature which also does wonders for your mental health.
We cannot improve if we do not rest enough. This resting period has given me an opportunity to fall in love with running again. It has also given me a chance to do other things that I previously enjoyed. But most of all, it has helped me to slow down and not put so much pressure on myself to perform and achieve. We all deserve enjoyable running that enhances our life. The best way we can do this is by listening to our body in whatever season it is in and embracing the rest if that is what your body needs in that season.
Remember, your body will certainly repay you for treating it kindly and that your fitness will come back quickly.
written by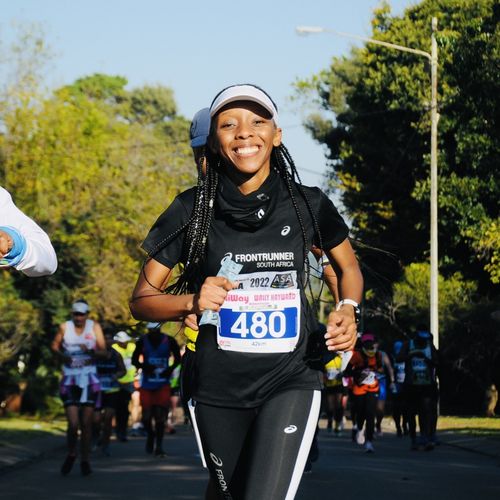 Mbalenhle Gumbi
Educational Psychologist from Johannesburg

Age group: 29
Club: Adventist Athletics Club

My Disciplines