Movement is not only beneficial for your body it also helps create a productive and positive mind.
How a few minutes of exercise can uplift your mind?
The body, mind and soul are all intertwined. Movement is not only beneficial for your body but aids to creating a productive and positive mind. In this blog I will share some tips on how exercise can uplift the mind.
In this day and age our lives are consumed by technology, excessive indoor time and less time interacting with people. It's scary to see what affects these everyday factors have on the youth and people around us. As a Physical Education teacher I get to work closely with the youth outside the classroom and get to see the benefits of exercise first hand. In my experience a few minutes of exercise can uplift the mind. Here are a few tips I find helpful to keep me moving and assist in #UpliftingMinds:
Prepare your exercise schedule: having a schedule helps you prepare your mind for the task. A prepared mind will produce results, giving the mind satisfaction after completing. Ensure you dedicate a few minutes in your daily schedule to move your body to help reset and uplift your mind.
Set exercise goals and keep yourself accountable: goals are vital to growth. Goals are a key factor to keep the mind active, prepared and accountable. Reaching fitness goals uplifts the mind through self –affirmation.
Join a team: Meeting people through movement is a special way to connect with others. Sharing you passion with like-minded individuals is a fantastic way to grow and keep your mind happy. Bouncing ideas, experiences and goals with others helps you stay focused and keep the mind positive.
Reset your body and mind: Your body needs to move to keep your mind focused. Step out, look up and appreciate the beauty around you. Stepping out and allowing your body to move gives your mind time to reset.
Share your progress: this idea may not be for everyone but sharing your progress on social media platforms, friend groups or whilst interacting with others may help you appreciate your growth. Be proud of your efforts and allow others to share your journey. You never know who is watching and who you could be inspiring around you.
These are a few ways I keep myself moving to keep my mind positive and productive. Movement is a fantastic way to help the mind grow. It aids in allowing the body to move and allows the mind to refresh. I can safely say I have seen the positive results exercise has on the mind through my own journey, my work and colleagues around me. I hope these tips help in your journey to live a healthy life and uplift your mind.
written by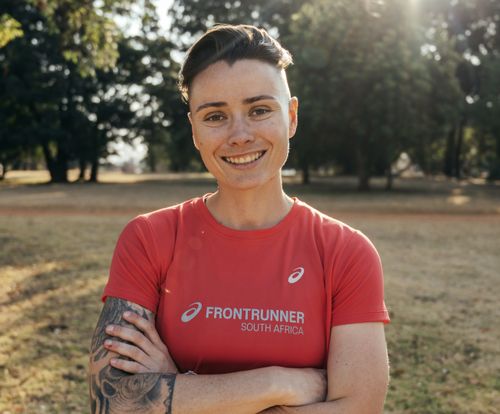 Cailin Whyte
Sport Coordinator from Johannesburg (The Urban Jungle)

Age group: 26
Club: Origins Running Club
Coach: Michelle Mee
My Disciplines