This past weekend I ran my first marathon after a prolonged injury and it was the most rewarding experience.
After the 250km Uplifting Trails run in Lesotho, I was severely injured. A "usual" injury which I have had and generally able to work through and I am back on the road within a week. But this time around, it was different because it took whole 4 months for me to get back on the road again and to run consistently.  "Trusting the process"  during this time was a very foreign concept and very difficult to apply. Purely because the simplest act of day to day walking was so difficulty. I thought and genuinely believed that I would never run again and would struggle to see beyond this point. I received a whole lot of support from those close to me and was encouraged to keep moving, and that's what I did. The gym was my best friend even though there was very little that I could do not to aggravate the injury.
At the end of February 2022, the 25th to be exact, I ran 3 kilometers on the treadmill, this was my longest since 9 October 2021 and boy did it feel good. I built up from 3, to 5, to 8 kilometers on the treadmill and then went back to the road and started building up from there. Most weeks I felt like I was making progress (but very slow progress) and on some weeks I felt like I was not making any progress at all. Even with this uncertainty, I still decided registered for the MiWay Wally Hayward Marathon believing (on mot days) that I would start and finish this race. 
I was very anxious days and hours leading to the race, mainly because I was afraid of an injury resurfacing and because this race was a very big deal for me. But I am so blessed to have amazing people part of my running journey who reassured me that I was going to do great. Above everything, race day was amazing and I managed to finish my marathon in 4 hours and 17 minutes, a time that I certainly was not expecting especially with only 3 months of up's and down's and "not so consistent" training. Such experiences remind me of how capable I am, especially when I am to put my mind towards a goal. Whatever you believe, your body will follow suit.
So what's next? To work on the next goal and to ENJOY the journey.
written by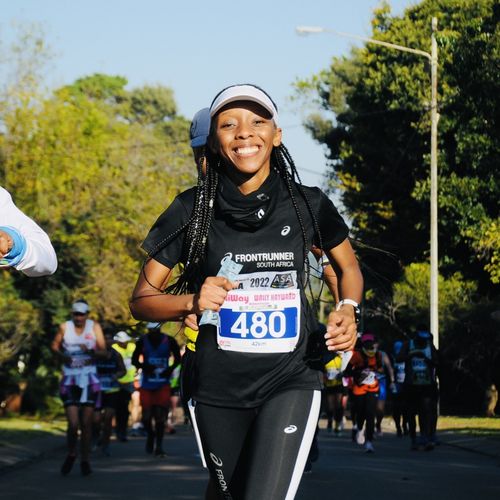 Mbalenhle Gumbi
Educational Psychologist from Johannesburg

Age group: 29
Club: Adventist Athletics Club

My Disciplines