My Introductory reflection: First full marathon race. Everything is possible if you put your mind to it. I happily finished my first ever Sanlam Cape Town Marathon with 04:37:14 time, Sub5, qualifying me for Two Oceans and Comrades Marathons. Yes, I did it with God on my side and here I reflect back on multiples things I learned as I share my race story. I had it in me and believed I'm capable to run a full marathon and I can do it!! But I had to also believe it mentally and through prayer that indeed I'm able. Finishing Sanlam Cape Town Marathon is a dream come true, highlight of my running life this year and it has really changed my perception about what the body can achieve if is well tuned and trained properly. You can never say you can't do something without having done it, you have to do it first and then judge based on your findings. Years ago I was scared to run a full marathon because I was scared of facing the pain of what if I don't finish it as I'm very competitive.
My Introductory reflection: First full marathon race continues
I was scared of facing the predicaments as I already judged my body without first testing it, giving it an opportunity to prove itself. I was wrong and this year I thank God for this blessing. Yes, this marathon changed my life as I registered without knowing what I was going to face, but I only knew I was going to finish strong. As you can't stop the pain you might face while running gets tough but you can learn to control it and I learned that, which I will also apply in life in general. I'm definitely running comrades marathon one day. I love running and thankful to God for giving me the talent and ability to do it.
Where it all began
So it all started in 2010 while at varsity finishing my Medical Biotechnology undergraduate degree. I was with friends and told them that one day I would really like to complete a full Marathon and the Sanlam Cape Town Marathon to be my first. I really loved and enjoyed running but then had netball, dance, leadership and church ministry. I was also a bit nervous wondering if I would be capable, knowing that I would have to train hard in order to be good at it.
Before race day
Now I experienced what they call a runners up and down feelings. I was having mixed emotions, Excited, nervous, "what have I put myself to? Oh my word, will I be able to finish? But then again I'm strong, I trained and I'm capable! Should I maybe do a 5km run? No, I need to rest and I'm just going to do fine, yes I'm going to finish with a good time! Hahaha... all these thoughts and questions were passing my mind. But above all I was very happy, hopeful and felt brave as I had never in the past till to date challenged myself as runner beyond 21.1km half marathon, even in life at large!! I felt like running a full marathon, facing the whole 42.2km from the beginning, to the end with the energy, good attitude, expectant heart and faith. Knowing after 35km I might not know how to push forward, no matter what happens, I was going to finish strong. YES, I WAS STRONG AND I DID FINISH!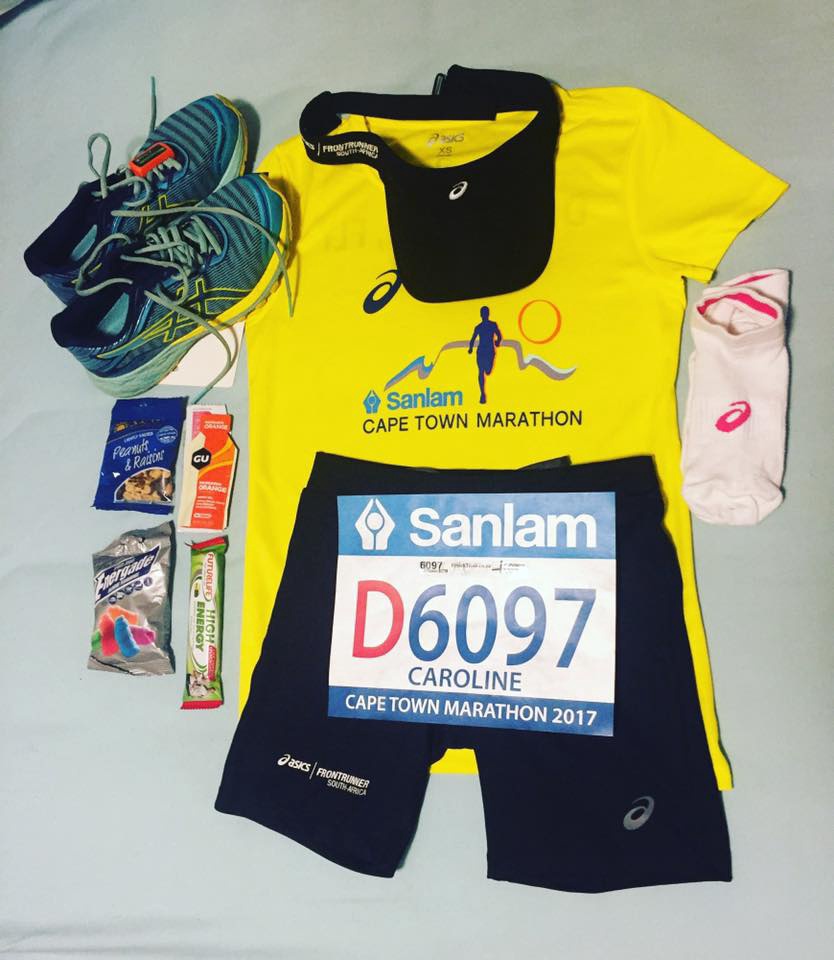 Race day
It was on the 18th September 2017. Wow I had never ever felt that happy ever since my last MmedMSc postgraduate Degree graduation 2 minutes of fame, I was so happy and ready to make history, to conquer my fears and succeed. All was ready and set, my personal best (PB) goal for this one was 4:30 min but my ultimate dream PB time is 3:30 min and that was the time I put on the ASICS pace my race app. I know it looked like I was being ambitious, which I am but how would it help if I just put only what I could easily achieve compared to what I could not easily achieve without a sweat and hard core training, but knowing that will all this in mind I'm definitely capable of achieving. Meaning, I will be working hard on my running and training until I get that sub3:30, soon I will. I ran well, the race was incredible, beautiful Cape Town scenery, cheerful runners, helpful marshals and great support from Capetonians.
Wow support we had at the Cape Town Marathon was humbling and seeing all the runners trying hard to run their best and very kind and friendly it was such a blessing to be part of such an event and the realization that I'm so in love with running, I could do it in my sleep I love running and being happy to know I have the possibility run till old age; Hahaha! The nice benefit of running. About my race, I did very well for my first 10km, 21km, 30km, and it started get tough by 33km, thank God I then met one of my teammate, ASICS FrontRunner ZA, his name Songo Fipaza, we pushed through together and off interest another guy joined us, it got tougher at 35km, I then told them they to carry on I will just catch up but I have never seen such team support, this brought bring tears to my eyes to see we have such kind of people of earth, very supportive and kind. They just told me we are running this together no matter how hard it will get, will help each other through. Now that's when we passed a 4h30 min bus (my goal time), wow the bus helped us push 2km to 37km and now here I then prayed to God to strengthen me mentally, as I was starting to be worried about my time goal and finishing with victory, I decided to focus on enjoying the race still pushing towards my goal and reminding myself that I'm more than conquerors and yes together we did, with Songo we finished strong at 4:37:14 min. Wow I could not believe the time, we were happy and raised our hands up and kept smiling at the people cheering us up and a friend taking photos. I had tears of joy and I could not believe that I just ran and completed a full marathon 42.2km race. EVERYTHING IS POSSIBLE IF YOU PUT YOUR MIND TO IT.

Thanks giving and closure
I want first thank God, for being my strength, provider and refuge for making all this possible. Ensuring that I'm healthy enough to train, have the time to run, listen to my team for running advices and make it on that day. I then want to thank ASICS FrontRunner ZA team, ASICS at large for an amazing training, apparel and racing support. Wow without ASICS, I don't know how I was going to accomplish my Sanlam Cape Town Marathon completion dream this year. The support and running advice from the ASICS FrontRunners ZA best gift ever. Also want to thank our leader Malherbe Pelser for being there for us and ASICS family really rocks :). I finally want to thank my family, for always being there for me, bringing the best in me and allowing me to follow, pursue and reach my dreams. My awesome running buddies, we train, suffer and conquer together in this journey of running, and my awesome friends at church, varsity campus, and my besties at large for believing in me that I can do it.



Now looking forward to many more marathons till I reach my ultimate goals; to run Two Oceans Ultra Marathon and Comrades Marathon, which I have already registered to run next year, 2018.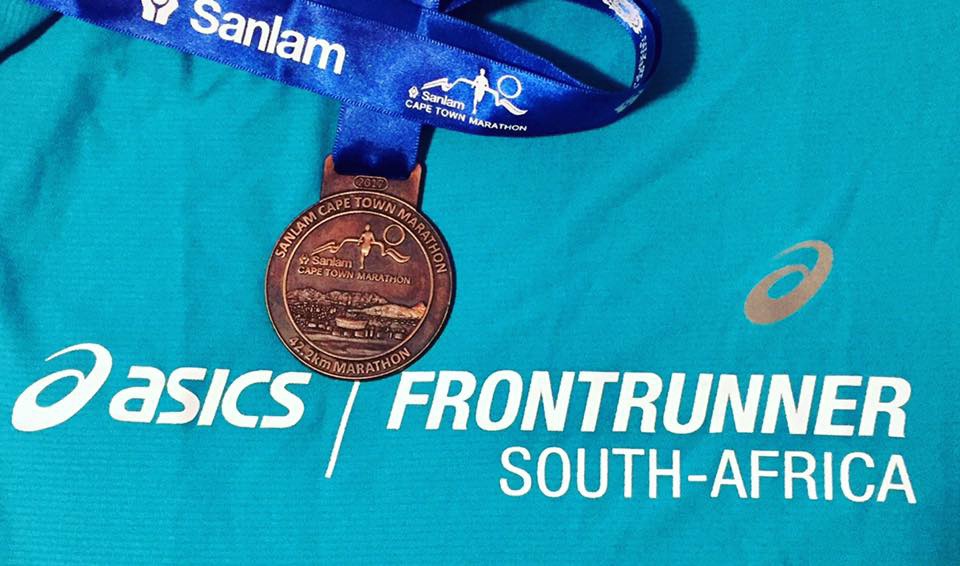 Happy running :)  and always remember "everything is possible if you put your mind to it". Don't run, fly always...
written by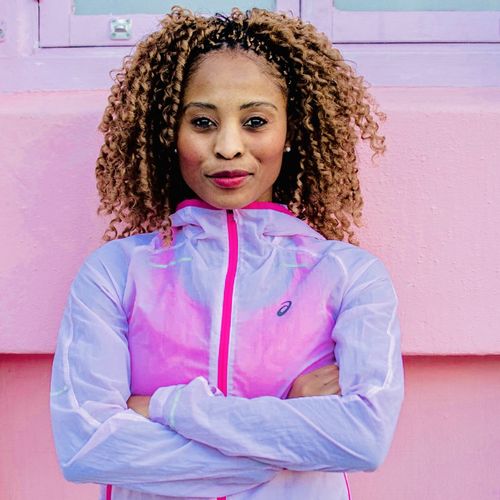 Dr Caroline Pule
Medical Scientist (PhD), Philanthropist, Fitness Inspiration and Motivational Speaker from Cape Town, Western Cape Province


Club: ASICS Running Club

My Disciplines