Those who know me, know that I am a morning person. My morning routine sets the tone for my whole day and makes me feel that I have everything in order- when I actually do not.
I have not always been a morning person, I used to hate the idea of getting up in the morning and would struggle significantly at being productive… until I started running and being active. How I start my morning most definitely influences the rest of my day. My mornings never start after 5am, even on rest days, and it amazing how I feel like I have accomplished so much by 7am.

My morning routine is very simple, and of course, does not only consist of running: I wake up at 5am every morning, pray, drink my immune booster, check social media and exercise.
Prayer: It is always a blessing to wake up and see another day, so the first thing I do every single morning is to thank God for the blessing of life. I start by reading a devotion – currently I am reading "Words of Jesus for Women" by Carolyn Larsen (which is an amazing daily devotion), I read the verse of the day in the Bible then I pray. I always try to dedicate this time to thanksgiving and it always sets a positive tone to my day – regardless of the challenges that I may be experiencing.
Affirmation: I am a firm believer of being intentional about what you say to yourself and how you say it. This is why affirmations are a very important part of my daily routine. "I am worthy of the very best life", "My energy is limitless", "I believe in myself whole heartedly", "I am a force", these are some of the affirmations I start my day with. Being intentional about your words not only helps me to challenge and overcome self-sabotage and negative thoughts, they also motivate me to act and concentrate on my goals.
Drink my immune booster: I always have a mixture of turmeric, cayenne pepper, ginger and lemon with hot water. This is generally the first cup of water I drink for the day and acts as my immune booster.
Check social media: Whilst I am drinking this, I log onto social media and this is generally to check if there are any messages that I may need to attend to from the night before and to share some scripture and daily affirmations. I always enjoy sharing what I have read as it could be meaningful to someone else.
Exercise: This is my most exciting part of my morning. I specifically enjoy the process of getting dressed for a morning run; I put on some music, dance and sing a long to whatever song is playing whilst getting ready. This once again sets the tone and puts me in an amazing mood for my run. I generally run 10km every morning and sometimes incorporate a HIIT workout session or I go to the gym to cycle. Even with the tough sessions, I always come back feeling energized and ready for the day.
People ask how I do it every day- in all honesty it is just about being consistent, committed and doing what makes you happy. Of course my routine changes and adapts based on my current life circumstances. On some days I do not feel like it and I have learned to be very mindful of listening to my body during these times. Remember to always do what feels right for you.
written by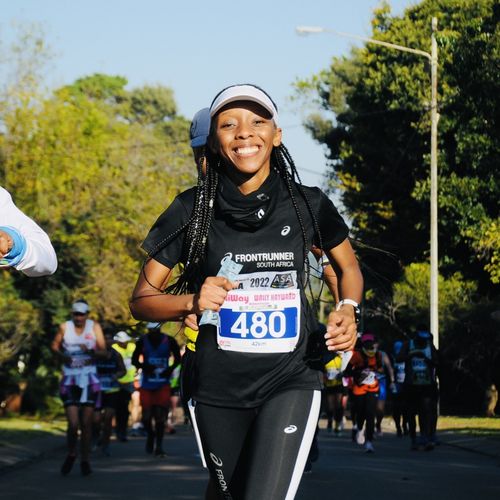 Mbalenhle Gumbi
Educational Psychologist from Johannesburg

Age group: 29
Club: Adventist Athletics Club

My Disciplines