"You never know how strong you are, until being strong is the only choice you have"- Bob Marley. A reflection of what it means to be mentally tough and resilient, to have that inner voice that will tell you to push one more time and not give up!
HOW IT STARTED: THE FEARLESS RUN BEGINS
A few weeks building up to Comrades Marathon 2022, I embarked on an intensive last long-distance training that would test my mental strength and resilience in a way I could have not imagined. Besides routine training, I planned, prepared, and finally ran a 50km ultra (LSD )with an elevation gain of 1020m at a tough uphill terrain in Tafelberg Road by Table Mountain National Park. The goal was to complete this distance by running the same route up and down 4 times repeats (x4 loops of 12.5km) up and I had 3 goals that I wanted to master as my final motivation for the 90km ultra "Comrades Marathon" from having learned how my body works:
To work on my mental strength which would help me to overcome pain it gets tough and when it's hard to run with my heart (And running x4 loops of 12.5km up/down repeats Tafelberg Road by Table Mountain was the best strategy).
To work on building endurance which would keep me going for longer hours on the road without too much exhaustion and reserve energy for the last kilos. (And running at a slower monitored pace than normal was ideal in helping me to clock more hours on the road).
To work on legs and core strength, which would help me survive never-ending downhills and undulating hills without any injuries while the core, for better breathing and running posture, as most second half's of every ultra-race can be brutal and affect the runner's running economy. (And run a tough humbling uphill x4 times with hectic climbs on Tafelberg Road controlled downhill runs at a moderate pace, was the best yet toughest strategy ever as in general I struggle with uphill runs).
This was really important given the fact that I had a hectic work schedule at the hospital, it was wintertime (very cold weather), raining almost every weekend, and would be running Comrades Race after 2 years of running it and a different route. And given the short time I had for training, from knowing how my body works & some of the challenges I face during ultra-races, I knew exactly what I needed to do and what kind of a run needed and final training at the gym to be close to 100% mentally and physically ready for comrades marathon, so basically there was no turning back, this 50km Ultra and at the specifically chosen terrain was compulsory for that particular weekend (which would grand me 1 week of resting, 1 week of tapering, speed, gym and last week resting before the race weekend) and had to happen no matter what, I was nervous and wondering how I would pull 50km ultra by myself in such a tough running terrain, and even more stressful running up and down over and over again, my myself and of God as my strength, only passion could make such goal become reality. This was it, I put down my running strategy on paper, got into my disciplined mode, and ran with it went for that tough run, using my car as a fuelling point and the beauty of nature as my motivation. 

HOW IT WENT: DIVING DEEP INTO THE IMPOSSIBLE
I prayed first to God to help me complete this distance as planned and no matter how hard it could be, to not give up just push even if I had to run much slower, as long as I finished I planned and started, and in my mind, I also told myself, to come what may we have to finish those 4 loops running up and down, even if I do it crying, I was not going to go home without my goal being achieved unless it was out of my control" so I was ready mentally and confident when it comes to the physic. For the first few kms it was fine until at 6km it started slightly raining, unexpected, and got a bit worried (knowing that we didn't have time on our side) and I made sure I checked the weather forecast before I went running and it wasn't supposed to rain on this day, but hmm knowing how unpredictable Cape Town weather is and the fact that we can't control Nature, it was inevitable. I had two choices, to either stop running and turn back or bravely continue running in the rain, and with this in mind, I chose the second choice to continue running as this was my last LSD chance.
So, I just trusted God to keep me safe and not get a cold, continued running hoping it will stop as at least I had a backup t-shirt and buffs in my car (at the fuelling stop) and I was prepared, wearing ASICS winter apparel (to keep warm) and had running gloves. This was really surprising to me as the more I run closer to the mountain, it rained but in my mind, I was still refusing to stop and at that point, all that was in my head was x4 loops runs, 50km and the sacrifice I made to make this run happen. I was really mentally tested, I could even see some hikers around the route were shocked that I was running in the wrong direction towards the rain and not running back to stop, yep, that's the passion for running and RESILIENCE for you, both will keep you going against all odds and not everyone will understand except those that have crossed your path or have the same sentiment, and funny enough some cheered me up and we clapping hands. And knowing what a positive person I am, I quickly shifted the idea of battling rain in the rain to seeing it as an adventure, living in the moment and embracing it, and to my surprise just as I was approaching a 10km on my Garmin watch, the rain stopped, like literally, partially cloudy with some clear skies, like for real and I was happy that I kept running.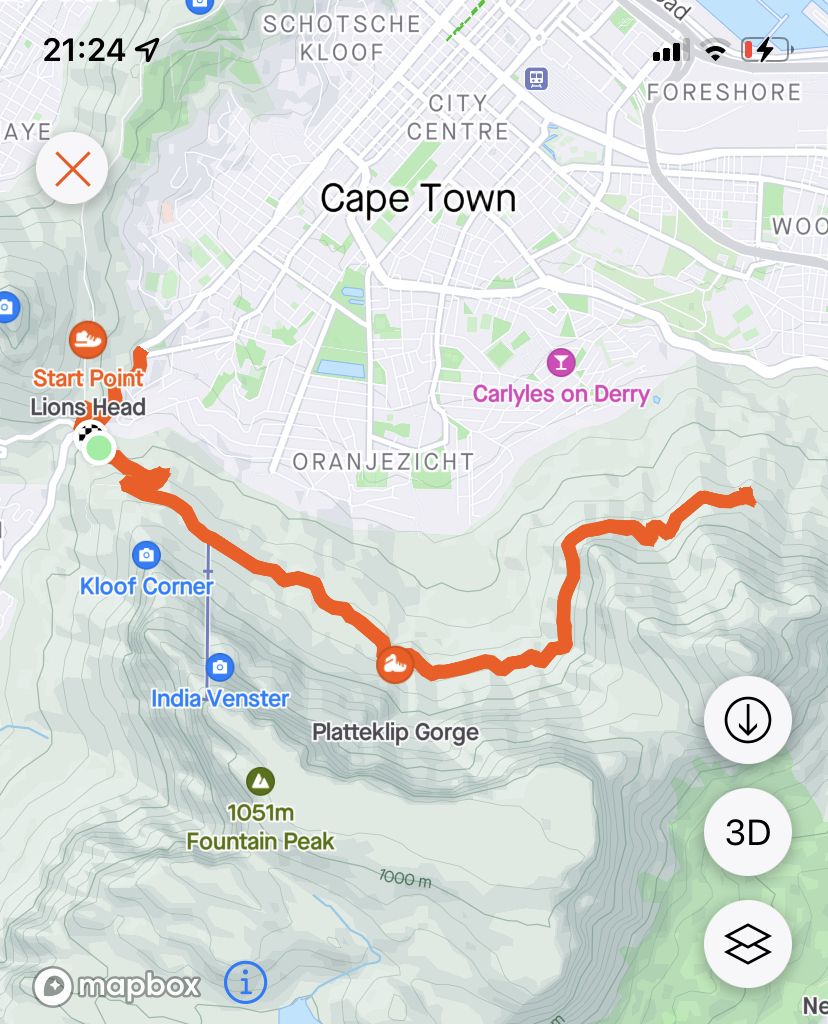 CLOSE TO MY BREAKTHROUGH
Back to the run, I continued to run and fuelling as I used in a race every 12.5km (x1 loop). At x3 loop round (around 38km), the up-and-down run was starting to be mentally draining and getting a bit dark! And lol (laughing) that's when I realized I still had the last (x4 loop) to run after this, WOW! I couldn't believe what I have just put myself into, BUT no matter how hard it will be, I wasn't going to give up instead to finish this, even if I had to run in tears or walk, as I made sure I fuelled & rehydrated well by every round end! I wasn't leaving without clocking 50km on my Garmin & Strava update. That's What I call MENTAL TOUGHNESS for you; when all seems impossible but in that impossible you see a possibility and have your mind fixed on the ultimate goal, realize how strong you are when is the only choice you have, and push till the end no matter what it cost. And YES! I pulled myself together past 42km and back to the grind; my body and mind cooperated, and interestingly, for some kms, I just happened to have energy that came out of know where and I was just flying but lol then again those with less energy, and back to the struggle, just weird but unforgettable experiences. Finally, we finished in the evening, I was a bit teary when I saw the 50km distance on my Garmin, I was super proud of myself and couldn't believe what my body-mind and soul just achieved and my legs were still strong. This was the best motivation and confidence booster to know that I was definitely going to finish Comrades Marathon 90km down run, to come what may, and Later on, I did run my best (will share about the race on my next blog). This run experience did exactly what I wanted, it tested my mental toughness, my endurance, and leg and core strength, and most importantly, showed how resilient I am and that the love I have for running is indescribable and I'm grateful for it.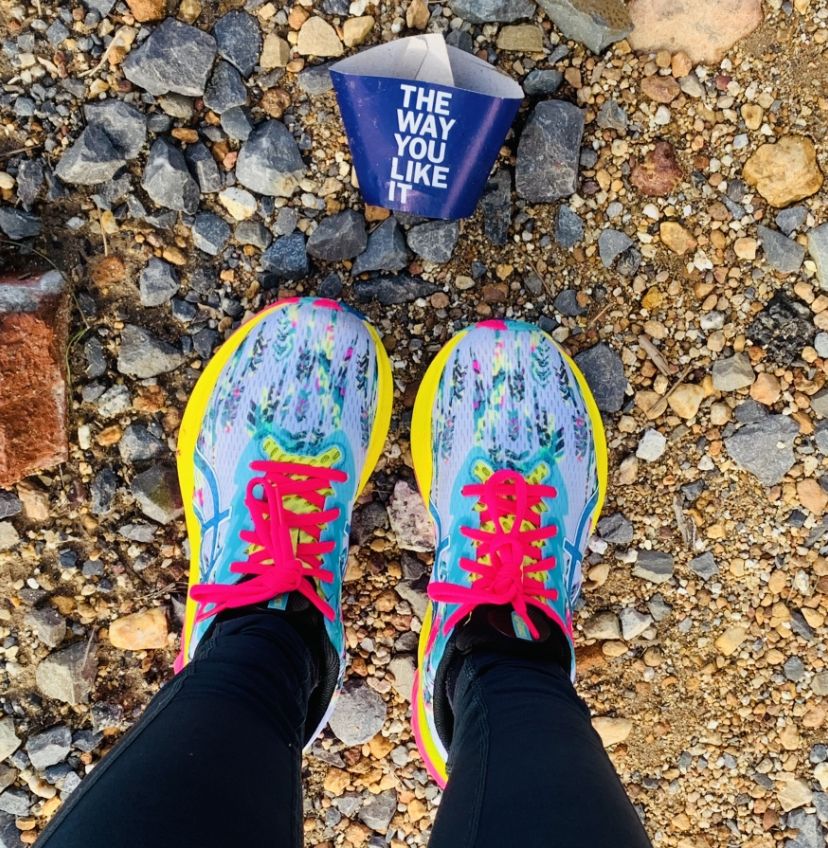 REFLECTION AND WISDOM: LESSONS LEARNED
Every runner knows how their body works and what they need to do, to be mentally and physically ready for a race. And yes, it's also okay to be open and take in advice from other experienced runners, as you are on a continuous running growth journey, and is good to continue to learn, improve, and evolve as a runner. However, it is also important to avoid changing your running strategy that works for your body and mind and ignore some elements that are important for your training based on what you have been told; rather consider taking in the advice, assess it, and use it to help you improve your running strategy but not 100% change it as that might just be the unplanned curveball that might hit you close to your race day and affect your whole race plan. When I shared with a couple of runners about the 50km I planned, got both supportive and no so supportive comments, and it was my choice to decide what was best for me as at the end of the day I was going to be the one at the start line. Both comments were helpful as they would help me to weigh the pros and cons, but again not all runners have similar lifestyles and some have other multiple responsibilities through navigating the balance between all this with running, they had to learn and explore the best training and running strategies that work for themselves even though they might seem not ideal. And in this case, I just knew there is no way I could run comrades confidently without doing LSD, 50km ultra while again I knew it would not be ideal to do it a few weeks close to the race and so I had to think deeply, remembering how my body and mind work, and come up with a best training running strategy that would fit well with the hectic schedule and it was a risk I was willing to take. Meaning I used what I heard to help me weigh my options but not changed my plan, by race day, I was both mentally and physically ready for the ultimate human race.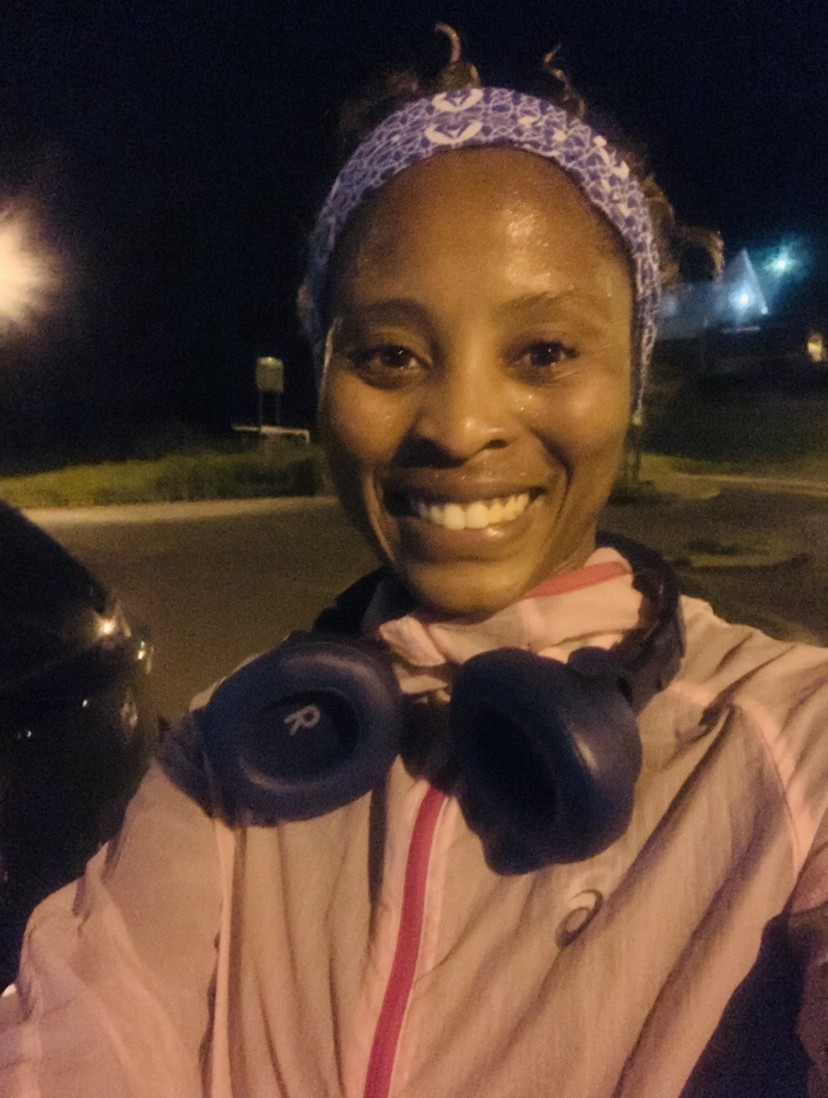 The main point here is that as a long-distance runner if you are disciplined, you will know that training is important and that everyone has different physic, metabolism, and strength. You will also know what you need to do to be both physically and mentally ready for an ultra-race and you stick to your running strategy and nutrition that works for you no matter what, unless is inevitable in circumstances such as having a health complication or an injury, etc. Being aware of the latter points will help boost your confidence and motivation to be resilient and never give up.
For the love of running!
written by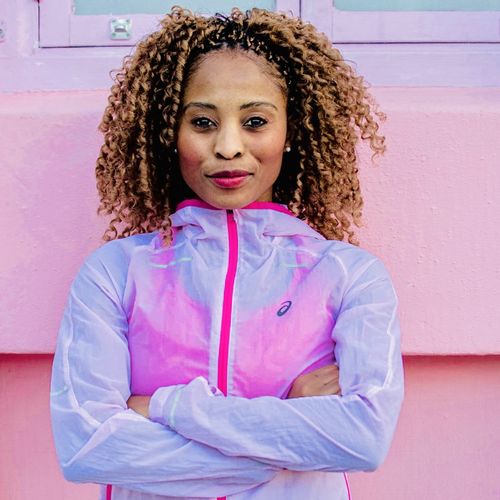 Dr Caroline Pule
Medical Scientist (PhD), Philanthropist, Fitness Inspiration and Motivational Speaker from Cape Town, Western Cape Province


Club: ASICS Running Club

My Disciplines