#UpliftingTrails, a hashtag that means so much to me. Seven days of trail running through some of the most demanding terrains I've ever laid my eyes on. Lesotho is one of the most beautiful countries I've ever been to.
#UpliftingTrails, a hashtag that means so much to me. Seven days of trail running through some of the most demanding terrains I've ever laid my eyes on. Lesotho is one of the most beautiful countries I've ever been to. Running with such a vibrant and inspiring team from Asics Frontrunner through the trails of Lesotho has been a life changing experience. This experience has taught me a lot about myself as well as the amount of passion, dedication and love I have for trail running.
I received the news of this once in a lifetime expedition approximately 10 weeks before the event. A lot of emotions went through my mind. I've always been a camping, active and nature enthusiast so when I was asked if I would be interested in the expedition my first thought was ABSOLUTLEY! I was even more excited to be visiting a neighboring country in Africa. When we were later given the distances for the event my excitement grew to fear as I had never ran more than 32km prior to the event and after finding out that we would be running +-250km over seven days was very intimating and daunting. This was a mentally difficult challenge for me as I have always had a very competitive nature. To me I've always wanted to compete and have grown to love shorter distances on trial running. I had to adapt my mind-set and training with my new main focus to finish the expedition.
After training hard for 10 weeks we made our way to Maseru (the capital city of Lesotho). Our first day in the Kingdom of the Sky was filled with some pretty epic views followed by a short but effective run to acclimatize to the altitude and heat in Lesotho. The easy run helped us not only with the journey ahead but it gave us a chance to connect with our fellow team members and our amazing guide, Tsotang. Asics went over and beyond with our amazing trail kit which proved to be well suited for our adventure ahead.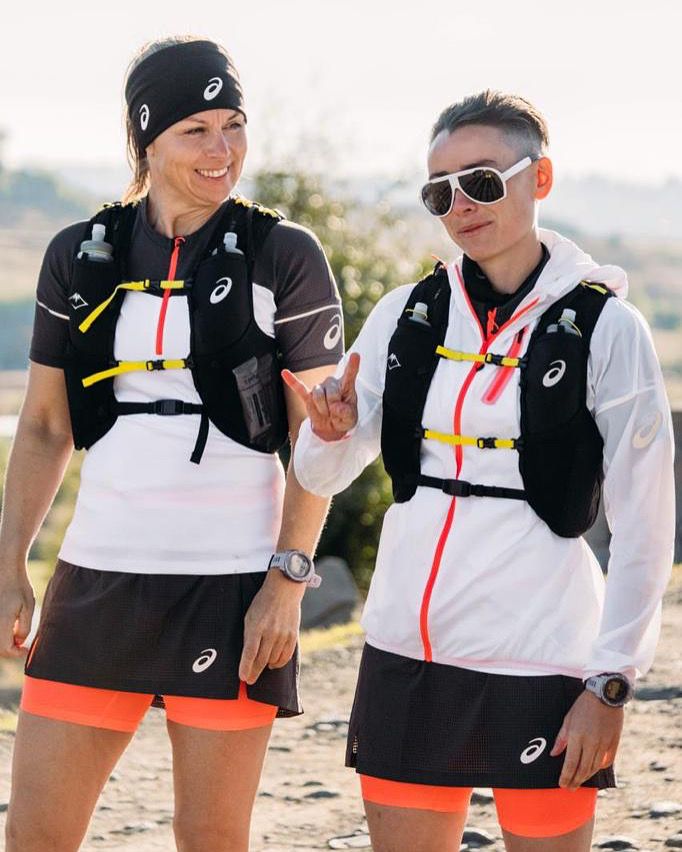 On Monday 4 October 2021 we set out on the most gruelling adventure of our lives. The first three days we trekked through some pretty incredible places, mostly only accessible by foot. We ran from Maseru to Morija (+-45km) then Morija to Malealea (+- 40km) and on the third day we ran from Malealea to Katane Camp (+-43km). We ran through very remote places where we got to fully indulge in the wonders Lesotho has to offer, another aspect which was incredibly humbling to see were the people and villages we ran through. The Besotho people are some of the hardest working, kind and welcoming people I have ever met. Coming from South Africa I know first-hand the type of kindness people show towards one another, Lesotho is no exception. Every village we ran past we would have children running up to cheer us on, people would join us as we ran along and we even got offered a chicken to welcome us into their home. For me I've always grown up in a very diverse and open minded environment and it was so humbling to see such hard working people so happy and welcoming. It made me realise that it doesn't matter what you have or where you come from, kindness is always the answer.
One moment in particular really stands out to me, we were about 400m from the Katane camp and after 120km of hard trail running over three days the thought of not having access to running water or electricity really dampened my mood. My mind was not in a good space and I was really focusing on all the negatives around me.  With so much going on in my mind I looked up to see this boy of about 6/7 years old so happy and excited to see us all running past. He ran up cheering us on at the top of his lungs and calling his family to come help. This moment brought a lot of emotions out of me, to think here we are complaining about everything we possibly can yet here are people looking at only the positives. I cried after seeing his face light up and was filled with so much energy and happiness to be on this incredible journey surrounded by such incredible people, with beautiful scenery and connecting with nature. It was that moment that I realised why we were there, it didn't matter about the distance we had to cover each day or whether or not we had electricity or signal it was about embracing the beauty of people, nature and doing what all us love, trail running.
The days to follow were set out to be less challenging, allowing us to enjoy the last 130km on the trails of Lesotho. We soon learnt why the mountains of Lesotho demand respect from those who wish to cross them. It was the fifth day into our expedition and we had a pretty heavy storm the night before. The paths were wet, muddy and slippery. We set out at around 7am for our 36km run over some intense mountains from Semonkong to Sequnyane. The storm held out for most of the morning but at about 9km into our run Mother Nature decided to show us all that the mountains have to offer. We were caught in a hail storm on top of on the mountains, with no shelter in sight, we had to face the hail stones full on. I was struggling with very sore Achilles heels and coming from sunny Johannesburg I had never been a fan of running in the rain yet alone in hail. This experience really pushed me to the limit and had it not been for my incredible team mates I don't think I would have been able to finish that day. Cathrine was such an inspiration to me on that day, she continually pushed me, motivated me and even held my hand to get to the finish line. I learnt a lot about myself that day and will take many lessons from that mountain both physically and mentally.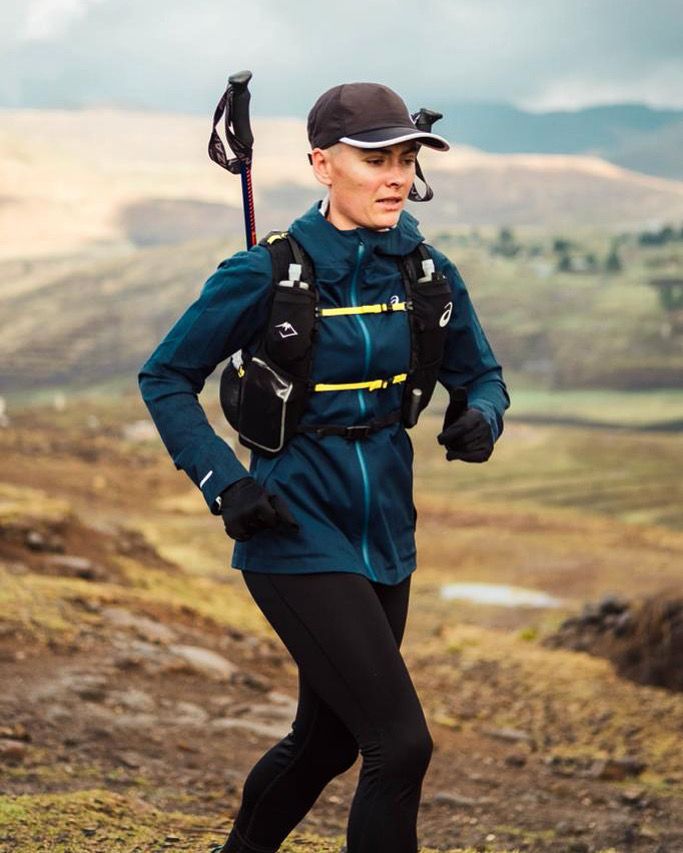 The final two days were filled with different emotions, as a team we had become a unit and learnt each other's strengths, it was sad to think our journey was almost at an end. We set out on day 6 with +-45km of trail ahead of us as we had to add on the mileage as we were cut short the day before due to the hail storm. The team started off with a bang and we were excited to almost see the finish line. It was a hot day with many downhills, mountain climbs and even a river crossing (a big thank you to Eddy for helping me as I was not able to reach the bottom and had to swim). It looked like we were full sail ahead however my fellow team mate Mbali was pushing through not only metal challenges but physical challenges too. Mbali and I are both from the South African Asics team and she helped me a lot through the journey with my emotional, physical and mental challenges I experienced each day. I knew how much this expedition meant to her and her reliance and dedication could be seen from day 1 as she encountered pain in her knee. She pushed through the pain for 6 days which proves her mental toughness. We were faced with a tough decision as we were running out of time to get to camp. As a team we agreed to motor through to the destination for Mbali. This was a huge disappointment for the entire team as we all knew how much this journey meant to everyone however even with one team mate down we knew we had to conquer the expedition for each other.
The final day had crept up to us and all our aches and pain suddenly disappeared. Sadness grew as we knew we had a few more kilometers left in Lesotho. We set out for the finish line with the whole team (Mbali on horseback) with no map on our watch. Tsothang was incredible, he knew the best paths to take just by asking around, looking at the trails and by his intuition. On Sunday 10 October 2021 (World Mental Health Day), we made it to the finish line, running border to border in the #UpliftingTrail Lesotho Expedition hosted by Asics Frontrunner. It still seems so surreal, to think we ran through Lesotho and conquered the expedition. I am so honored to have been a part of such an incredible team with such amazing people.
We were extremely lucky to have gone on this incredible adventure and I must say we were well looked after with the Asics trail kit which comprised of the latest trail gear from head to toe. I have to mention my favorite part of the kit which were the incredible shoes. We ran in the Fujilite 2 which I found to be super comfortable and consider the best part of it would be the weight of the shoe, the shoes were super light and proved to be extremely useful on the trails as your body can focus on the task and not need to carry any extra weight allowing for a smooth transition with every stride. The curve at the front of the shoe proved to be a great feature for the trails as it allows the toes to have some extra space for grip and comfort. The grip on the Fujilite 2 was incredible, we were able to tackle loose rocks, uneven sandy terrain and is super wet terrain. We were also given the latest Trabuco Max trail shoes. This shoe was built with tough terrain in mind. It gave us a lot of comfort, especially on longer and technical runs. The grip on this shoe was insane and dealt well both with sandy, rocky terrain as well as wet and slippery surfaces. The extra thick cushioning at the bottom of the shoe gave us extreme comfort on the trails and tackled rocky terrain with ease. This allowed us extra comfort to conquer the most demanding terrains. Overall both shoes tackled the mountains of Lesotho with ease! A huge thank you to Asics for the thought and effort that went into the design of the kit.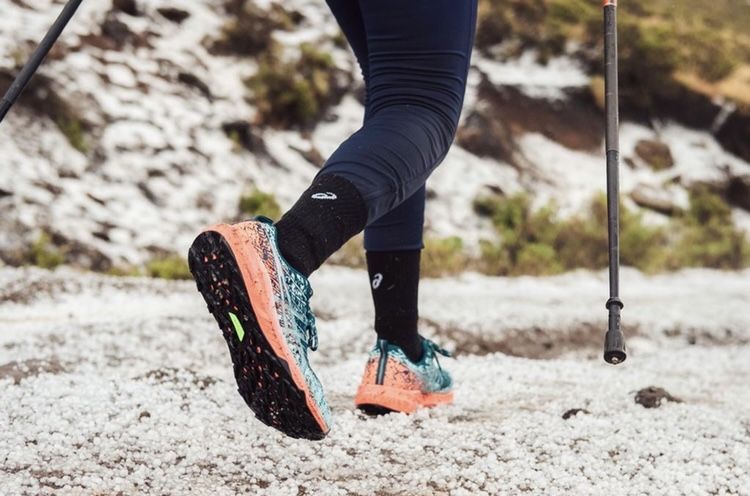 On a final note I would like to thank everyone my team mates, the Asics crew and our amazing team from Iconic for all the valuable lessons I learnt on this trip. A huge thank you must go to Tsotang for all his guidance, patience and for giving us an insight into the beautiful country. He taught me not look up on the uphill's but rather to focus on the task at hand and appreciate the view when you reach the top. Catherine was an incredible role model to me, she taught me the importance of changing your socks on long runs, listening to your body and to always smile, positivity gets you far! Eddy (who was double my size) was such a natural leader, he taught me to always look after others and listen to what others have to say. Having been through so much in his life and to still be so understanding and compassionate was really special. Mbali and I got on from day one, it was comforting to have someone I could share my thoughts with no matter what was on my mind. She taught me to always keep pushing, no matter how hard things get.I'm not sure I would have had the mental toughness she had throughout the journey and thank her for showing me that the mind is the most powerful tool we have. To our incredible team from Asics a huge thank you must go out for this incredible opportunity firstly and for supporting us, pushing us and listening to all our needs along the way. I am deeply humbled by the incredible people I got to meet and am truly thankful to be a part of this brand and what it stands for. To the team from Iconic, this journey wouldn't be possible without your incredible skills, all the hours of prepping and organising such an incredible event. Thank you for listening to our every need and going over and beyond our expectations. Finally to Lesotho Sky for hosting us and ensuring we see the most beautiful parts on Lesotho. This journey was truly spectacular.
This journey has changed me for the better and will be a memory I will cherish forever. This is how I will remember this beautiful place:
Lesotho- The Kingdom in the Sky, a place to reconnect with yourself through nature.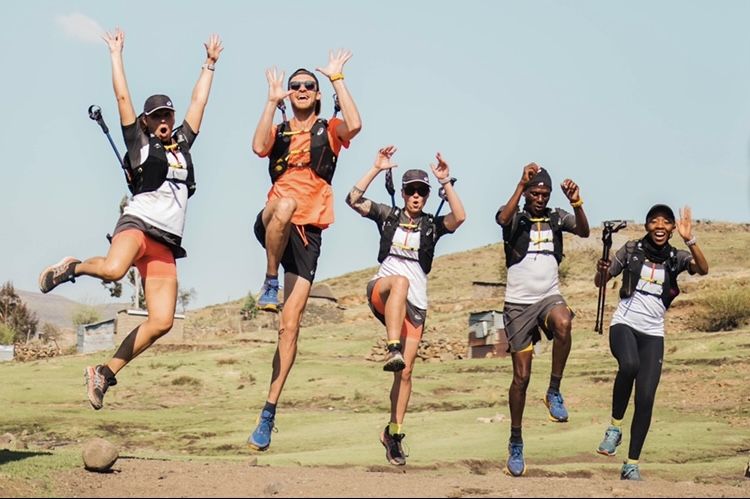 written by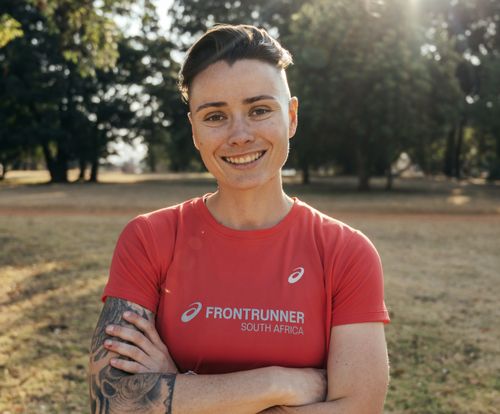 Cailin Whyte
Head of Sport from Cape Town

Age group: Open
Club: ASICS
Coach: Michael Obery
My Disciplines