Always remember running is a privilege; be thankful you can!
I have always thoroughly enjoyed running and keeping fit and healthy; but it wasn't until a few weeks back when I took a bit of a tumble on my ankle that I realised just how much I actually took running for granted.
It was the most beautiful day outside. We were only about 5km in to a scenic trail run on table mountain along the contour path when our run was cut short. I had caught a small rock incorrectly under my left ankle, and had to stop and hobble back to where we had parked because the pain was too bad to continue. After a full Sunday of icing, painkillers and rest, I headed for the doctor only to find out I had torn some of the ligaments in my ankle.
Usually I have been THAT person that exercises before I am better, tries to use something before it is properly fixed, eats my pasta way more al dente than most, purely because I am impatient and don't give things time. So I had to have a serious talk with myself to make sure I gave myself the correct amount of time to rest, recover and heal up properly to ensure that I didn't do any long term damage to my ankle.
It was in these few weeks that I realised what a privilege it is to run. I would notice every runner on the road, even if they were miles away, and I had this insane urge just to jump out of my car in the middle of traffic to join them. This desire to run again even made waking up at 4 / 5 AM to train seem really appealing as opposed to wanting to hit snooze and run after work. And slowly, I started counting my blessings for the fact that once I allowed myself to heal up, I could get back to it.
Needless to say, it is two months down the line, and I am running again. I haven't been pushing too much distance, and have been trying to avoid my beloved trail running for a little longer until my ankle is back to strength; but my heart and mind are happier and more grateful than ever for my health, my legs, my ankles, my knees, my hips, my lungs etc. and for what a privilege it is to run.

'I run because I can.
When I get tired, I remember those who can't run,
What they would give to have this simple gift I take for granted,
And I run harder for them.
I know they would do the same for me.'
written by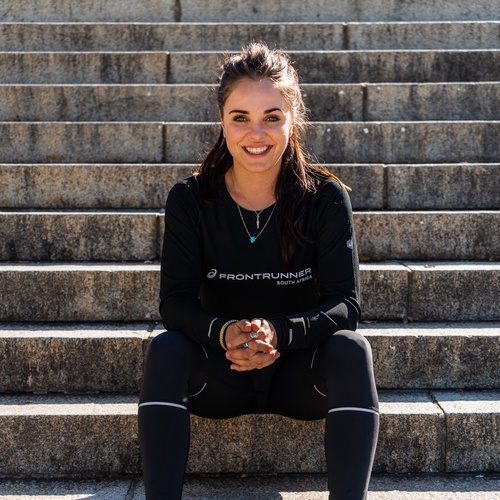 Tracy-Lee Dalton
Self-Employed from Cape Town

Age group: 31
Club: ASICS Running Club
Coach: Brendan Lombard
My Disciplines