Running, resting, strength and cross training!!! These are very important components of training towards a marathon or any race, but sometimes it is difficult to balance them all especially when you are short on time
I certainly have struggled with this for a very long time and I am still working on finding a balance. Life gets so busy, fitting in a 10 km run is difficult enough. When you finally find a consistent time to run, strength training is often neglected. This causes a great imbalance in our running, and as much as we would not want to admit it, it leads to way more injuries. It is advised that runners should in cooperate 2-3 strength sessions into their training routine a week. This often assists in running with more power, it helps to keep your form in check, it helps you become injury resistant, and it also helps you realize your true potential.
Strength is not the only important component of running, resting is. I am sure many runners fall into the "I am losing my fitness" trap when they take some time off to rest, I know I certainly do. But this is not true. Studies have shown that you will never lose months and months of training fitness in a week of rest. Even if you do, your fitness is restored way faster than before. Resting also includes sleeping and sleeping enough as an endurance athlete. The average adult needs at least 8 hours of sleep. If anything is feeling off in your running or training, sleep should always be the first thing you to. If you are not sleeping, you are not recovering – you can do all the foam rolling and stretching, but if you neglect sleep, then you are doing your performance a disservice.
The most important piece of advice that I have heard is "you will never get better at running if you just focus on running", and this was the mistake that I made during my early stages of running. I was always focused on just running and that of course led to frequent injuries. As much as I was seeing professionals to heal these injuries, I was not dealing with the source of the problem which was weak muscles. This of course could only be sorted out through consistent strength training and rest.
A lot has happened throughout the year, and we may all have so much to reflect upon. And instead of prioritizing progress and pushing in your training, how about prioritizing ending the year on a lighter note, prioritizing rest and reflecting on the progress you have made throughout the year and what you are looking to achieve in 2023.
written by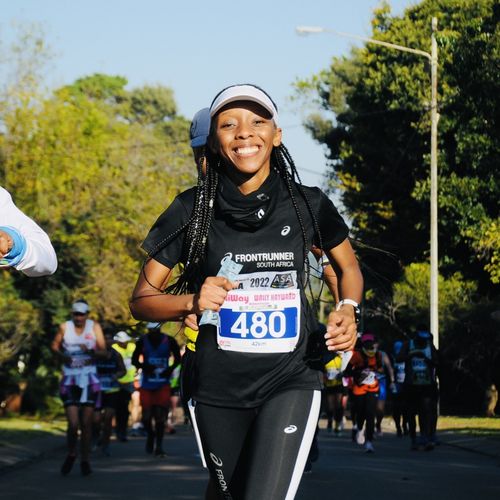 Mbalenhle Gumbi
Educational Psychologist from Johannesburg

Age group: 29
Club: Adventist Athletics Club

My Disciplines