Discovering what your body is made of is truly spectacular. The human body is an amazing machine partly designed to fulfill the mind's desires.
A strong and healthy mind produces the most amazing adventures. The mind is a beautiful space to get lost in... As a runner you get to fully indulge in those hidden spaces in the mind that we often don't get to visit in our day to day life. Our body's are one of the most hard working and power machines powered by the mind. So the big question is What is a Sound Mind in a Sound Body? As a trail lover it is the feeling I get before, during and after a trail run.
Before your run:
A sound mind provides the body with hope and excitement. It is the feeling we experience when we look forward to a break from our busy schedule. It starts from the moment we choose the destination, whether we decide to explore our local park or a hidden trail. We then prepare ourselves for the journey setting out the outfit needed for the run ahead. For me this includes getting out my Fujitrabuco Lyte trail shoes, Fujitrail sprinter Tights and my trusty running pack for those untouched trails. The mind plays a huge part in preparing the body for the journey ahead.
During your run:
This is where the magic happens. A sound body feeds the mind whilst moving. This is a special experience - During the run we get the opportunity to fully listen to our body and feed the soul. Each step we take allows us to not only get the body moving but get that mind active as well. This time allows the mind to wonder and focus on ourselves. We get to reflect on things that matter most with no distractions and fully allows us to listen to our body.
After your run:
The feeling you get after your run is very much addictive. This time allows us to appreciate all the efforts from our body and mind. This is where we fully experience the effects of a sound body and sound mind. It is during this stage that we are on the hunt for the next adventure as we become addicted to the feeling we experience when our minds and body connect and how this connection feeds our souls.
A sound body in a sound mind is the full experience I get whilst running. I love connecting and checking in with myself to reach my full potential. My favourite way to connect with my mind and body happens when I venture out and discover new and exciting trails with my Fujitrabuco Lyte trail shoes. My mind and body work hand in hand in order to create the experience and provide soul food for a happy and healthy life.
written by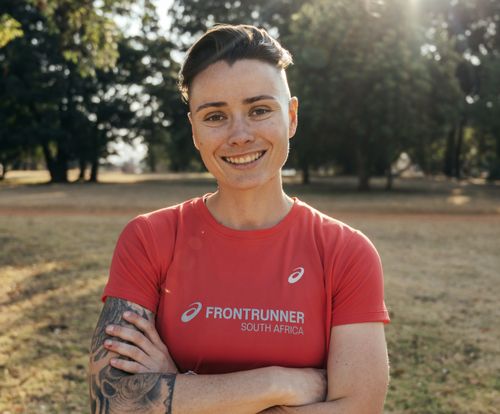 Cailin Whyte
Head of Sport from Cape Town

Age group: Open
Club: ASICS
Coach: Michael Obery
My Disciplines