Performance study and what results you can achieve.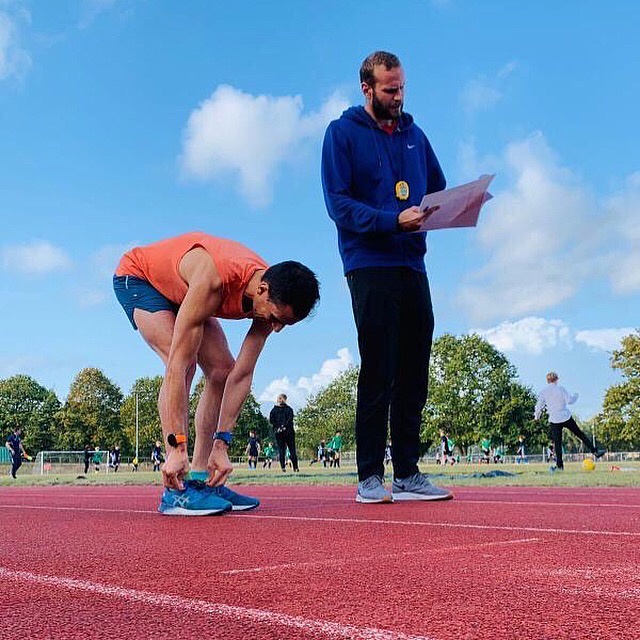 So I was approached while doing my speed reps on the track in Canterbury back in the summer by a guy called Antonis Kesisoglou who asked if I could be on his research project for his publication. I have been on a few tests before mentioned in previous blogs that have helped me to improve. So when he asked me if I wanted to help, I couldn't say no. I was preparing for the European Aquathlon Championships so I had to wait until my season had ended to go on this test while I was still in great shape for it; we didn't want to disturb training beforehand. Antonis said he wanted to test me as I had a world class engine, I am not sure I agree with that but I know I had good fitness levels and met the criteria of being able to run 1,500m sub 5 minutes. Antonis is from the University of Kent and is a Dr in Sports and Science, he comes from a strength and conditioning background and has coached Olympians.
So more about the study….
Antonis was conducting a study to examine how different exercise bouts result in different physiological and performance responses. Current models provide disproportional estimates of training stress especially when comparisons are made between very short and intensified bouts, to long and moderate effort activities. In this study, he wants to examine whether a running performance exercise bout (1,500 meters time-trial) is a valid model for assessing training stress imposed by different durations and intensities of exercise. It is his aim to improve existing methods for calculating training load, where the duration of the exercise bout is not overemphasized.
Visit 1 included a two-phases ramp incremental (Phase 1- Lactate thresholds determination, Phase 2- Determination of VO2max) test for assessment of the maximal aerobic power output on a treadmill ergometer. For phase 1, I was asked to perform 4 or 5 submaximal bouts lasting for 5 minutes, with 1 minute of rest in between. Measurements of blood lactate were collected during the 1 minute rest bouts, and Phase 1 was to terminate when my blood lactate concentration levels elevate above 4 mmol.L-1 (i.e my second lactate threshold- MLSS). With 15 minutes of rest in between, I was asked to re-start running at a speed -3 km.h-1 of my final speed in phase one. For example if my final speed at phase 1 was 16 km.h-1, I would be asked to start stage 2 at 13 km.h-1. Treadmill speed then increases by 1 km/h-1, till the point that I cannot run further (i.e cannot keep up with the speed increments). Once phase 2 is completed, I was asked to provide my last lactate sample. With 40 minutes of rest in between, I was then asked to perform a 1,500 meters time-trial for familiarization purposes. (e.g the speed was regulated by me, whilst I attempted to cover the given distance as fast as possible).
Visit 2 included a standardized warm-up (see details for warm-up protocol below), followed by a 1,500 meters time-trial. I was instructed to cover the given distance on an all-weather synthetic track surfacing in the shortest time possible. This exercise bout was used as my performance trial (e.g my best running performance).
At visit 3, I was asked to perform a 12-minutes time-trial running, followed by a 1,500 meters time-trial (with 5 minutes recovery in between).
In visit 4, I was asked to perform a 12 minutes maximum effort, self-paced, intermittent running bout. The work-to-rest ratio lasted for 60 seconds. Work ratio was fixed in terms of distance. In other words, I was asked to run a maximal effort of 150 meters and recover for the remaining part of the minute. After 5 minutes of recovery, I was asked to perform a 1,500 meters time-trial.
In visit 5, I was asked to perform a self-paced moderate, continuous running which lasted for 25 minutes, followed by a 1,500 meters time-trial (with 5 minutes recovery in between). The intensity that I ran was regulated via the 0-10 RPE scale. As such, my 25 minutes run had to reflect to a 7 out of 10 intensity (hard/heavy intensity).
Lastly, visit 6 consisted of a 25 minutes, moderate self-paced running, intermittent running bout. The work-to-rest lasted for 60 seconds, with the work distance fixed, similarly to visit 3. Again, a 5 minutes of recovery was provided, prior to a 1,500 meters time-trial. Similarly to visit 4, I had to regulate the intensity via the 0-10 RPE scale, so it reflects to a 7 out of 10 intensity (hard/heavy intensity).
For all visits, no verbal encouragement was provided or feedback regarding how I performed each trial (i.e how much time I had run or how much I had left). I was also asked to wear a chest strap transmitter interfaced via short range telemetry with a wrist unit (Polar V800, Polar Electro, Kempele, Finland), which displayed my heart rate responses in beats per minutes and helped to measure my running speed. Alongside real-time cardiac assessment, I was asked to answer some questionnaires prior, during and after the completion of the exercise. For example, in visits 2-5, I was asked to subjectively rate the workload I had perceived between the 1st and the 2nd bout of exercise (I.e immediately after the cessation of the 1st bout). I was asked to rate how I experienced the first exercise bout and provide a number from 0 to 20 for the six following categories: Mental Demand, Physical Demand, Temporal Demand, Performance, Effort and Frustration.
Alongside with NASA-TLX, I was asked to answer another scale for assessing training load (I.e how hard was my session). In particular, I was asked to subjectively rate the intensity of my 1st exercise bout via the usage of the RPE 0-10 scale (Borg et al., 1987). My potential motivation was assessed prior to all 1,500m time-trials, via the usage of a 0-9 analogue scale (0 =Not motivated at all, 9 = Very motivated to do well). Lastly, my perception of effort (I.e how hard do I feel the task?) was assessed via the 6–20 Rating of Perceived Exertion (RPE) scale (Borg, 1998) during exercise. I was asked to verbally answer how hard I perceived the task every minute for all 1,500m time-trials, while all the rest exercise bouts I was asked every 2 minutes.
In all visits, I was asked to wear a mask for analysing my ventilation, in other words how much oxygen (O2) and carbon dioxide (CO2) and total volume of air (VE) I breath in and out every second. This happened in the lab (visit 1) and at the field via the usage of a portable analyser (Visits 2-6). Antonis said that usually people feel the mask a bit tight in the beginning but this piece of equipment is designed for maximal tests in the laboratory and the field, so it would not limit your breathing rate or create feelings of anxiety. At the beginning of each visit, a standardized warm-up was provided for all visits. In particular, I was asked to perform the following self-paced routine, where intensity was regulated via the 6-20 RPE scale (Borg, 1982) in the following order: 800 meters of jog (RPE 9-11), 800 meters of run (RPE 13-15) and 400 meters of intermittent running (100 meters of RPE 18-20: 100 meters RPE 9-11). My total time commitment for this study was no longer than 7 hours.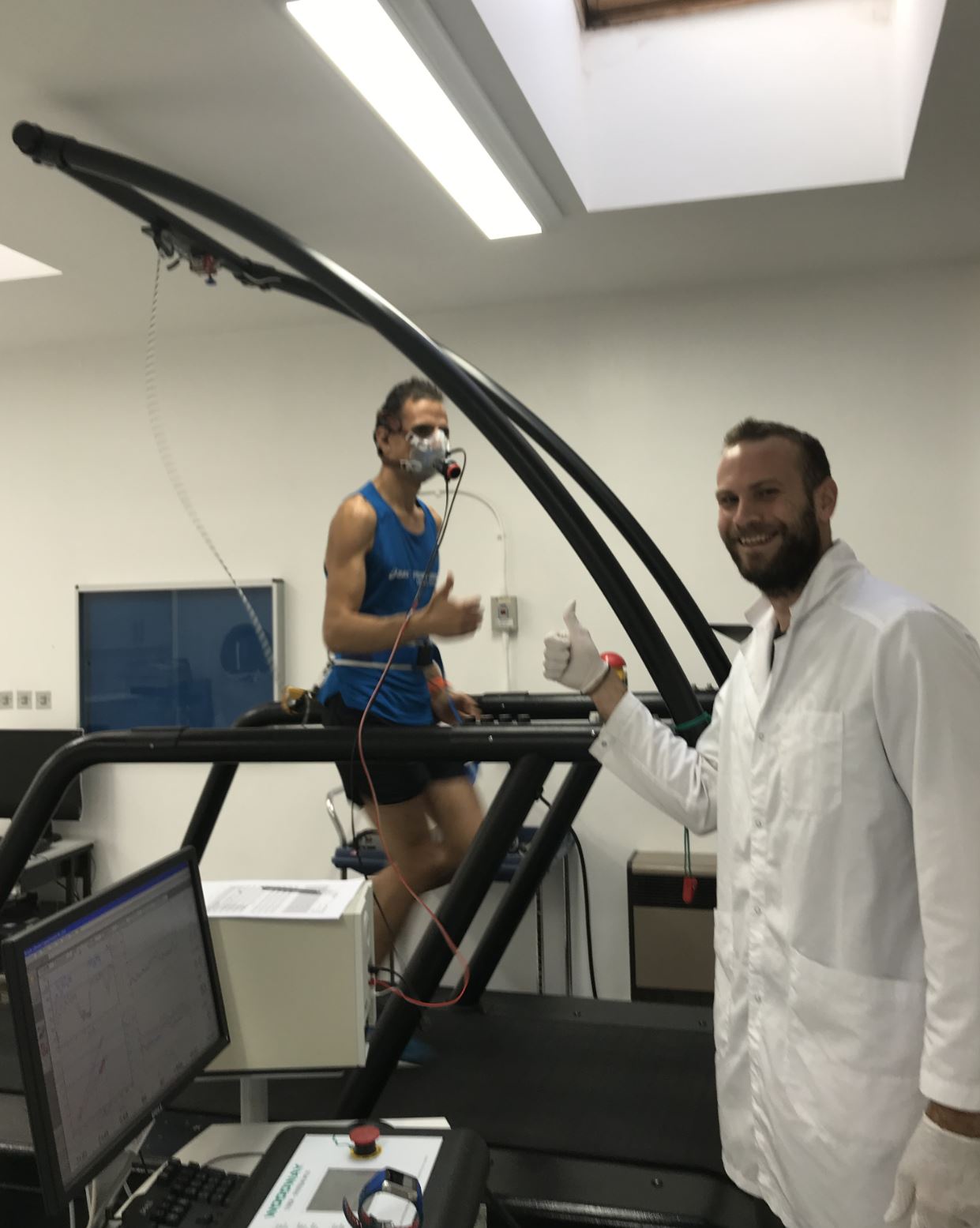 Is there anything I needed to do before each visit?
Before each visit I was told I should:
• Avoid heavy sessions the day prior to the test. Easy/light sessions are okay.
• Not exercise on the morning of the test or warm-up prior to the test (warm-up will be included in testing sessions).
• Please make sure you bring appropriate sport clothing with you.
• Eat and drink the same food in the 24 hours before the test.
• Eat at least in the 3 hours immediately before the test.
• Abstain completely from caffeine and alcohol in the 24 hours before all visits.
• Tell Antonis if you currently have or you recently had an injury or illness of any kind.
Have you taken all this on board? It does seem a bit complex but it's not too bad once you are doing the study. So what did we find for me…
We found my V02 max was higher than previous tests and therefore I saw an improvement here. My Lactate threshold took longer this time before I dropped the speed. Due to my aerobic training throughout the year I had developed an engine that made me more efficient and therefore able to sustain a faster pace longer. When sitting down and discussing how to improve this area there was a few suggestions to help. One I found interesting was that I could drop one easy long run in favour for a bike session to improve there, or if I want to improve my running speed I would need to hit my intervals at a harder pace than normal and to have shorter recoveries. So in the hindsight I need to improve my anaerobic system and running harder would help improve this. So this is something I will put in to place in my training.
What else did we find?
• Immediately after warm-up, use some exercises to activate gluteus min and max, as well as oblique's activation. That will help you with posture and stability when bounding (I.e light form of a Plyometric activity).
With Antonis being a strength coach he found a weakness with my hip so I will be focusing on improving this.
• Guide you training by feeling (RPE scale). It is currently one of the best way to guide your training.
So to be purely guided by feel and not to be a slave on what my watch says, this is something I have been practising a lot and I know that feel is much better than going by what your watch says.
• A short, high intensity interval training session an it's effects on how your body feeling the day after, cannot be accurately estimated via wearables.
• Use a training log, apart from wearables. Use the NASA-TLX scale for monitoring your sessions (as well as the SRPE). It's a promising tool for exercise monitoring
• Keep an eye on your speed sessions, alongside your HR responses
• Remember that in 2 sessions resulting the same total work, the one which is performed in a intermittent way is always harder than in a constant way.
• When a session is performed in a maximum effort (I.e 10/10), the effects of exercise duration plays a minimum role. A 10 minutes all-out and a 20-minutes all-out session will result similar decrements in a subsequent performance.
As you can see we found a lot of things to work on and help to improve my running. I found the study tough in certain visits such as the 10 minute TT followed by the 1,500m TT but different and very enjoyable. However what we did find was that I was very good at pacing and going by feel. In conclusion every study I have been on I have learnt something new in order to make me improve. I think any study is beneficial and even if you only implement one suggestion into your training you can improve from it. I am looking forward to seeing how it plans out.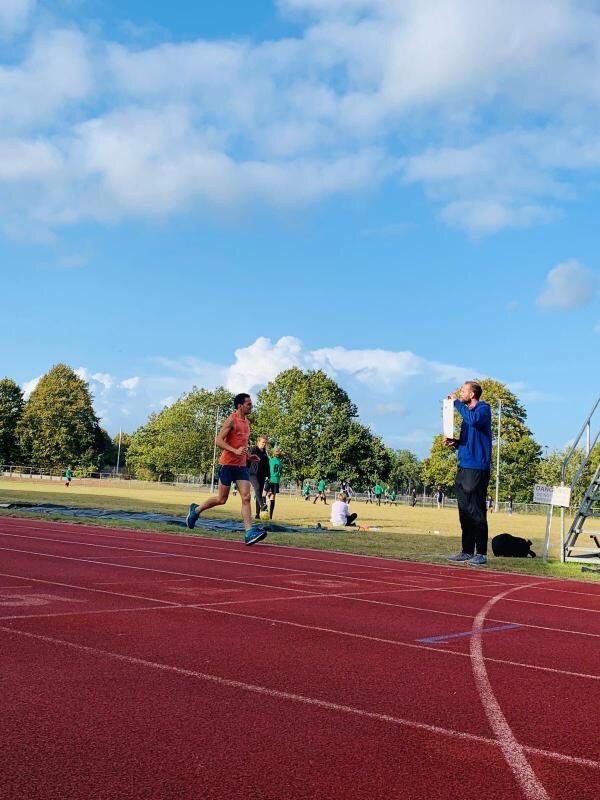 written by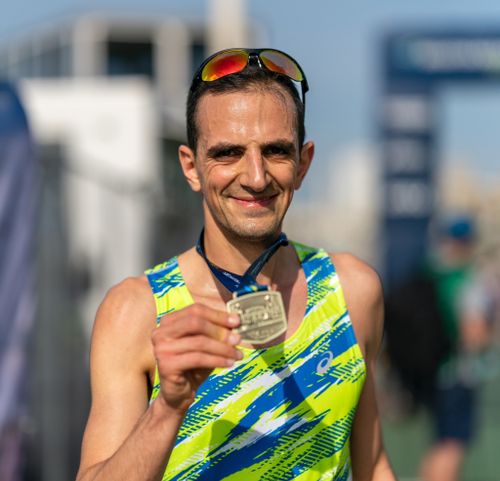 Yiannis Christodoulou
NHS Performance analyst from Canterbury

Age group: 40-44
Club: Canterbury Harriers, Ashford Triathlon Club, GB Age group team, Age group 2017 Aquathlon team captain
Coach: My self in running Level 2 coach in running fitness, Craig Coggle Strength coach, John Wood Swimming coach
MY DISCIPLINES