It's 3.15am on 10th of July 2018 and my alarm goes off; I wake up feeling shattered.
I head off to the airport with a 7am flight to Copenhagen. I am pretty excited as in two days' time I will be competing at the World Aquathlon Championships. This is my 3rd championships and I have the experience now to keep calm and control the controllable as things don't always go to plan.
My wife and I arrived at Odense where the athletes village is and our hotel was just across the road. First impressions was where is everyone? No athletes around the athletes village. It was very different to the past World Championships as the races were not in the same area but spread out.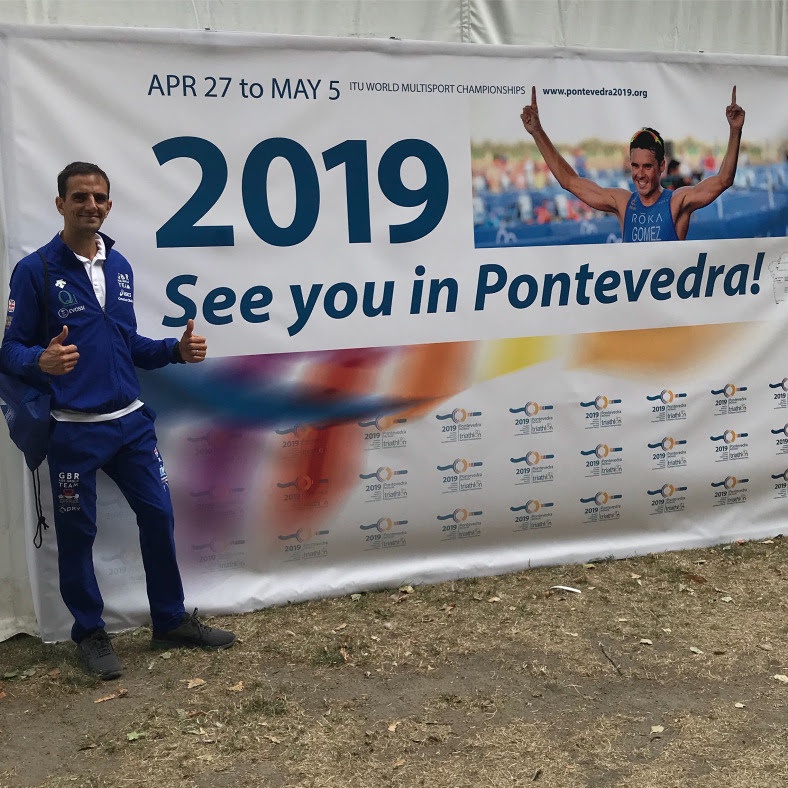 The following day I woke up pretty tired from the previous day travelling and early start. I registered and relaxed in the hotel while my wife went exploring. 1pm we had to get the last bus to the swim finalisation and the team briefing. My race was in Middlefart which is around an hour away from where we were staying. We went to get the bus which was provided by the organisers and we waited a while and no one or the bus turned up. I headed back to the registration tent and they drove us to the race area, which was good of them. I  was glad I did not do the swim reccie, as the sea had thousands of jelly fish and athletes were complaining about getting stung. We had the team briefing and photo then we headed back.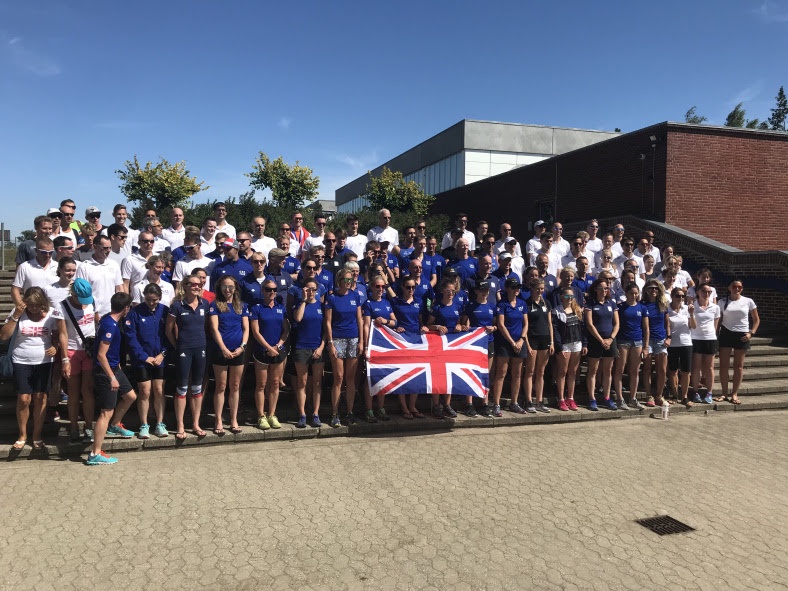 Later that evening the opening parade of nations and cemonery was just across the road from our hotel. I just wanted to go and see who was there and catch up with some friends. I didn't want to walk for miles around the place the day before the race. Anyway as soon as I turned up I was asked to carry to GB flag. I was shocked and surprised and a fellow team mate was trying to get hold of me to ask me while I was walking to the parade. It was a very proud moment and I then carried the flag for a while as we paraded the streets with the other countries.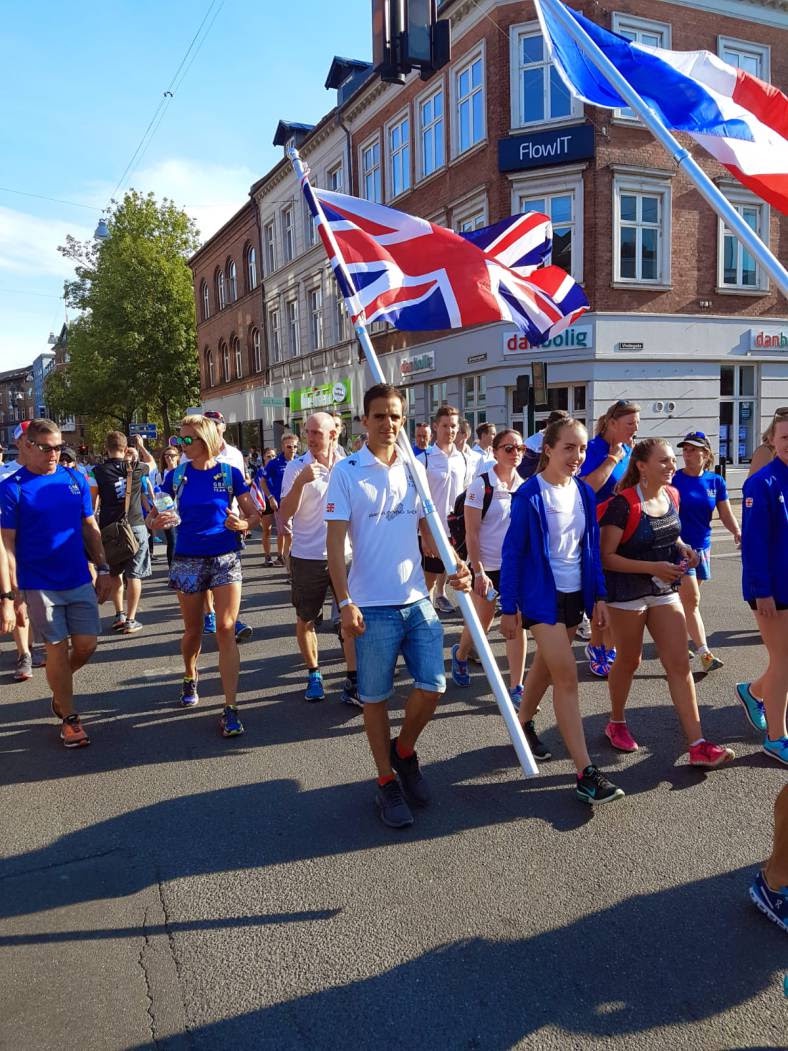 The following day it was race day, with the race in the afternoon. I woke up in the morning with an upset stomach which was causing me problems.  I tried to relax in the hotel and I kept calm and kept thinking about my race plan. My plan was to attack the swim, which is my weakest of the two disciplines. It got to 12pm and we had to go and get the athletes bus to the race. I listened to music and relaxed as I was still feeling a bit unwell. We arrived at the race and had to walk a long way to the race village. It was so warm and I wasn't liking the idea it was going to be a warm race.
I went looking for shade and went to have a look at the start. It appeared the jelly fish had moved away. The race soon approached and I went for my normal 9 minute warm up before, followed by an easy swim. The sea felt cold and I made my way to the start area. I was nervous, standing next to fellow Canterbury Harrier Simon we were able to chat and take my mind off things. We then got called into the water and asked to swim to the start line. The amount of people in my wave was huge, I think over two hundred. The horn was sounded and I sprinted as hard as I could for the first 100m. I then eased back a bit and got into my rhythm.  I felt good so I proceeded to chase a pack down, I then went passed them and chased another group down. I started feeling stinging half way through the race on my face. The more and more I swam the stronger the sting was and I then could see jelly fish everywhere. I came out the water and my face felt like it was on fire. In my mind I was like I need to get to that finish line.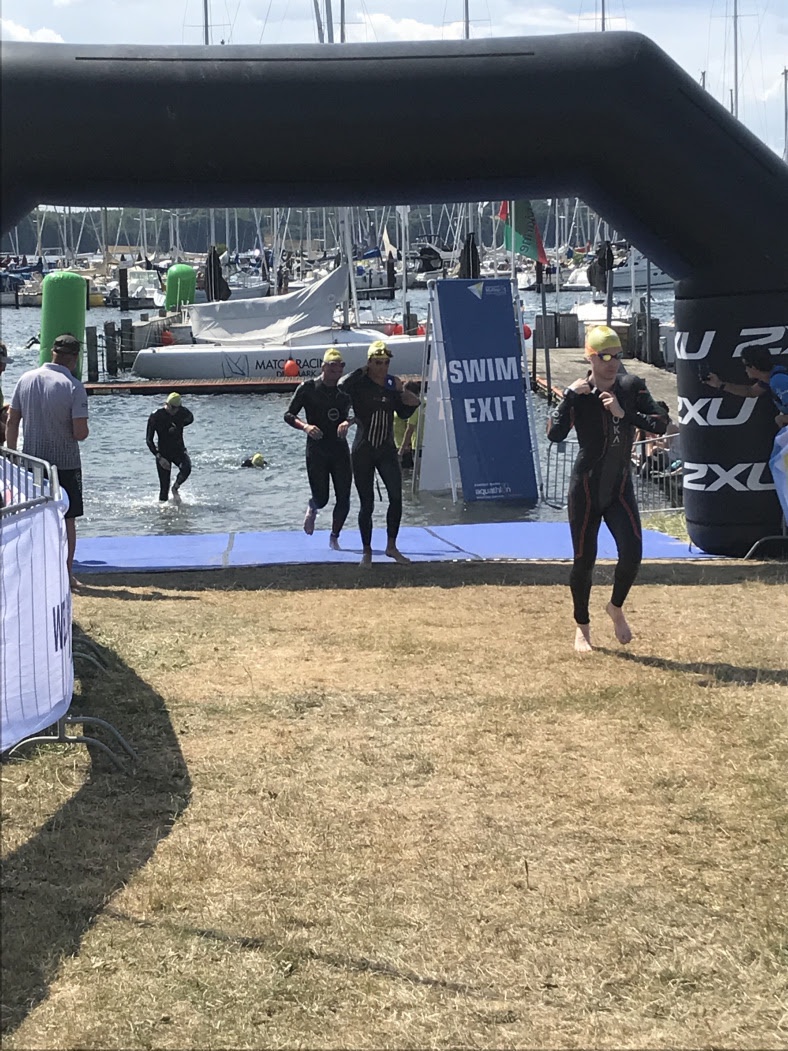 I raced into transition and got my wetsuit off and put my trainers on. I did fiddle around with the laces which lost me a few seconds. I came out and I decided to just run hard, I started over-taking people I do not normally overtake until later on in the run; so I knew I had a good swim. I started seeing athletes struggling, it was hot at 31 degrees but I was working my way up the field. About two miles into the run I couldn't hear through my left ear and it was a weird feeling. But I just kept going, I started to struggle towards the end dropping a lot of time. A kid asked me to high five him towards the end of the race and I did which then followed by people putting their hands out so I high five people all the way done as I didn't have anyone to catch or behind me.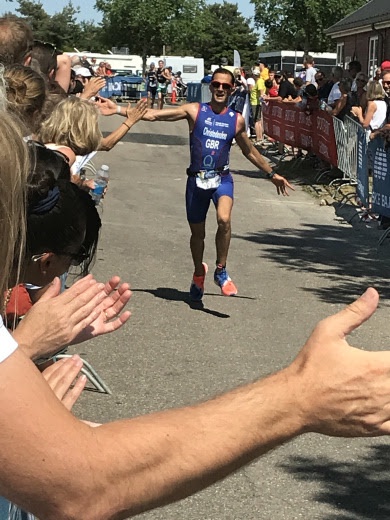 I finished the race and was happy because I came 9th in my Age Group, was 3 Brit back and prequalified for Pontevedra, Spain for next year. I was very pleased with my swim, swimming nearly 2 minutes quicker than I have ever for 1000m swim. On my run I was a little disappointed but I know I can work on this and the heat took it out of me. I finished in 34.12 and just over 2 minutes quicker than Canada.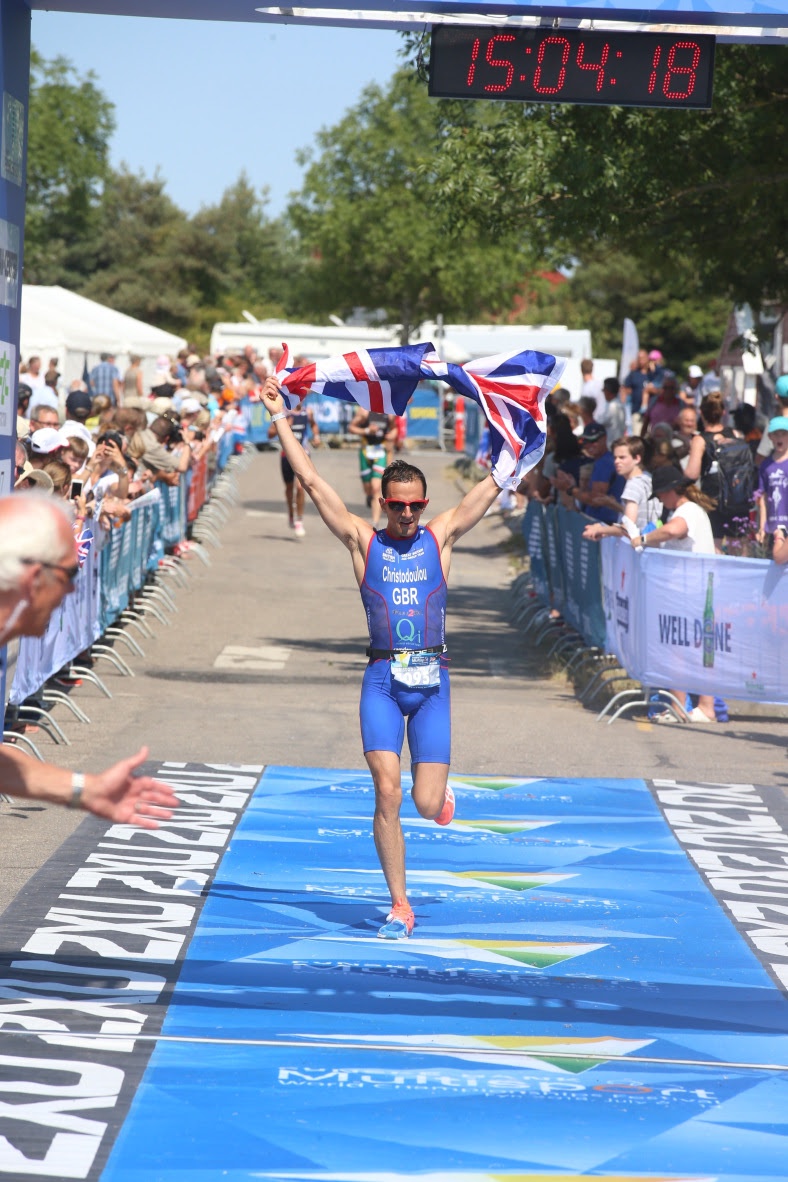 Next up 10 days later was the Triathlon England National Aquathlon Championships in Peterborough. I was very tired the week leading up to the race, due to the World Championships and walking on my feet most of the days after that race due to sightseeing in Denmark. Being very tired I decided to take two days off before the race as I knew I would not gain any fitness or lose any.
I headed to the race in the morning with no real targets but to try my best. This race was 250m shorter on the swim then the world championships. The swim was a non-wetsuit swim and it was going to be a mass start, with the woman and men starting the same time. I got in the start and the lake was pretty warm to be honest. I heard the starter shout telling people to get behind the buoy, so I reset my watch and looked up and the race had started – oops. So I started swimming and tried to swim hard but felt fatigued, I swallowed water half way and felt so rough. I came out of the water, then headed out transition into the run. I ran hard for the first mile, but I wasn't feeling great in my stomach from swallowing water. The run was fairly flat with a few sharp hill inclines but I found it tough, I overtook a lot of people and really gave it my all.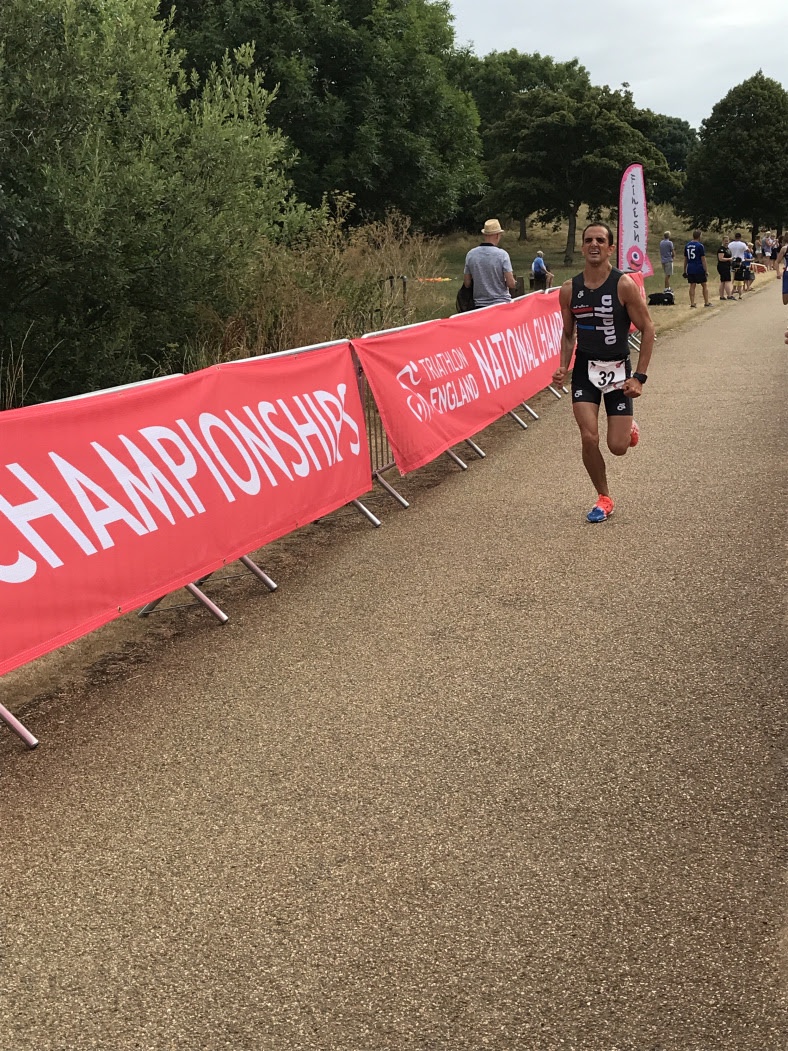 I finished in 31:58, not my quickest time in this distance. But I know every course is different. We then couldn't see the results so had to wait around a bit. The presentation was made not knowing where I finished or where did anyone else. When they called my age group out I didn't expect to place but was shocked and over the moon that I won my Age Group and was therefore the National Champion in my Age Group. The results weren't published until the next day, but I am not analysing the data as I am proud of what I achieved and never really expected this.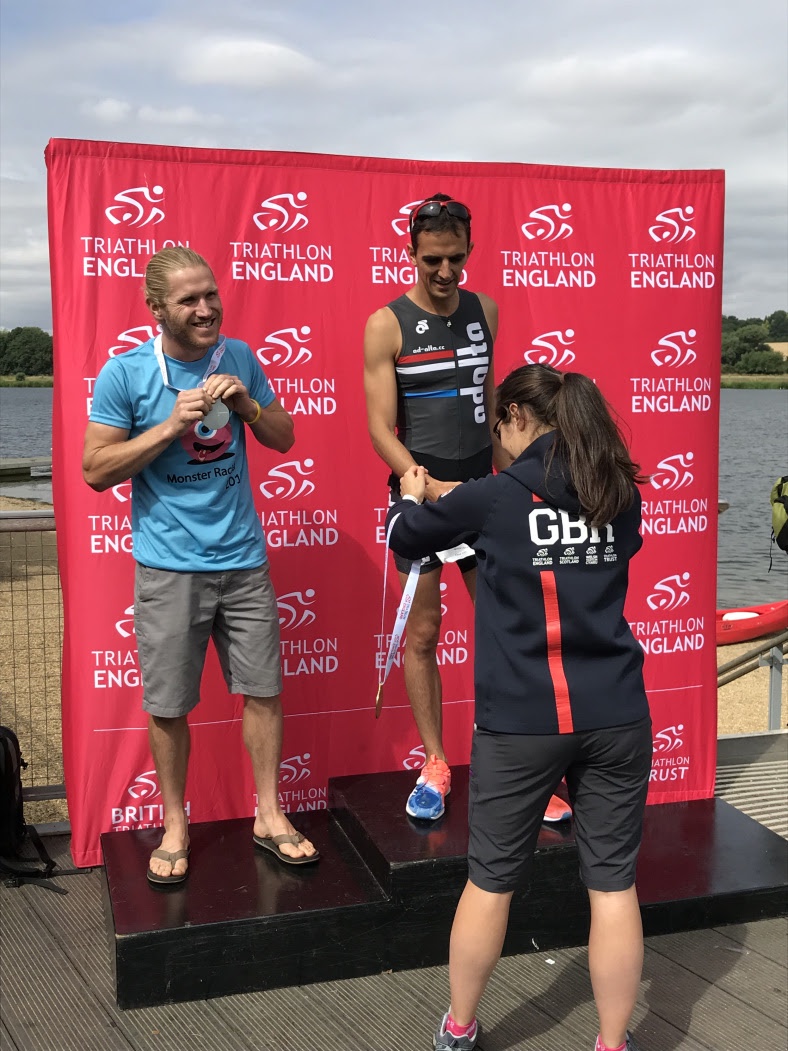 I know people like quotes so I like this one and saying it again, "Be proud of yourself and do not let anyone put you down".
written by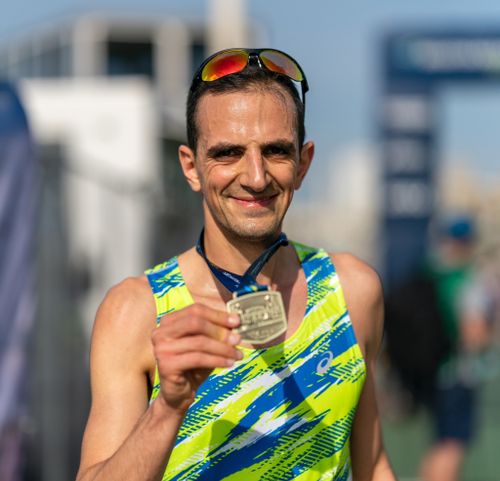 Yiannis Christodoulou
NHS Performance analyst from Canterbury

Age group: 40-44
Club: Canterbury Harriers, Ashford Triathlon Club, GB Age group team, Age group 2017 Aquathlon team captain
Coach: My self in running Level 2 coach in running fitness, Craig Coggle Strength coach, John Wood Swimming coach
MY DISCIPLINES