Are you setting up your heart rate zones correctly? The chances are you are not….here is my guide.
Are you setting up your heart rate zones correctly? The chances are you are not….here is my guide.
Firstly, why do this? Well getting the right zones can help you improve, keep injuries to a minimal and not over train. These three key things help you in consistently training which is the key. Unfortunately people think they are getting the zones right but most of the time they are getting it wrong just like when they say they are training easy and they are not. Getting the right zone sorted for you is a must and a power tool in improving and getting that desired personal best you want. Not to mention training in the right zones is a much smarter way to train.
Heart rate zones can be different for different activities such as my cycling zones are different to my running heart rate zones.
The biggest mistake people make is using the default zones on their watch. This is because they automatically set and are adjusted by the watch. So therefore you need to know your HR max or do a test which I will explain in a minute and manually change the zones. The next mistake is people use a HR wrist monitor on the watch – it is not as accurate than having a strap so my advice is always use a strap if you can as the wrist monitor built into the watch can be way out.
Everyone has a different HR max and the 220 minus age rule was proven not to work. For example one of my friends is the same age as me but has a much higher HR max then me.
So how do we get the zones? Well the key is to find out your maximum heart rate whilst running. This can be done by a VO2 test in a lab which will be very accurate or by running for ten minutes as fast as you can with a heart rate monitor attached to you and then take the max from there. Of course this won't be as accurate as a lab test but it will be near it. Once you have got your Heart Rate max you then need to get the zones right. This is simple – you just use an online heart rate calculator. I have put a link HERE to what one I recommend to use. Now the reason I use this one is others can differ quite a bit and I found from the various lab tests I did and the zones I was given in the studies I took part in this one always got the zones right and the same as the sports scientists zones they gave me.
Now once you have got your zones you will need to go manually into your watch/dashboard setting and change them, once that's done you're ready to go. You have Zones split from 1 to 5, with one being easy training and 5 being maximal training.
Once you have the zones what should you do with the zones?
Well lots of people follow the 80/20 rule with 80% of training in zones 1 and 2 and the rest hard. For me I train hard days hard and easy days easy. There is no moderate and this is one of the biggest mistakes people make that they train too hard all the time or over train by moderate training. Heart rate running is very good and if you find you're 60% of your heart rate max you can be improving at a faster rate than just speed training alone. Long runs at 60% can make a huge benefit by teaching your body to not burn carbs and burn fat to make you more efficient. This therefore can make you quicker. Last year I spent most of my training doing these long runs that proved to work as it has done since I started doing this in 2015. At the same time by making you more efficient it will improve your running economy.
What is running economy? Running economy (RE) is typically defined as the energy demand for a given velocity of submaximal running, and is determined by measuring the steady-state consumption of oxygen (VO2) and the respiratory exchange ratio. If you don't know what VO2 is please read my old blog about VO2 (HERE)
A lot of marathon runners use this because instead of pounding away for 13 miles on a long run for example they can go longer at an easy pace and wont feel tired the following day. The key is to train at less intensity on a long run which will teach you to burn fat but also make you recover quicker. Many people struggle with the pace because it is a lot slower than they normally run and if you run up hill you need to run slower in order to keep the heart rate down. Of course it is a must to keep the speed sessions up but by just slowing your speed down a little on a long run it can be a huge benefit. I used to do a 13 mile run every Saturday at race pace which of course felt good but took me a few days to recover and my Half Marathon time wasn't any better. Once I had changed my training and ran at 60% I found that if I wanted to do another long run the next day I could because MY body felt fine and improved.
So my advice would be to try it for 6 weeks and see how it goes, if you don't react to the training then at least you tried something new. But how should you train for HR? Well a simple guide can be by increasing the distance or time in your run slightly for a three week period, with each week increasing. Then maintain the third week distance/time for a further 3 weeks and see if you have improved in a race. Let me know your thoughts and progress.
I hope you found this useful – it's a small guide which should help and give you the basics. I have written previous blogs about heart rate running which can be found HERE You can also see my YouTube video with a more in depth step by step guide on how to set your heart rate zones up HERE
All photos in this blog where taken by Jason Dodd Photography
written by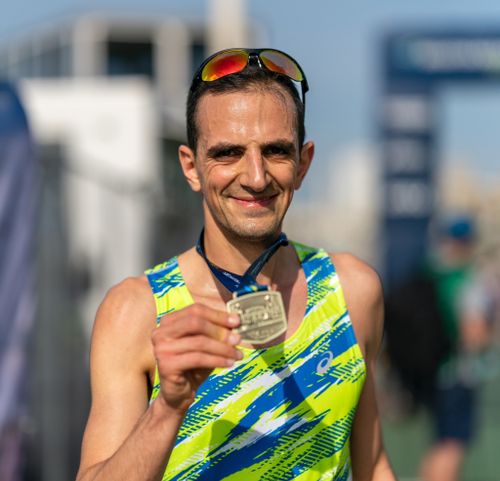 Yiannis Christodoulou
NHS Performance analyst from Canterbury

Age group: 40-44
Club: Canterbury Harriers, Ashford Triathlon Club, GB Age group team, Age group 2017 Aquathlon team captain
Coach: My self in running Level 2 coach in running fitness, Craig Coggle Strength coach, John Wood Swimming coach
MY DISCIPLINES