A revolutionary new trail shoe from ASICS, perfect for tackling a multitude of terrain.
First Impression?
As a runner, there are few things more exciting than receiving a pair of shoes in the mail. Even better is the fact that this is the first new pair of trail shoes I've had for about two years, which is a surprise considering I'm fairly into trail running. When I opened the box I was immediately taken by the design and how they look so different to any other trail shoe from ASICS (I also have the Fujirado and the Gel-Venture 6 for comparison); the colour combination I have is the Blue Expanse/Blue which definitely fits my style preference – they're bright with pops of neon and a little bit in your face. Surely that's what everyone wants in a shoe? Here's the best bit though…when I picked up each shoe I couldn't believe how light they were. Other trail shoes I have from ASICS, whilst great, were definitely not this light. And quite honestly, for me a trail run generally means a high mileage run so I want the lightest option available for when my legs start to fatigue. I was really quite amazed at the weight of these and couldn't wait to start running in them, then I noticed the grip which looked to be a significant improvement on previous trail shoes. There's also an in-built gaiter around the ankle area which looked pretty unique and interesting, although I was concerned that this may rub my ankles on a long run.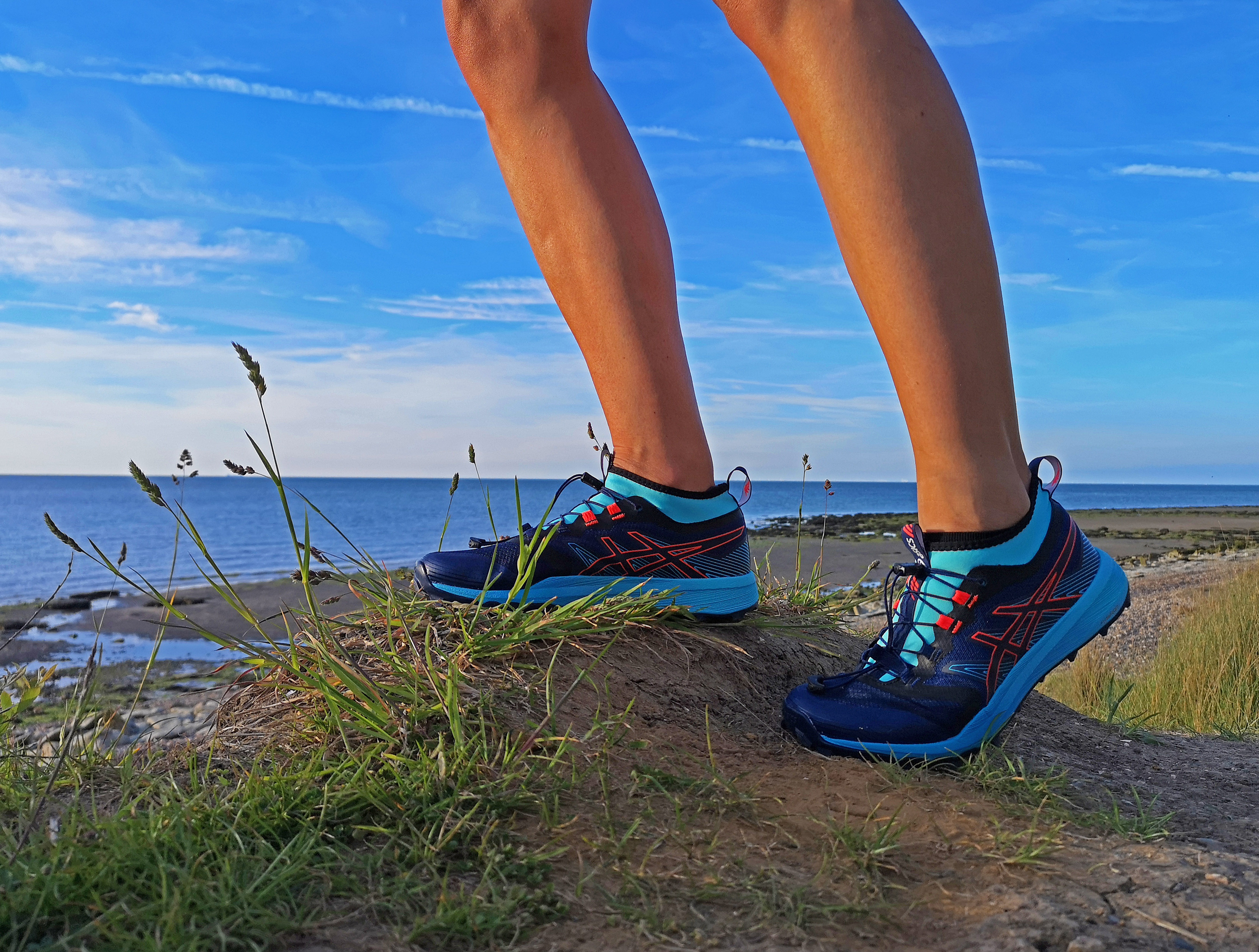 How do they perform?
I've worn them on 5 trail runs now and have clocked about 40 miles in them. The terrain for my trail running is quite varied; I have big grassy climbs (I'm hesitant to call them mini mountains even if it feels that way when I'm running), chalky cliff faces which I scramble up and down, and rocky coastal paths with the occasional stretch across a pebbled beach. Essentially, I feel like I get a bit of everything when I hit the trail and therefore I need a shoe that can cope with that. I was pleasantly surprised with the FujiTrabuco Pro as they tackled all terrain superbly. The enhanced soles were particularly noticeable for superior grip – apparently the lugs on the outsole are placed strategically to deliver stability but to also help propel you when running uphill – which is an odd thing to notice in a shoe, but I could physically feel this working to my advantage. I've also run across rocks covered in seaweed which is perhaps not the most sensible thing to do from a safety point of view, but I could really feel the grip working for me in this instance and I didn't fall, so I'd consider that a success.
Again, the weight of the shoe (or lack thereof) is particularly noticeable as they feel far lighter than any other shoe I've worn recently. The cushioning is also really great when on the trails, although I do have to run along a concrete path to get to the start of my run and I can feel my legs having to work a little harder at that point, but realistically that is not the type of surface these shoes are designed for so I wouldn't expect anything amazing there. I also really love the in-built gaiter, I think this is to keep rocks out of the shoe which is an absolutely genius idea and it also helps my foot to feel more stable. As I previously mentioned I was worried that on a hot day it may start to chafe around my ankle but I haven't had any problems with this, and in fact the lining of the gaiter is very soft and smooth.
Whilst I genuinely love this shoe, there are two elements that could potentially be improved. Firstly, they are not waterproof – now, I've worn these in light rain and they are absolutely fine so this isn't a huge deal, but because I know from their technical specification that they aren't waterproof I would be reluctant to wear them in heavy rain because the thought of wet feet on a long run is not particularly appealing. That being said, I will test them in heavy rain (when that opportunity arises, although I secretly hope we never get heavy rain again in the UK…) to see if they really aren't okay in these conditions, but I guess in a trail shoe I would expect a certain level of waterproofness in order to create a shoe that can do everything. The only other slight niggle I have is that my feet get quite hot in these, but that being said my feet get hot in all trail shoes so I think that is just all part of the game and something to be expected – I think the gaiter does actually trap just a little bit of extra heat in though, but I don't really mind hot feet on a run, and I guess it could end up being a benefit in winter!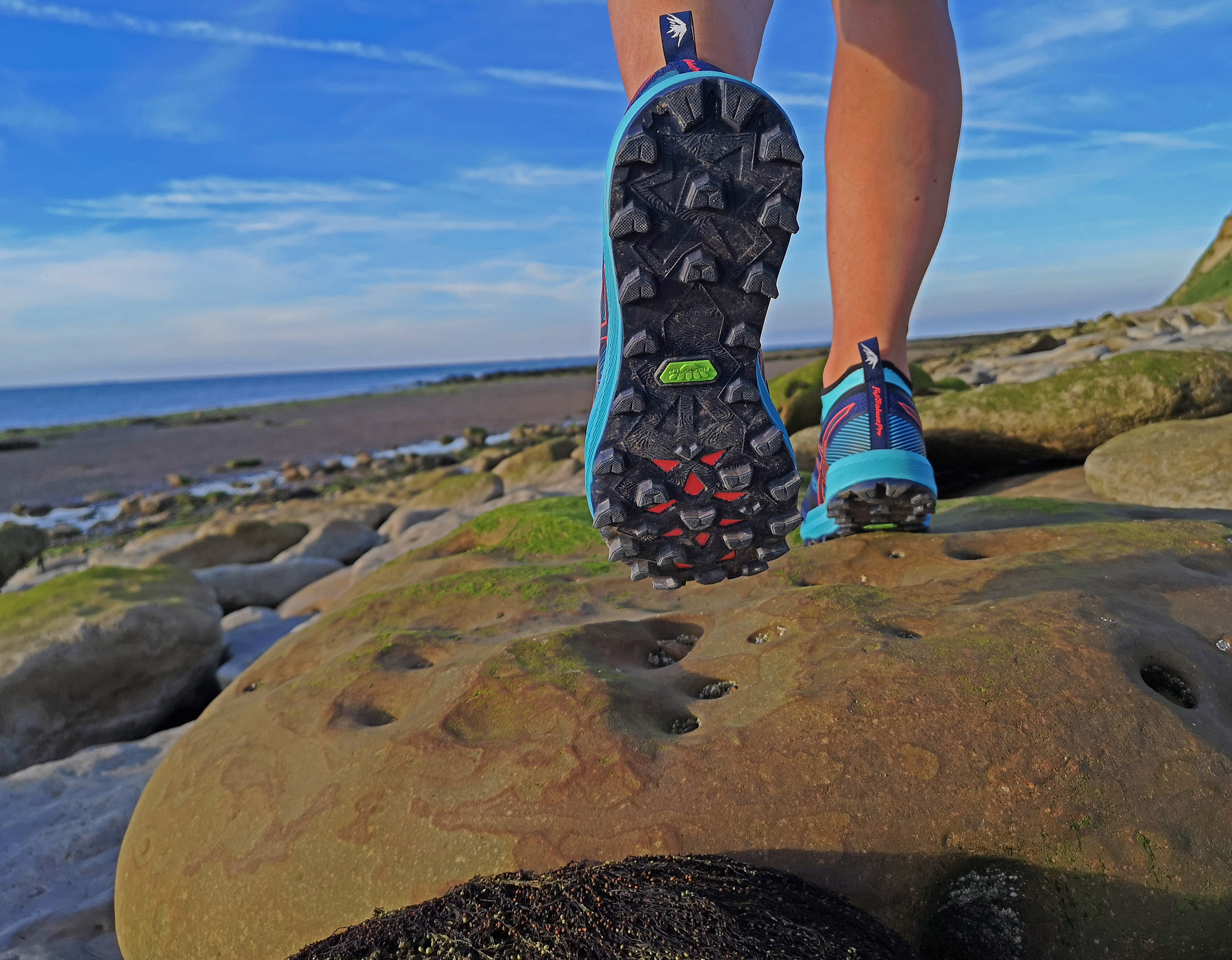 Technical stuff:
Flytefoam Lyte Midsole
Rock Protection Plate
Quick Lacing
ASICS Grip Outsole
Up&Down Outsole Traction Pattern
Pros?
They could tackle any kind of terrain
You could cover a significant amount of mileage as they're so lightweight and cushioned
Great for neutral or over pronators
They look fantastic
Lace system is unique and super easy to use
Cons?
Apparently not waterproof
Feet get a little hot on a warm day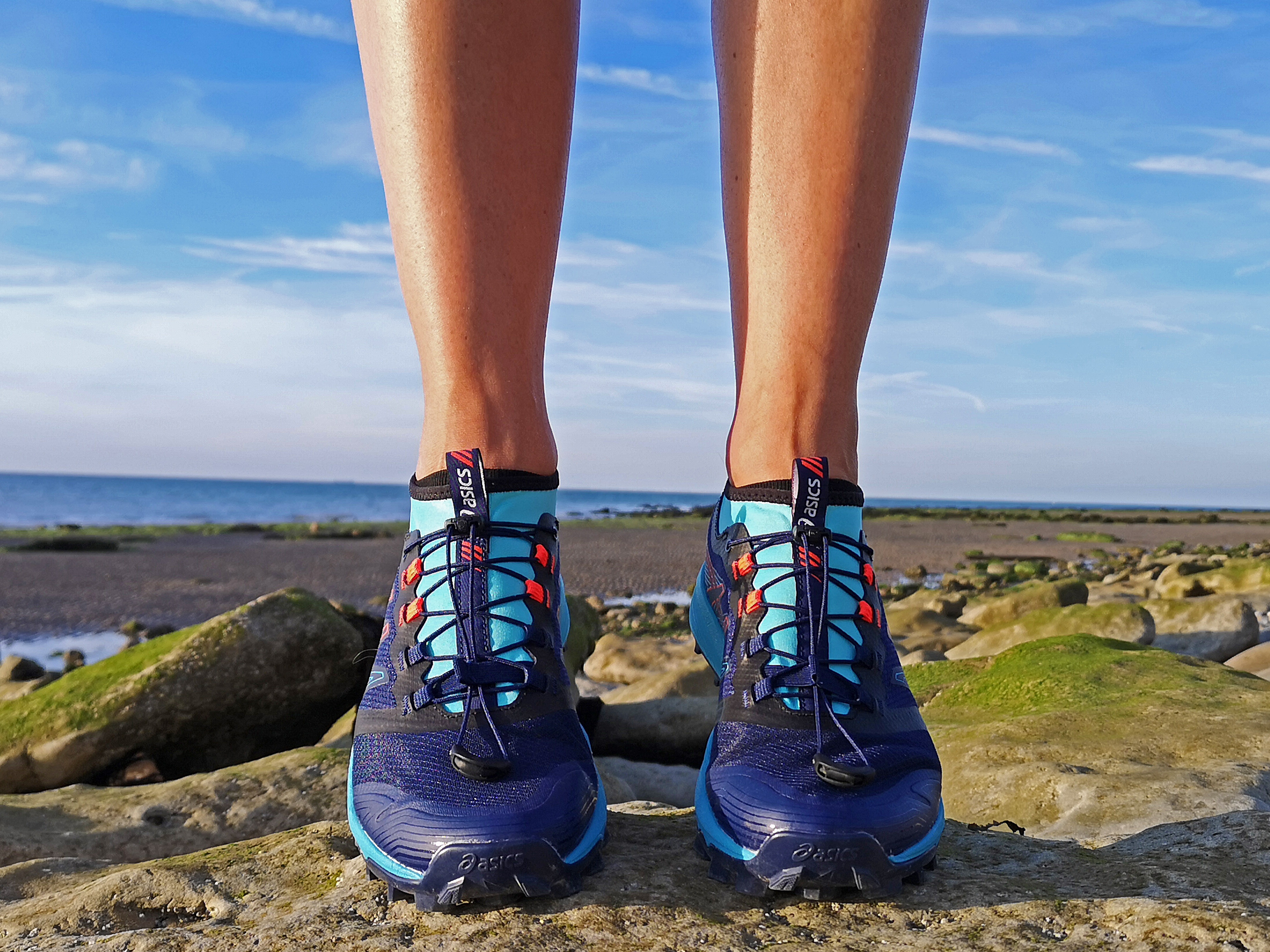 Verdict
I actually really love the Fujitrabuco Pro, more than I was expecting to. I think they look exceptionally stylish but they also perform brilliantly. I'm heading to Chamonix at the end of June for some Mont Blanc races and have decided that this will be the shoe I take with me…which really speaks volumes to how great the shoe is as this is a last minute change of shoe choice for me which is very out of character. I struggle to think any trail runner would be disappointed with this shoe, it feels like a real step up for ASICS in the trail world.
written by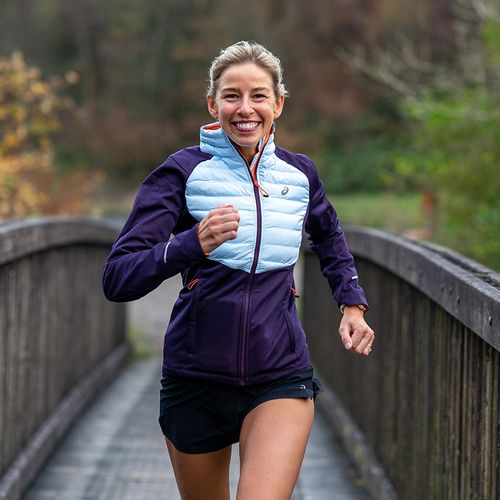 Victoria Stears
Head of Global Marketing - Sports/Education Sector from London

Age group: 34


MY DISCIPLINES