The most comfortable running shoe...
First impression?
ASICS is a very clever brand…back in December we saw 'mystery' shoes being sent to runners globally, they were white with zero trace of what model they could be, but with the claim that this was the most comfortable running shoe. Simultaneously I received a pair of the fully branded GEL-NIMBUS™ 25 and knew it was the same shoe so automatically I was intrigued as to how good this new shoe might be. Now I have to issue a disclaimer here that I am the biggest fan girl of the GEL-NIMBUS™ line…I've been running in the GEL-NIMBUS™ for about 7 years now as my everyday training shoe (and occasionally wear them in multi terrain ultras) so I already know that this shoe works for me and was super excited to be one of the chosen recipients for the 25s before they had even launched. On opening the box I was immediately struck by the sole which looks considerably bigger and bouncier than previous models and the colour way which was this beautiful vibrant coral-peach. It was love at first sight.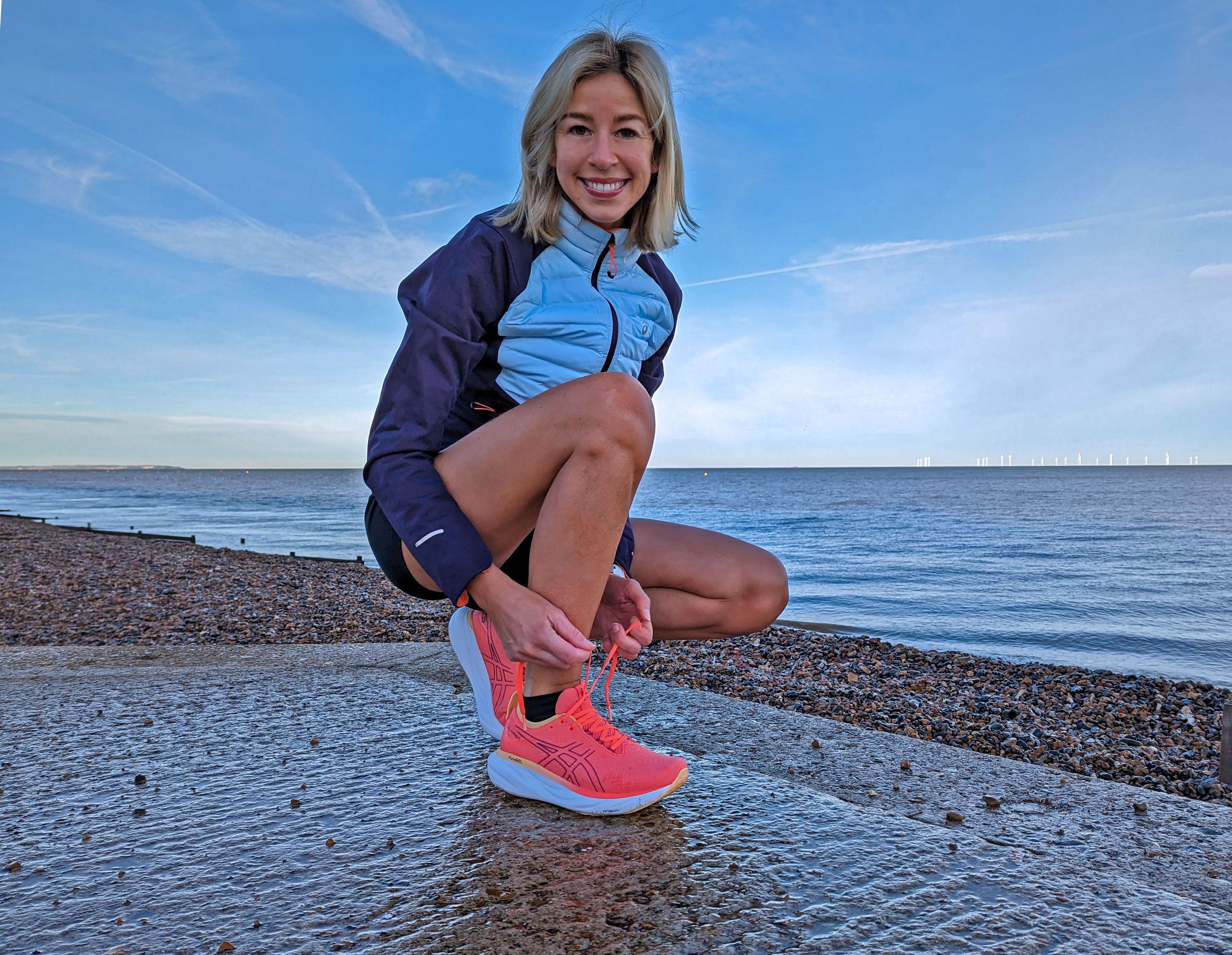 How do they perform?
I decided to take a risk and wear the GEL-NIMBUS™ 25 on a 10 mile run straight out of the box. Usually I'd be more conservative with a new pair of shoes and go out for an easy 5K on the first outing but I wanted to see if the hype around these shoes being super comfortable was legitimate. Spoiler: it is. I can honestly say it was like running on clouds – this was also my first longer run in about 6 weeks so I knew my legs and feet might suffer a little on the hard impact of the tarmac, but I had no troubles whatsoever either during the run or in my recovery after, and I genuinely think the 25s contributed to that. Each step I ran felt smooth, like I was gliding with such ease, and each push off felt springy and comfortable. My ankles felt well supported too and there was plenty of room in the toe box for my wider feet (I took my normal size). It's safe to say these shoes really live up to the hype surrounding them and those big claims on comfort.
External product testing:
ASICS Global commissioned Dr Chris Bishop PhD from The Biomechanics Lab in South Australia to deliver an independent study to compare the comfort of the new GEL-NIMBUS™25 shoe to three leading competitor shoes and its predecessor the GEL-NIMBUS™24. The Biomechanics Lab independently designed the research study to explore three primary research questions, including, most importantly: Is the GEL-NIMBUS™ 25 a more comfortable running shoe than the four comparator shoes tested? 100 runners (52m 48f) were recruited for this study, which took place over an eight-week period. Study participants ran in all five pairs of shoes and were asked to rate the comfort of each shoe based on various comfort related criteria, as set out in the RUN-CAT assessment tool (link in slide). All shoes were made to be completely unrecognisable to the test participants so no brand biases came into effect. Following independent statistical analysis of the results using three different measurement models, the results were clear: The GELNIMBUS™ 25 was the most comfortable running shoe tested in the study.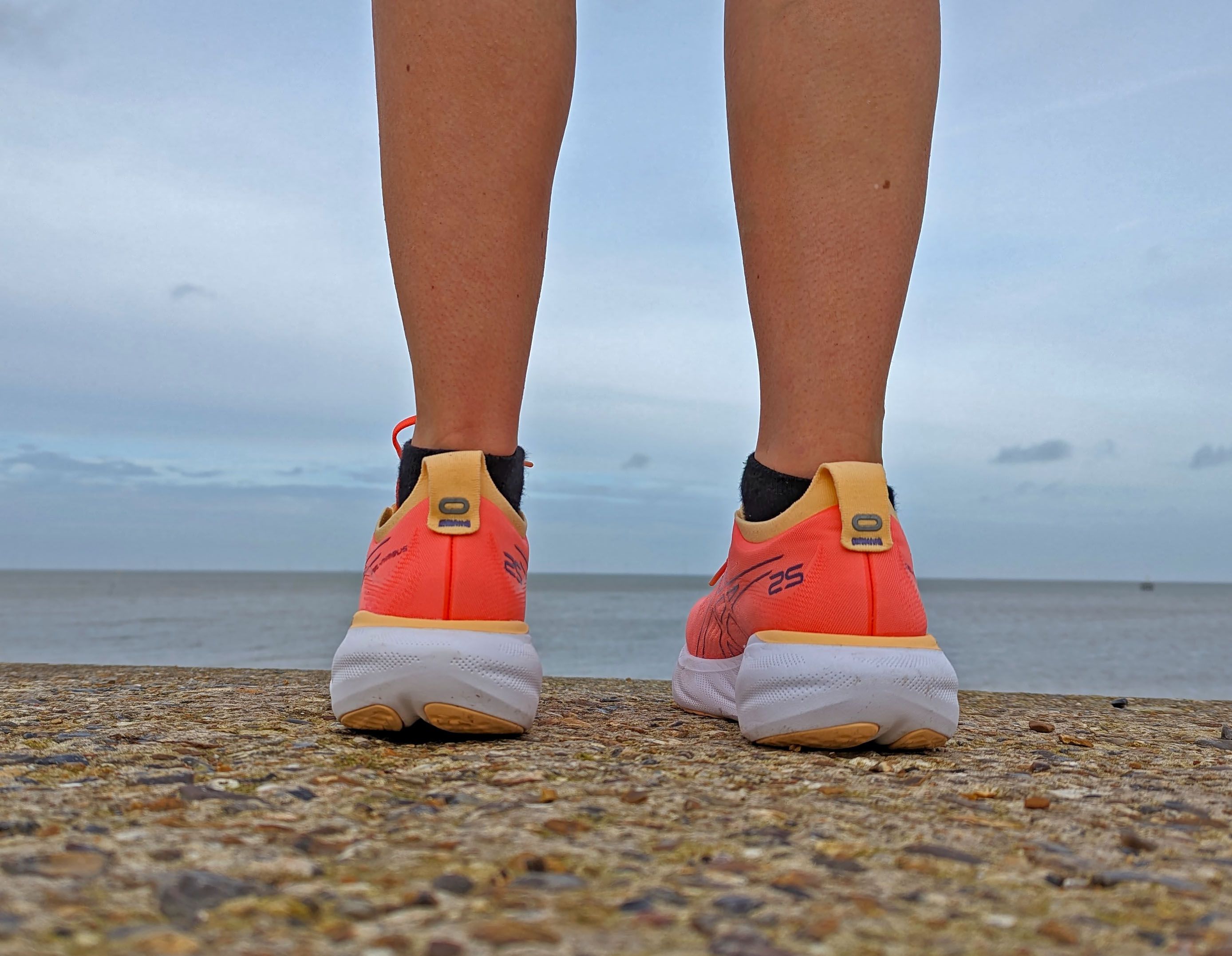 Technical stuff:
A new soft, stretchy knit tongue and collar construction deliver an easier step-in and a more adaptive fit
New PureGEL™ technology is softer and lighter than previous GEL™ technology, delivering enhanced shock absorption, softer landings and smoother transitions
New lightweight and energetic FF BLAST™ PLUS ECO cushioning, with 20% more foam underfoot for an even more cushioned ride
Made with at least 20% biobased material from renewable sources
Weight: M292 / W260 G
Midsole height: M 41.5-33.5 MM / W40.5-32.5MM
Drop: M8 / W8 MM
Pros?
Genuinely the most comfortable running shoe I have ever worn and a shoe I can wear all day...and they're beautiful to look at!
Cons?
None – everything is perfect on this shoe, even down to the laces used.
Verdict?
Well, it's true; nothing feels better than the new GEL-NIMBUS™ 25 shoe. I wholeheartedly love these and am so grateful to be running in them. Every time a new GEL-NIMBUS™ model is released it blows all other shoes out of the water. If you are a neutral runner looking for a solid training shoe then this is the shoe for you. These will also work well for races if you are not looking for a super speedy shoe – these are still fast though so you will definitely be able to achieve PBs whilst wearing them. Go forth and enjoy the magic of the new GEL-NIMBUS™ 25!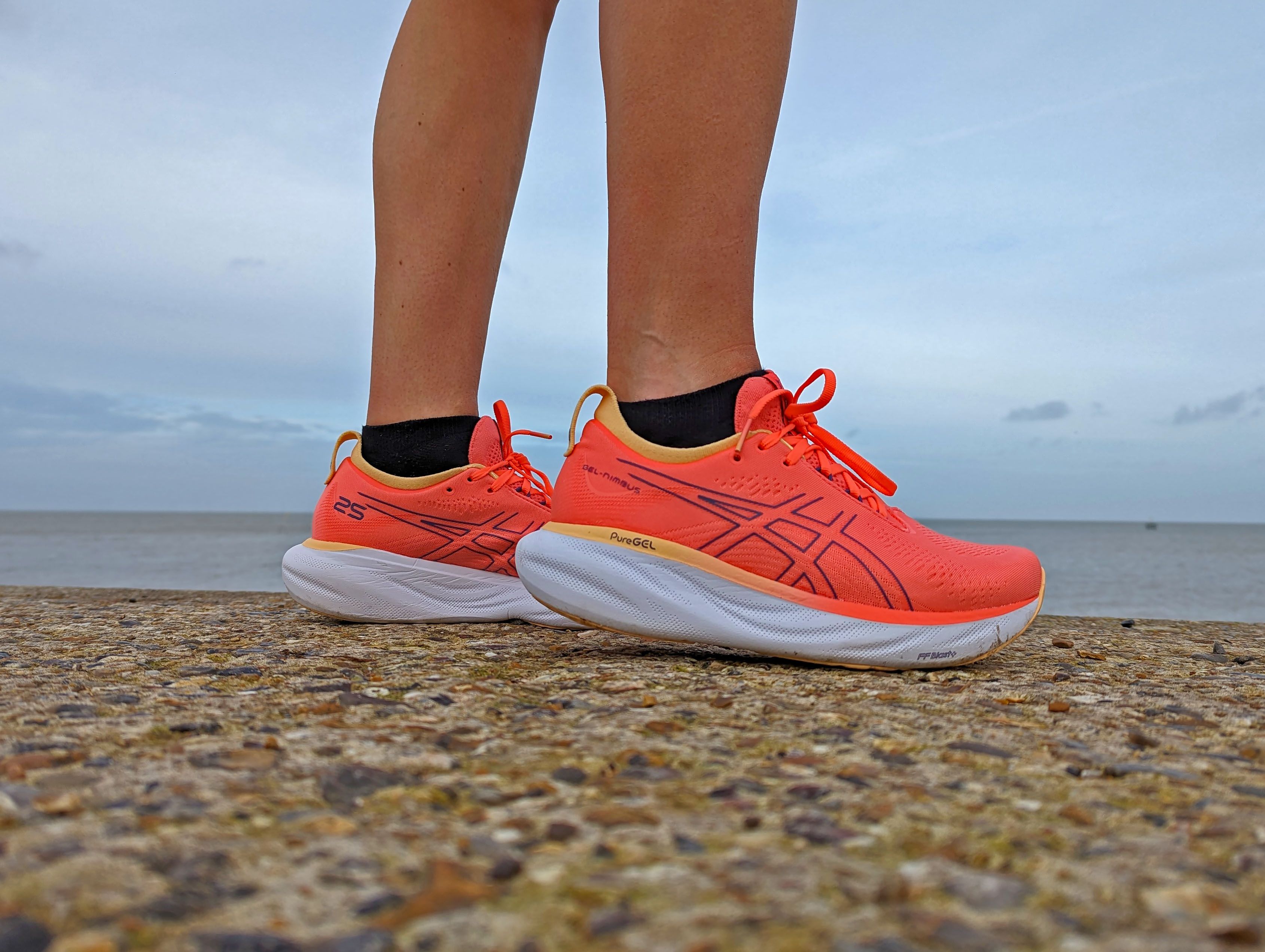 written by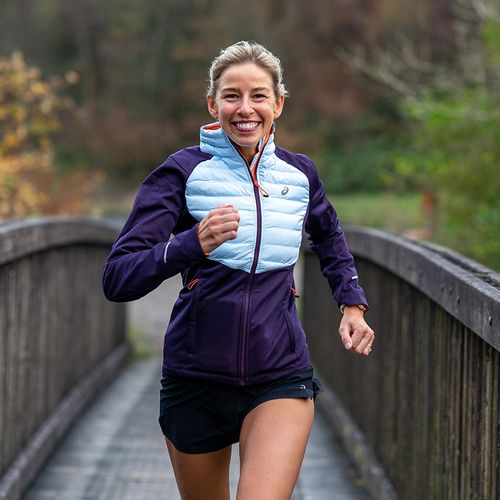 Victoria Stears
Head of Global Marketing - Sports/Education Sector from London

Age group: 34


MY DISCIPLINES