My first ever race I ran was a 10k. It was in Hong Kong up Victoria Peak (probably not the easiest of routes) and my goal was 70 minutes, which I just about managed. That was back in October 2016 and marks the start of my running journey. Hitting that goal felt incredible, so when the opportunity to pace at the ASICS London 10k came up I knew I wanted to give it a shot. It would not only be sentimental, but a privilege to give back to the running community and help others achieve their goal.
I was the 60 minute pacer, alongside 5 others including ASICS Frontrunner teammates Rachel, Becca and Jarnail. 60 minutes is a big milestone for a lot of people, so it was great there were several pacers, but I also felt a lot of pressure as this would be my first ever pacing event, and it wasn't exactly a small scale race…
The lead up to the event was super busy, which took my mind off pacing duties and settled my nerves a bit. It was an ASICS Frontrunner meet-up, which involved lots of running, photos, eating and even bowling! The Saturday morning we had the ASICS Breakfast Shakeout Run. This was a 5km jog through Hyde Park, and we had different groups led by different Frontrunners. It was a fantastic opportunity to meet some of the runners who would be racing on Sunday, and those who came received a goody bag… bonus!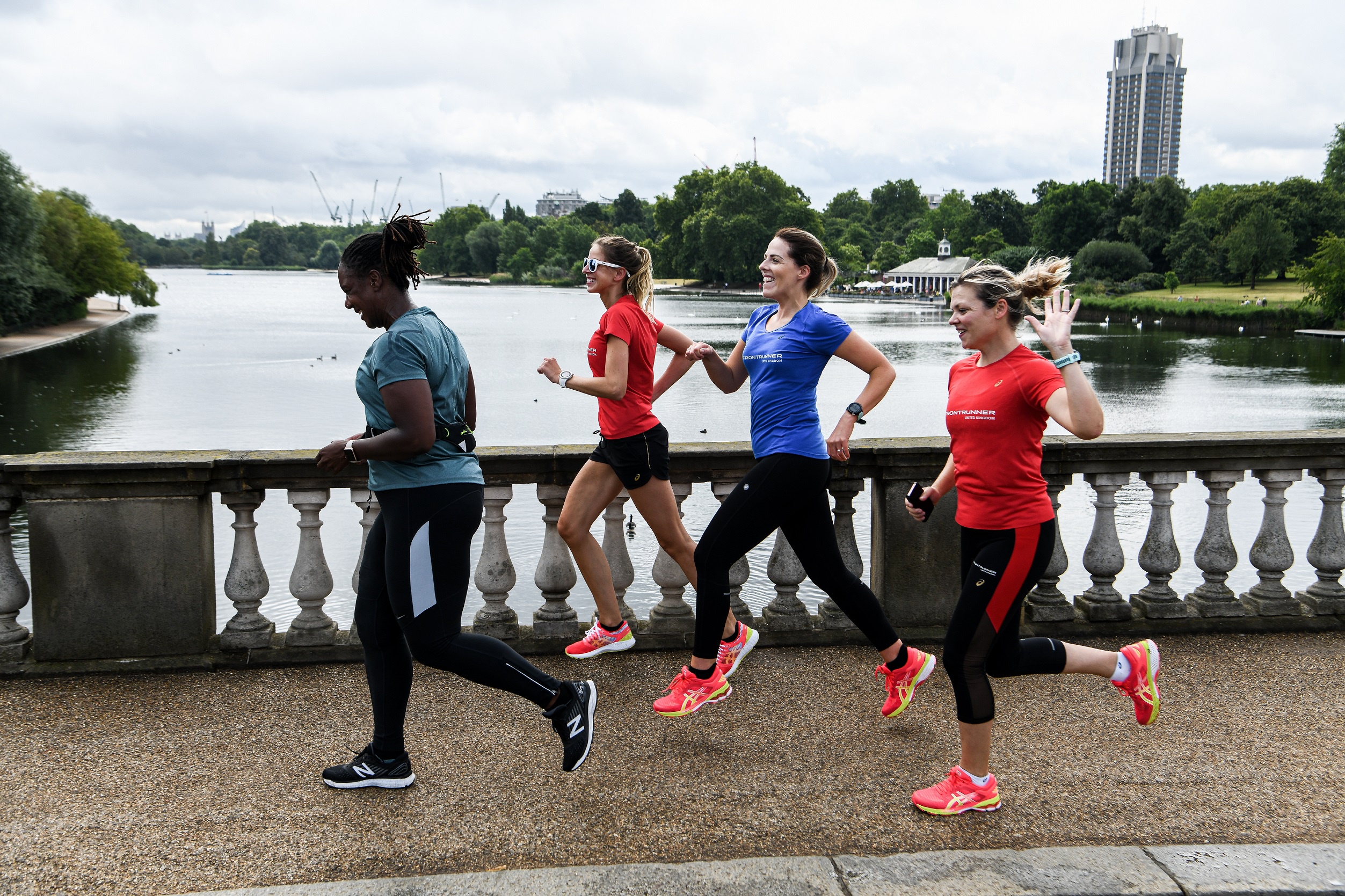 RACE DAY
All pacers had to arrive early to receive our official pacers 'kit' including our all-important flags. At this point, it felt very quiet, however by the time I was kitted out and my flag was on, all other runners had started to arrive and the sea of people had me feeling very nervous. I really didn't want to let anyone down, I knew I could do the pace comfortably, but I was so worried about things going wrong. Becca and Rachel are more experienced pacers, so once we got into our pen we decided we would make a trio and carry a group through together. I am so grateful to these two girls, because they alongside the amazing runners we carried through really made the experience!
We were in wave F, and whilst we waited for our wave start we made ourselves known to runners and Becca gave a little spiel about our race plan. We explained to runners that we would bring them in just under the 1 hour mark, so to stick by us if that was their goal. The first wave set off at 9.30am, and we started by 9.45am. I thought because of the high volume of runners that it would be really congested, however the wave system must have worked really well because it didn't feel overcrowded and the road we started on was nice and wide so runners could spread out.
Our plan was to bank a little bit of time in the first few miles, as the course has quite a few switchbacks you can acquire extra distance so we wanted to account for that. Being in London, you can't rely solely on your watch as the tall buildings can interfere with the GPS, so I had practiced a fair few times to know what the correct pace felt like and could just use my timer and the course KM markers to know I was on target. This tactic worked really well as we ran fairly consistent splits throughout.
The course route was fab! Being a 'tourist' for the weekend I was lapping up the sights. It takes you through central London so you get to see all the key landmarks including Trafalgar Square, Westminster Abbey, Big Ben (although under construction) and the London Eye. There were plenty of water stations which was ideal as it was a hot day, and they even had water sprinklers at a couple of points along the route which helped to keep cool.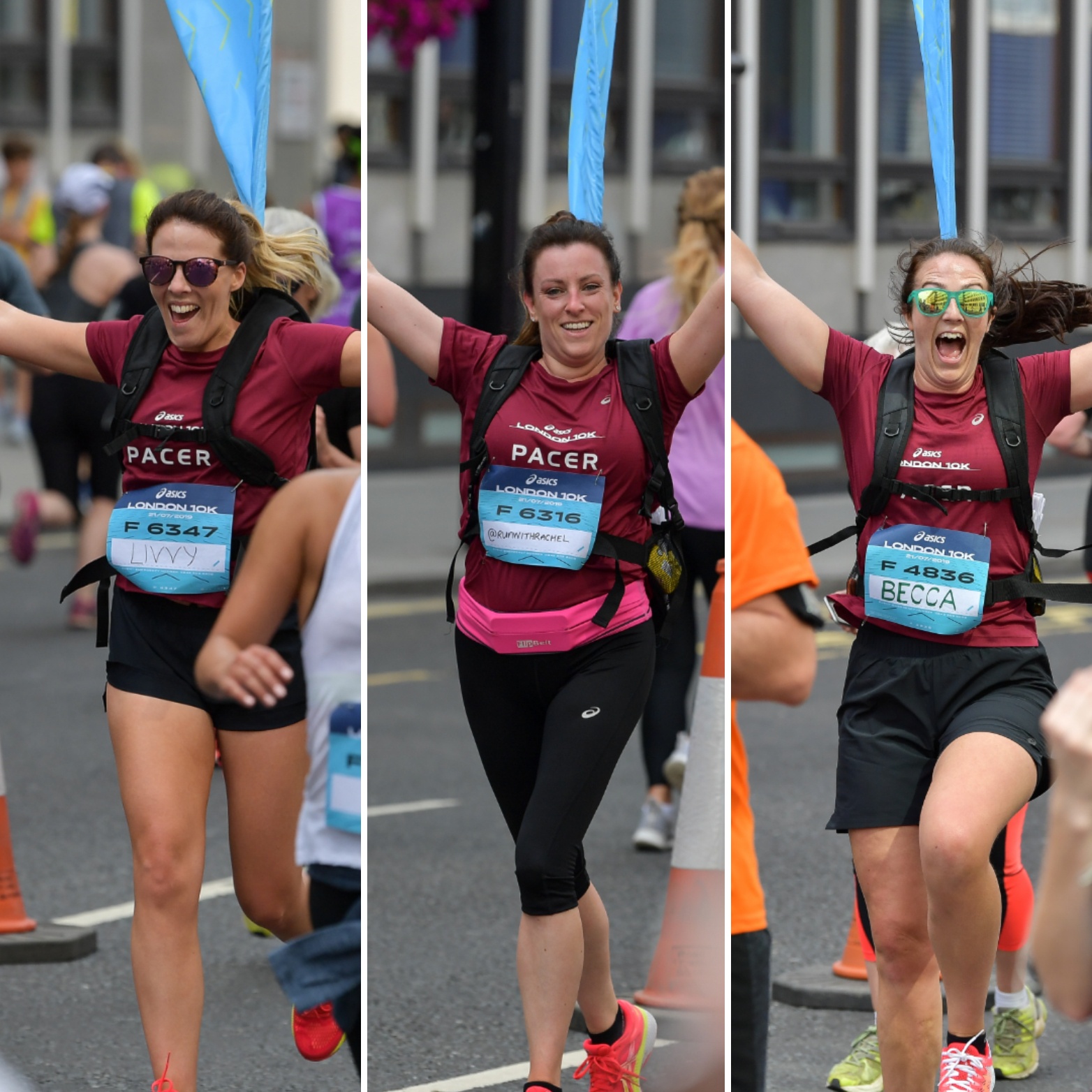 There were huge cheer zones and plenty of live bands and DJ's which really kept the atmosphere alive! You could see the atmosphere lifting runners up, helping them push the pace, and it spurred us on too to keep our group going. Becca, Rachel and I took it turns to shout out motivation to runners, and we even threw in a few oggy, oggy, oggy's! By kilometre 7, we had a definite group with us who had been with us from the start, so at this point it was just telling them to hold on to the pace.
As we approached the final bend, it was a flat stretch to the finish line. The three of us gathered our group up and told them to go for it. I told those around me to overtake me and to sprint for the finish. 59:39 we came in at. It was brilliant! By far one of the best race experiences I have had. Those who stuck with us throughout said thank you, and one runner in particular, whose name was also Rachel, was so grateful as she had just come back from injury, so a huge congratulations to her! The energy throughout brought the route to life, supporters came together and runners came together… we ran united and that's what it's all about at the end of the day!
Congratulations to everyone who ran, PB or not, I hope you had a fantastic time!
Bonus points…
As well as a great race day… the medal is pretty epic for a 10k medal and the finishers' bag had lots of goodies inside. The t-shirt is also nice, however there was a pretty big queue at the end to collect it. It's a technical tee though and nice colours, so in my view was worth the wait.
Thank you ASICS and Virgin Sport for a great event, it's definitely inspired me to pace more often!
*my entry was kindly gifted by ASICS and Virgin Sport
written by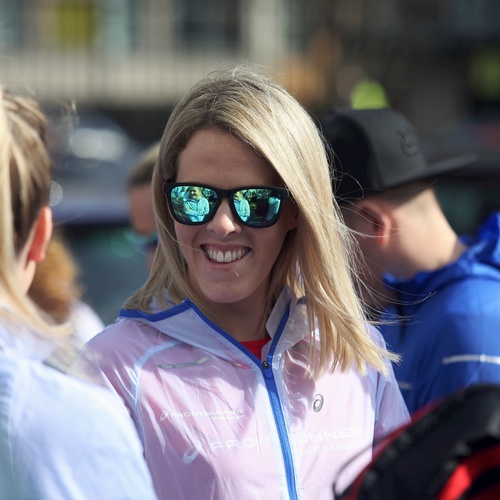 Livvy Hill
Student Dietitian from Plymouth
Club: Plymouth Harriers
MY DISCIPLINES
MY DISCIPLINES